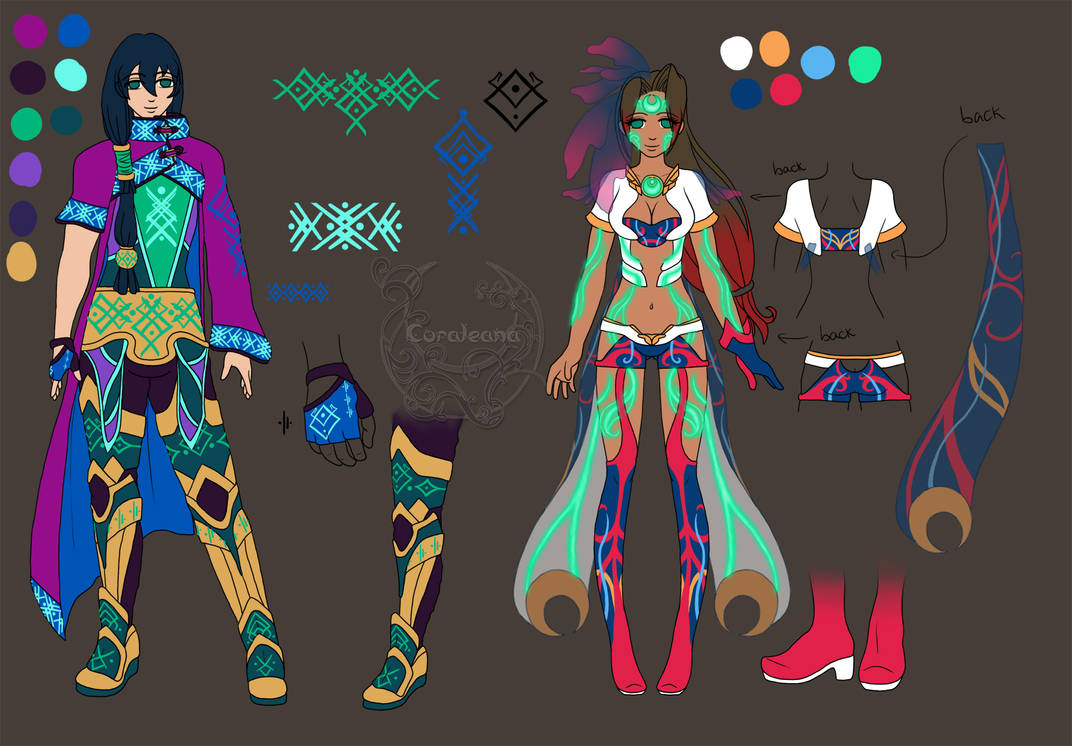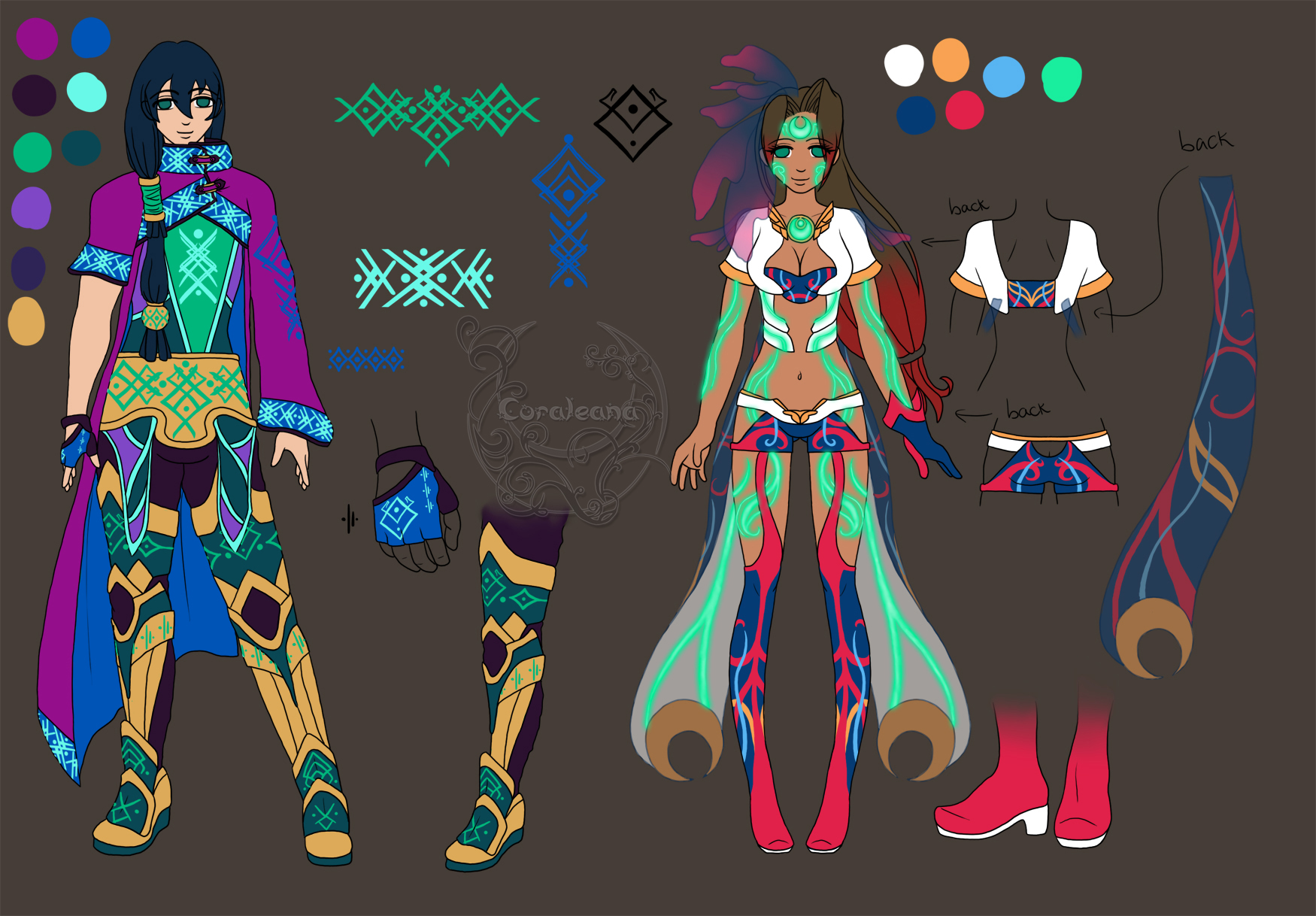 Watch


I've been playing Xenoblade Chronicles 2 for a long time now and actually finished it recently. Because of that I had this urge to turn Marcus into a Driver and Coraleana into a Blade. (If you don't know what that means look it up, or better yet, play the game. X3 )
I really like their designs which is why I'm sharing them.

I want to do a cool fighting scene of them, but I'm not sure if I can actually pull that off...
Thanks Oreana for your input!

♥
Also
please don't use/steal my designs and/or characters!
Thank you.


Credits:


Coraleana, Marcus, designs & Art (c) Ingrid Timmermans A.K.A.
Coraleana
.

Blade and Driver original concepts (c) Monolith Soft.

those designs are really cool! I really like their clothes! great work as usual!
Reply

Wow, what a concept.

Reply

Im in love with their outfits so much

Marcus colors and patterns are so amazingly well done.

And the colors
goes very well with him.

Coraleana, I adore her outfit special she got a very dareing outfit

showing a little cleaveage on her cheast
but also the idea of leaving a little " fresh air" on the backside of her shorts . Its not to revealning and stil stylish
done.

Im in love with the see threw lace she got in her hair so wonderful

and also In love the the glowing
makrs on her body.

I love both of the outfits but I think I adore Coraleana's outfit a little bit more

she looks amazing!
Reply

Thank you.

Haha, yeah I went with the style of the game. XD;; It has a lot of big breasted lady Blades and most (if not all) are dressed in such a manner. They all don't wear much

I have to agree with you on that. I'm really loving Coral's as well. Besides, she needs to look more amazing than Marcus since she is the Blade. All the blades in the game look very unique and spectacular.

Reply

I guess thats the style of the game then. XD
But thats alright sexy can be pretty too dont need it to be to kinky or
sluty if you know that I mean. It can bring out the " goods" in the character
too. :3 And Coraleana is a sexy gal

XD
Im sure Marcus agree on those words " She has to be amazing! " XD
Reply

well.. the way they decided to 'dress' them in the game and the enormous size of some of the boobs does make it look slutty to me.. :/ I wish they had toned it down a bit, especially the boob size because, dang... I mean look at Daliah for example:
media0dk-a.akamaihd.net/77/82/…
maybe I'm a bit of a prude, and I don't mind like a character with huge boobs, but it isn't just one in this game. Feels like fan service to me along with all the skimpy outfits. :/
..Sorry for the rant! XD;;
But yes, I agree that you can do it in a way that isn't slutty, which is what I tried to do. (and not all Blades in the game are that bad. Some are nice and have great outfits too)
Not just him, I'm sure Khyran and Kalde would agree too. XD;
Reply

Oh dang she got big guns O.O Im sorry I always wanted to say that hahaha XD Im silly!
But yeah if they are big boobies everywere and not just a few then it would make me
think too. That there is a fanbased about the whole sluttyness. >->;
its hard not beeing negative about this subject I get negative about it myself a lot.

But I have to admit it is exciting to draw something sexy almost on the edge of nude.
Like you done with Coraleana here. :3
I wanna see a second pick when the guys are whatching XD
Coraleana: So what you think guys?
Kalde : *nods and hops the thumbs up* not bad not bad at all. *gives a pervy smirk*
Khyran: *blushes slightly * is it nessersary to be so reveling ? o.o;;
Marcus: *steps on front of Coraleana, annoyed* stop staring guys >//<
I dont know I just had to say this XDD haha
Reply

Haha. XD Pyra and Mythra have some big ones too, but I believe Daliah here really takes the cake.
Yeah I can't stand it and it annoys me, which is why I started to rant about it.. XD; I always feel it demeans women, still makes them seem like sexual objects.
I do agree with that. I don't mind tasteful sexyness/nudity.

Haha. XD I think that was spot on!
Reply

can she even reach for the cake with those in the way XD sorry bad one hehe

yeah I agree with you >_>; it gets little to much sometimes and you get fed
up with all those sexy things all the time. ew. xD

haha yay XD
Reply

You did amazing on these, and I super love the look of them! I do honestly hope you get a chance to use them in another piece. X3 Fantastic work! And I agree, your watermark is super pretty too. xD
Reply

I'm likin the leggy bits.
Reply

I really like your outfits and overall designs, Coral.

They're always very creative. You sure know how to create unique and appealing patterns! (Damn, even your watermark looks pretty, I love these arabesques x3)
Reply

Thank you very much.

(thanks. XD I was afraid I went overboard with it, but I ended up really liking it)
Reply

Ya always have an impressive way with patterns 'n' markings

Reply