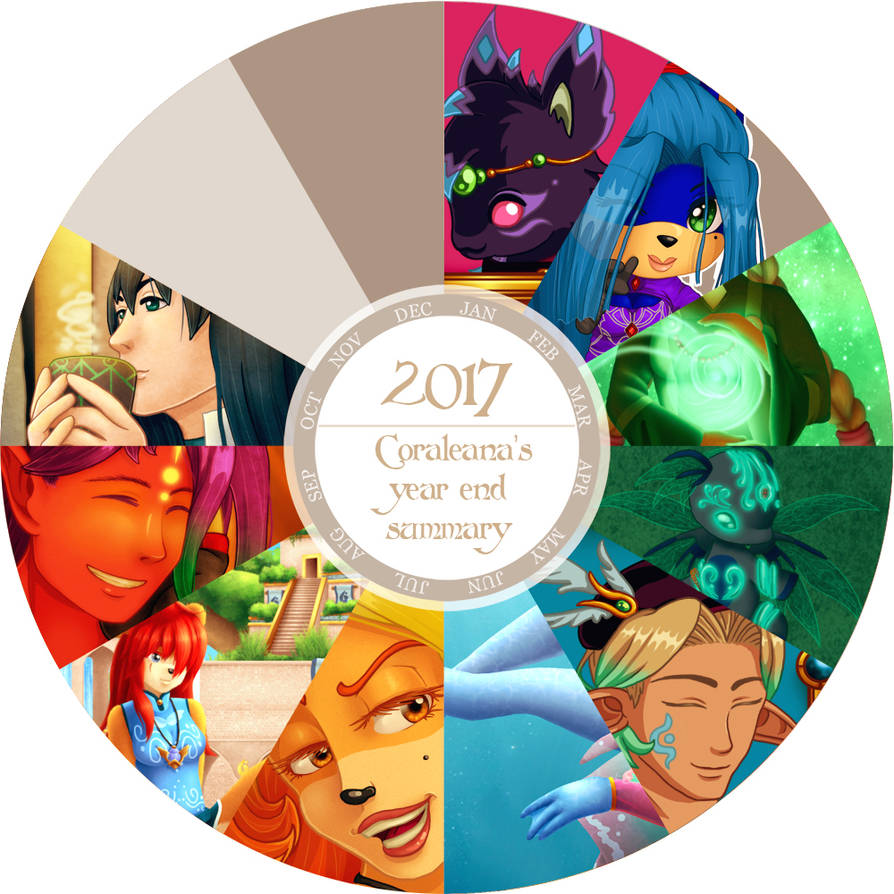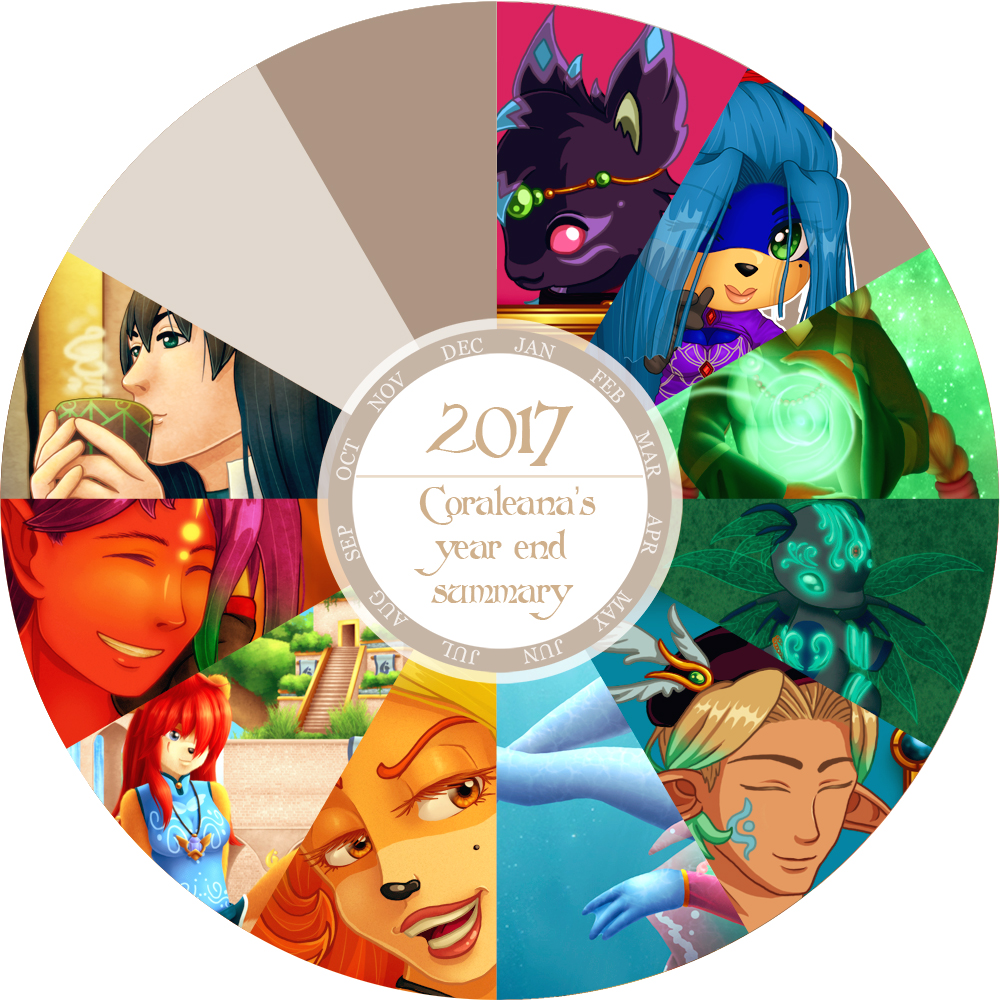 Watch
Since I'm not around much, I want to take this opportunity to wish you all a Merry Christmas and a happy new year. I hope 2018 will bring good things to all of you.
I actually really wanted to make a fun christmas picture, I had some fun ideas, I wanted to include a lot of chars. Like Khyran and Telena building a snowman, Kalde holding up a mistletoe so Marcus could kiss Coral underneath it. X3 James and Miles Christmas Caroling. but there's this blockage still (no not an art block, something more than that).. and I still can't sit here long enough to really draw it anyways, dang pain. oh well. Have a good one everyone!



Not as impressive as last year I feel. :/ Also, I thought I was pretty active in the beginning and middle of the year, but apparently not. There were months where I only had one deviation.

Also the last two months there's nothing since I haven't drawn since October..

January: Miles Expressions; coraleana.deviantart.com/art/M…
February: Free Request 1; coraleana.deviantart.com/art/F… (was a request for SONI4CA )
March: Earth Magic; coraleana.deviantart.com/art/E… (birthday gift for AilwynRaydom and the only artwork in that month)
April: Colored Doodles; coraleana.deviantart.com/art/c… (I wanted to feature the Mu-ah in the top left, but then Telena's hair would show and it would look weird. Also the only art work in that month as well.)
May: James Expressions; coraleana.deviantart.com/art/J…
June: Calm Waters; coraleana.deviantart.com/art/C… (was tough since there were three deviations I loved in that month, the other two being Blue Light Collab (collab with AilwynRaydom ) and Friendship (a gift for oreana ))
July: Don't think about it; coraleana.deviantart.com/art/D… (collab with AilwynRaydom, and most of the other deviations were ref sheets..)
August: Contest Entry Water City Lutra; coraleana.deviantart.com/art/C… (contest entry for DragonQuestHero's contest)
September: Blowing off some steam; coraleana.deviantart.com/art/B… (my favorite one of this year, maybe even forever. Sadly I also really liked How May I serve you princess? and Somebody to love.)
October: Tea Time; coraleana.deviantart.com/art/t…
November: nothing
December: nothing



Credits:


Art (c) Ingrid Timmermans A.K.A. Coraleana.


Characters (c) their owners.

Template (c) folie-0885.

you did some really amazing drawings indeed!
Reply

That's really cool from you.

Reply

I should really do one of these as well, Im way behind mine, I have missed for at least 2 years now I think.

I love all the art you have done and remember them all very well, along with our collabs. It was a very fun moment
in my life I always enjoy doing with you.

in a way it makes me feel closer to you.
Im sorry to hear about your pain my dear.

but still you yet have the spirit to keep on moving and you
got ideas to draw again.

You are a fighter my friend and I know you will draw something amazing as ever again.
Like you telling me, taking your time

Reply

well it isn't necessary, but it is fun to see what you did all year, and see if you've improved.
We sure did do a lot of collabs this year. X3 They were fun.
Thanks Annie.

I hope my will to draw will return again.. I feel empty not drawing, but I can't seem to do it. I keep struggling with my feelings.. x.x
Reply

Sure is

Absolutely! You know me by now about collabs XD !
Sometimes its better to take a break even if it is a long one just to work things out by yourself. Sooner or later you will find your way back or maybe take a diffrent part. You just need a break threw and thats something you sometimes cant force.

Reply

I know. Breaks can be good and even necessary and forcing is never good. Often it just makes things worse.
But sadly I still have 2 open art trades and one of them just finished their part.. so I feel I have to work on that even though I can't really.

Reply

I think you should talk to them you have art trades with and explain your
situation if you not have done it already, you dont want to draw them something
your not to happy with just because your stressed. And I think they will understand
also.

like you said in your journal, be little selfish

Reply

I did tell the person, they seem to understand. I just HATE making people wait. x.x and the bday gift is for my friend, she's never difficult about these things.
Reply

I am the same way, I dont want to make people wait.
But if you are dealing with friendly people who understand
what you are going threw, you should try to give yourself
sometime while you still can.

Like you are giving me
with the commissions I doing for you : 3
Reply

Oh gosh, I do hope you feel better..

I hate you're in so much pain, and I am hoping it goes away soon. >.<
Even if you feel you didn't do a lot, I think the pieces you DID do are wonderful and beyond worth seeing! I absolutely adore them! I adore the close up of 'don't even think about it'. xD Great expression that you collabed with your friend on!
I am hoping next year will be a fantastic time for you, and much more inspiring and bring everything you want and need.

You deserve the best~.
Reply

Some of it won't, I do hope the other thing does, but they did say it will take a long time. :/
Thanks. Yeah I really love that expression too, Annie did an awesome job drawing that.

Thank you so much. I wish all the same for you as well.


Reply

Wish you a happy christmas and happy new year


Always love to see your meme every year

Keep things rolling my dear~~
Reply

Merry Christmas and a Happy New Year to you as well! ;v;
I'm still amazed by your backgrounds, especially the one I can see in August. <3
Reply

Thanks very much. Yeah the one in August is pretty sweet. I do love making such backgrounds.

Reply

Rock on Coral!! X3 keep going girl!!
Reply