Starting at the top, my Catgator is a member of this species: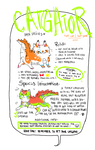 A shirt covered in shirts, a redraw of an old idea.
Find out more about my Spidersona here:
toyhou.se/5351997.sir-spiderst…
I covered a mini rubix cube keychain in mixed media squares: fabric, fabric paint, acrylic paint, crayon, marker, highlighter, paper scrap, colored pencil, ballpoint pen
I made two necklaces, one is a ghost made out of model magic and the other is glued together lego skull heads and lego bones.
These are all of my human Animal Crossing OCs. Find out more about them here:
toyhou.se/CoolKaius/characters…
Instances of my open species. Find it here:
toyhou.se/5484168.triskas-open…
Redesigned my Impim closed species character. Find out more on their group

A Switch Lite that I'm going to use to design a custom skin for my Switch Lite.














Image size
2309x8923px 4.6 MB