Hi guys!







June is here, the month of summer. So let's celebrate this season with yet another special commission sale!

Once again I'm introducing Special Monochrome Commission that looks like this: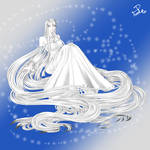 One SMC will have one fullbodied character.
Here are the prices below:
1 SMC = $7/700

2 SMCs = $12.5/1250

3 SMCs: $20/2000

4 SMCs: $25/2500

SPECIAL OFFER: If you order 4 SMCs, you'll get one SMC ABSOLUTELY FREE

This sale will end on July 1st 2016.
So come on and order yours today!
Take care and have fun!