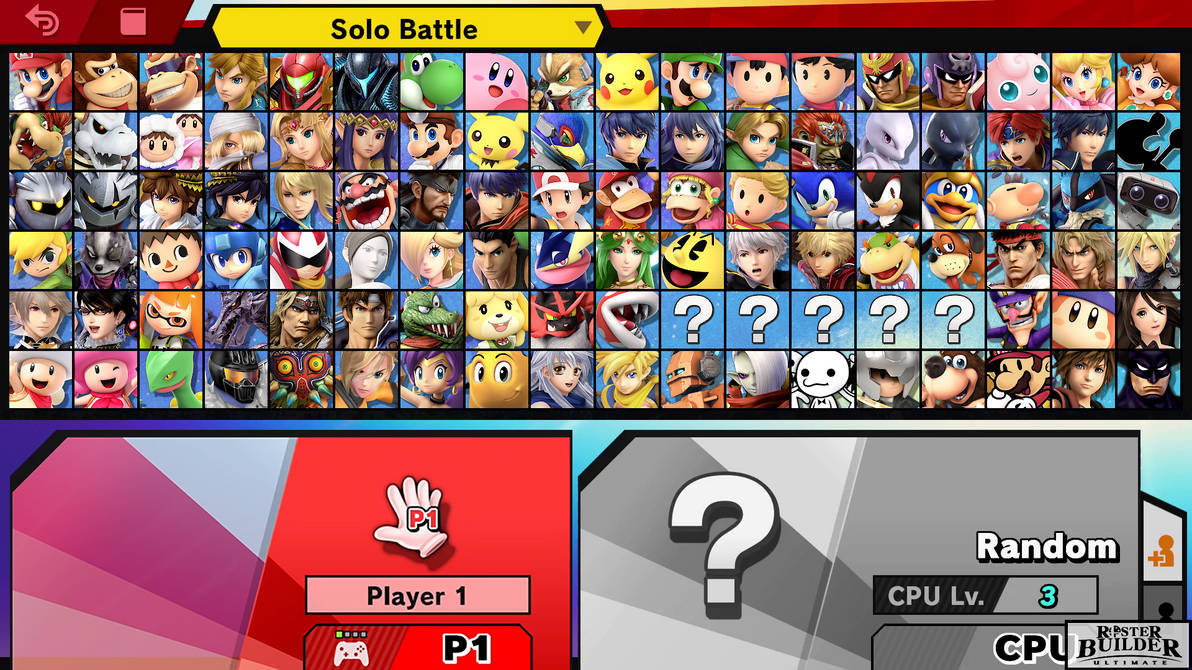 Roster Builder Ultimate is here!

Since the announcement of Super Smash Bros. Ultimate, I've noticed more and more that Roster Builder would likely be unable to catch up to the quality of Ultimate's artwork. Roster Builder was based on the character icons ripped directly from Super Smash Bros. for Wii U, and added icons were designed to either loosely match the style or fit another popular 3D art style. Ultimate's art style is much more contained in terms of color, shading, and lighting, and Ultimate also used a different drop shadow. In response, I decided to create a spin-off of Roster Builder: Roster Builder Ultimate.
I'm sure there are a few things I need to explain, so here are some questions answered:

Is Roster Builder Ultimate replacing the original Roster Builder?

Both the original Roster Builder and Roster Builder Ultimate will still continue to see separate updates, but neither will be as frequent or substantial as Roster Builder has been in the past. While the format, style, and quality of Roster Builder Ultimate are all superior to the original, it is incredibly impractical for it to feature nearly the same amount of character icons. Quality and quantity are now balanced between Roster Builder and Roster Builder Ultimate.
How are characters chosen and added to Roster Builder Ultimate?
Anyone can easily create their own character icons, but Roster Builder Ultimate will include new characters based on popularity, demand, and feasibility. The Ultimate artwork style is very distinct, and most of the character artwork made specifically for the original Roster Builder does not fit the Ultimate style, so more often than not, new artwork must be made or heavy edits are required. In addition, a character's color palette must also be altered to fit in with the other characters. I also pick characters based on their ability to be valid Newcomers, Echo Fighters, or Bosses.

To make sure that future characters added to Roster Builder Ultimate are worthy of a slot, I created a poll featuring characters yet to be added to Roster Builder Ultimate. Please take the time to vote for the characters you would most like to see included in future updates, and I will do my best to include the most requested characters!
Joker from Persona 5 is not in this first release. Will he and future DLC characters be added?
DLC characters from Super Smash Bros. Ultimate will be added as high quality renders of their official artwork have been released. The in-game character icons will be included once they are made available.

Are there new guides included with Roster Builder Ultimate?
Two new guides are included to make using Roster Builder Ultimate easier. One guide has the settings needed to create accurate drop shadows for character icons, and the other guide has the grid configurations listed for different-sized character rosters.

Where can I download Roster Builder Ultimate?
Just like the original Roster Builder, you can explore and download Roster Builder Ultimate on Google Drive, and both exe and zip packs are available to download. No request for access is necessary. If your email does not permit you to access the files, please use a different email account.
Is there any way to help out?
If you're an artist making any high quality renders in the
Ultimate
style, I would be happy to feature your artwork as part of the pack! If you'd like to support what I do in any other way, I would be thrilled if you check out my film work that I make at my production company
Kyanite Pictures
. We recently released a trailer for a new sci-fi short film!
I would like to thank you all for the support over the years and for making Roster Builder bigger than I ever imagined. I hope you enjoy Roster Builder Ultimate!