Hey Concepteez,
Another heat has just passed, players have outgrown the leader board with some saying that winning is the only option that they have.
Elderscroller
aka Markus decided to join the rally this round. Not only to join but raise the bar for all the participants in this and the future rounds.
A blend of cleverly placed characters and creatures in this piece helped Marcus score the top spot in the poll.
From composition to form, the subtle use of sub surface scattering to the priceless emotion on the characters faces. This piece is nothing short of jaw- dropping mastery. A well deserved victory.
Not only did he win the contest with flying numbers but also took the time and the initiative to explain his painting process, from the way he planned the lighting to some insiders tips. To see a Marcus's workflow in action click on the image below. You won't be disappointed.
shoze
took the second spot with this greatly painted illustration of a Meerkat, relaxing on its throne. The leading lines in this piece, simplistic colour palette and the subtle use of framing helps keeps the audience within the image.  Love the Carefully placed circular shapes to emphasise the focal point above the creatures head. Nice touch. The paint brush also opens the viewer to come up with their own storyline which is great.
Taking the third spot is
villaskgm
with this vibrant and warm goblin painted as an illusionist. The energy in this creature adds a demonic speed and motion and makes you want to quickly move your eye around before he vanishes away. The evil facial expression to the stance of this creature is all very well imagined. Great job!
With no shortage of wins in his bag
Scorpion451
struck a heavy blow this round by stepping outside his comfort zone. Going for a rather bold camera angle is not an easy task. Help me commend Joshua for trying something brave and risking his title. Well done!
and now for the runners up: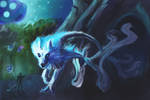 :thumb402883908: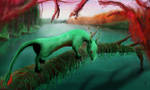 :thumb403606963: :thumb403326373: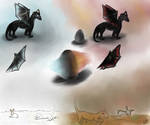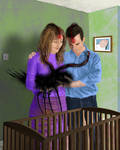 These artist are really stepping up their game and putting their best foot forward in getting rid of their public fears. Winning these rounds means that you'll have to step outside your comfort zone and bring something new and different to the table. This rally doesn't end here and through perseverance anyone can win.
Leader board will be available on the homepage shortly. That wraps up yet another amazing round.
Have a suggestion for our next round (Character round)? Comment below and have your say.
Gagan