Hello everyone and welcome to our first contest of the year!
Before we start, we've taken your feedback into consideration, and realised that a lot more community driven projects should be happening, to do this we need more admins.

If you would like to contribute your time as an admin, send us a note, tell us a bit about yourself, and what skills you can bring to the team.
---
This contest is new and comes with a twist; to enter you need
a partner in crime to collaborate
with.
So far the teams go as follows:
Delta




Echo




Victor




Indigo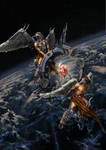 Alpha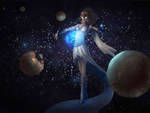 November




Tango




Charlie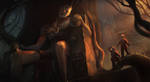 Whisky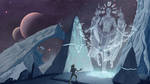 Oscar




:thumb597666689:
Romeo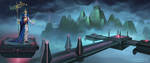 Lemur




Delta Tango




Foxtrot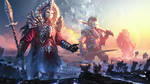 And so on..
Admins will team up with a member if we have an odd number;
Participating Admins so far:





and last but not least

We are all partnered up for this round, there are members who need a teammate, so talk between yourselves and let us know who we're adding to the list

The theme for this round is:
Gods of Planet 9
, a mashup of ideas from the community, and our very own

.
For more information about Planet 9 here are some reference links;
www.newscientist.com/article/2…
www.newscientist.com/article/2…
en.wikipedia.org/wiki/Planet_N…
Before you start, find yourself a partner within the community. If you don't have one in mind and want to meet new acquaintances, post your name in the comments and we will pair you with somebody awesome

The contest entry has to be an environment with character(s) included in the piece, designed by two artists sharing the work.
---

Any suggestions for a future theme? Feel free to join us on Facebook as an alternative method of sharing your ideas, or post your comment below.
www.facebook.com/concepteez
---

Collaborate – Character and Environment round
Contest –"Gods of Planet 9" .

If you're taking part in this contest round, just post your name below and whom you will be collaborating with, then read the details and get cracking!

You all have three weeks from now to find a Conceptee to join forces with, and finish your collaborative entry.

There is a timer on the front page which counts down, so you don't need to ask us about the time zones, just work it out from the timer.
The winner and the contenders will see their work featured in our next Concepteez's issue. Make sure your work is of a high standard (a4 size) and save wip shots to be qualified.
---

Collaboration contest 01

You can add facts of your own but you must have the basic requirements (Has to be a Character AND Environment-based piece).

Please add a small description in your entries stating that it is made for this competition
Also add:    

Add a link to wip file if you've managed to grab some screen shots of the process, similar to kuroi-tsuki.deviantart.com/art… and kuroi-tsuki.deviantart.com/art…    

You can also add our logo by pasting :iconConceptWorld (add another : to the end) into your description.
---

Rules

Your partner in crime has to be a

member

You can use any piece of software and the entry can be 2d or 3d concept.

Submit your entry to "Contests". You can only submit one entry so do make it count.

Make it relevant to the theme.

Follow the Group submission standards as well as the rules of the contest, Admins will accept entries from Beginner>Intermediate level, and Professional level, two separate tiers to keep it fair, you decide which folder to submit your work to.  
---

Judging
Admins will be judging your piece based on these contributing factors;

Does it fit the theme/ round?

Originality

Composition

Presentation

Entries will be sorted by admins, we'll pick the top 10 entries after which Concepteez members can vote for them in the poll
*The admin team has the right to disqualify any entry if it doesn't meet our requirements.
Winning the poll will not guarantee you 1st place.
While we will still be using public polls so all Concepteez can have their say, Admins have the final word when choosing a Winner.
---

Prize



We have 2 x 3 month DA memberships.



2 x 300 Points 2 x 150 Points to be distributed as we draw close to our 10,000 Conceptee milestone.



You will be featured on our main page (a 640x480px image) until the end of the next contest.



The winner will also be featured in our Featured folder, along with the rewards for taking part, it'll be a great learning curve and a chance to make new friends!


You'll also be in the next Community Spotlight Feature.



You may be featured in Concepteez's next magazine issue.



Pass the torch: Starting now Contest Winners will be given code for a custom box to place on their DA Art page from us, stating which contest they won and the torch itself.
It serves as an icon that symbolizes hard work and achievement. So keep an eye out for it at the end of this round.
Furthermore, we'll be keeping a tally of the contest winners all year.
The artist with the highest score will become

Artist of the year, and will receive rewards to go with their achievement.
---

*Use this contest to improve your skills and share progression with your peers, make friends and get involved with the community. You never know when you might get hired.


"There is a clear link between how well an image did to the amount of time spent on it."
The theme for this competition is:
Character and Environment
Contest –"Gods of Planet 9" .
and the DEADLINE is Sunday March 20th at midnight.
Pick a partner quick because we want to see your concepts!
Let's get creative
Bee