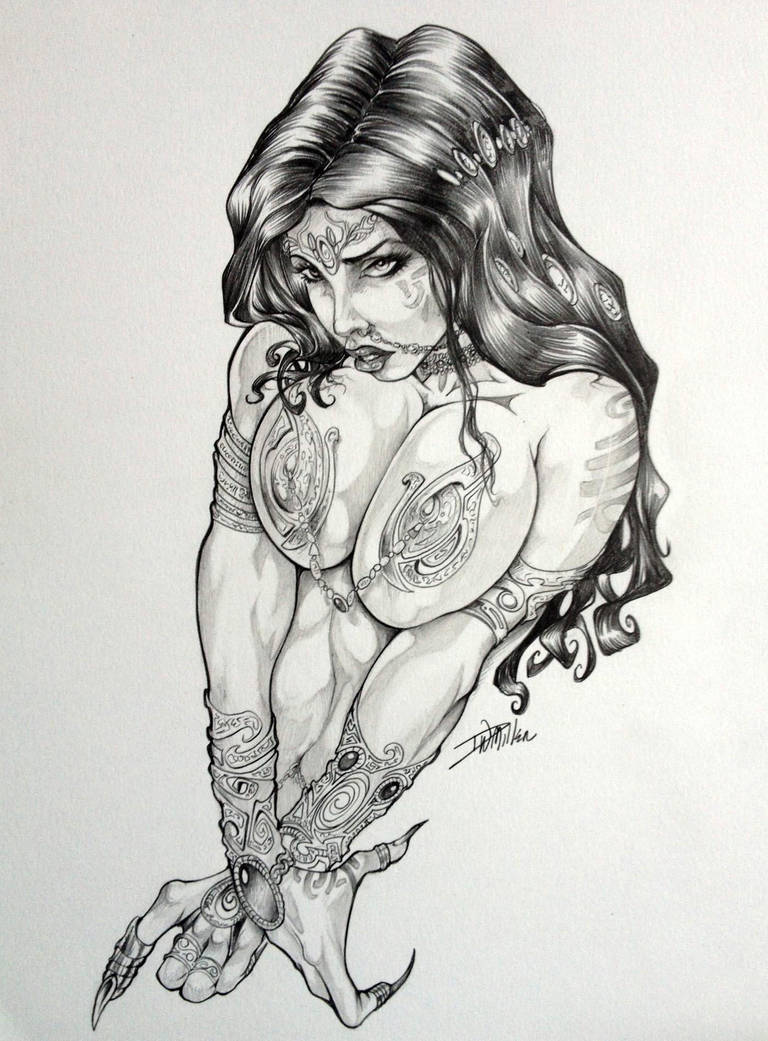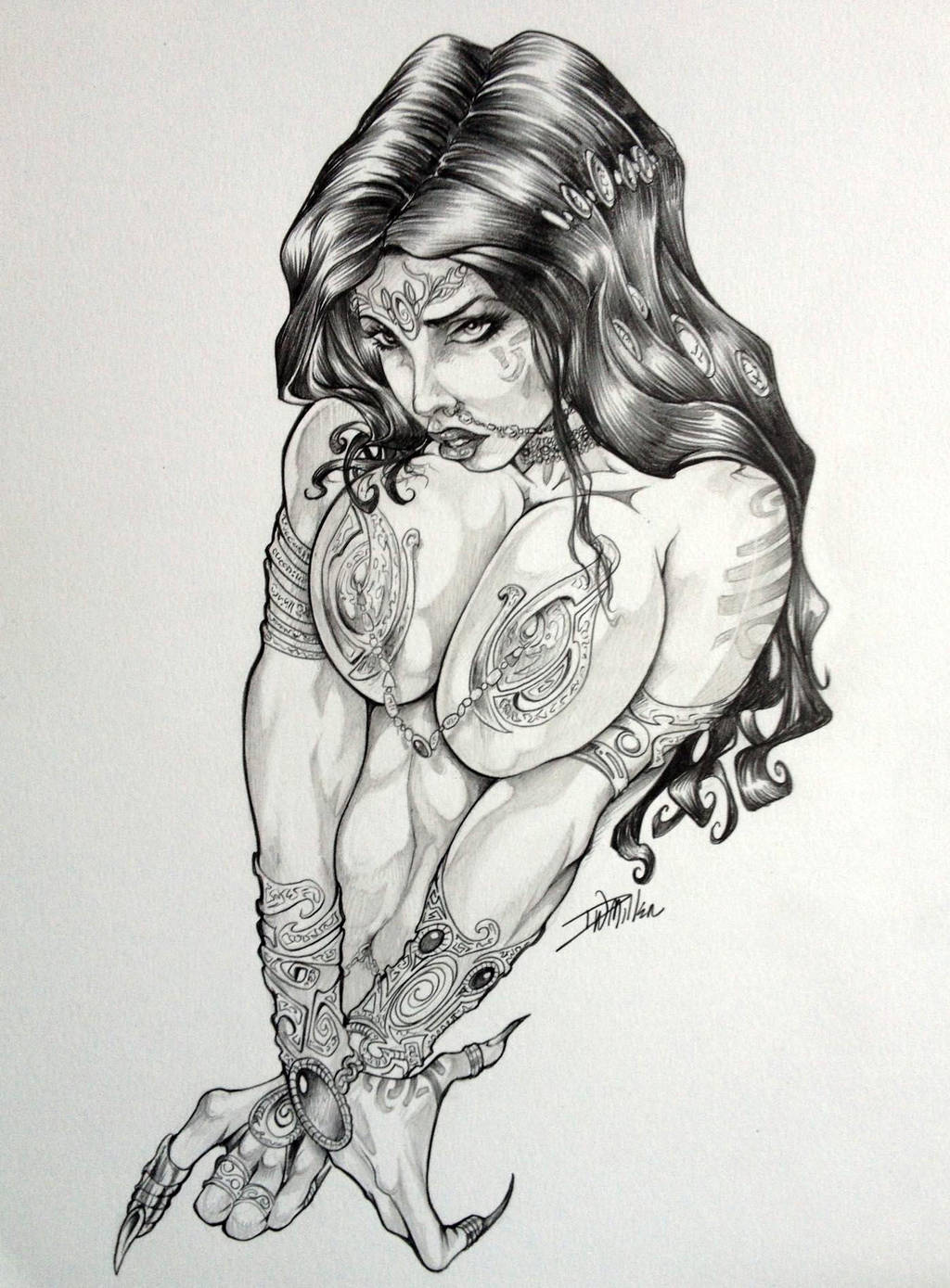 I've backed off on critiquing since I retired in 2009. The fact that I retired wasn't the reason, The fact that I stopped drawing completely was.

There are times when I am exposed to an artist's work, however, and I feel obligated to make some sort of comment. Mr. Miller was nice enough to request critiques on this piece, and so provide me with the perfect excuse to comment on his work.

As with any critique I make here on dA, I reviewed D.W.'s entire portfolio here, so as to familiarize myself with a body of his work. Doing so was quite the ride. Miller has an amazing imagination, and a unique unde4rstanding of the word "fantasy"... and how it applies to creative art.

You don't have to look at more than a few of his pieces to get the fact that Miller exaggerates his figures, accessories, backgrounds (such as he does them, if at all) in whatever way seems required by him to enhance a given image.

And therein lies the magic.

One might be tempted to think, at first, that Miller has little control over these exaggerations. In truth, I think he does allow the way he warps some of his work to get a little carried away. This may be due to youth... or a still developing skill set. I don't know if this is so. I don;t know D.W. personally, and have not read a bio on him.

Even so, I think he has the ability to control the way he exaggerates his work, and I think this piece demonstrates that control perfectly. Many artists, working in a commercial milieu, have had to deal with illustrating Deja Thoris, one of the quintessential "babes" of heroic fantasy, in such a way as to stay true to the way she is describes by Burroughs in his work, but render the illustration in a way that is commercially acceptable.

For those not familiar with the John Carter Of Mars books by Edgar Rice Burroughs, Deja Thoris, a princess of Mars, is described as being fully nude, with the exception of various accents and baubles that, far from covering her nudity in any way, serve to enhance her beauty, and draw even greater attention to the fact that she is completely au' natural.... Many very noteworthy illustrators.. among them such master of the craft as Boris Valejo or Michael Whelan, took the easy way out, in my opinion, and merely illustrated our buxom princess with full breast plates, or in some cases, a blouse. The issue being that you simply cannot have a beautiful woman displayed nude on the cover of a fantasy novel that might be sold form the shelves of your friendly neighborhood book store.

So it is that Deja Thoris has never been illustrated correctly, in a way that might actually stand a chance of being passed for publication.

Which might give you little insight into why I think this particular illustration is masterfully done. Even though she is fully covered, with not the slightest sliver if nipple showing, she is absolutely, in every way that the mind of the viewer can perceive, completely, erotically, wonderfully nude. As Burroughs intended, and as millions of loyal, avid fans, most of them young men with robustly healthy libidos have hoped and wished to see depicted.

If MIller ever chose to make such a depiction of Deja Thoris a part of a more complete illustration, such as would be required for a book cover, I feel confident he could maintain the qualities that make this work so special.

This IS Deja Thoris. He nailed it. And the exaggerations he used perfectly accentuate the qualities that made her such an unforgettable character in Burrough's works.

As a life long fan of ERB, Frazetta, and hard core fantasy literature, all I can say is...

Mighty fine job, my man.

Keep it up!
The Artist thought this was FAIR
4 out of 4 deviants thought this was fair.