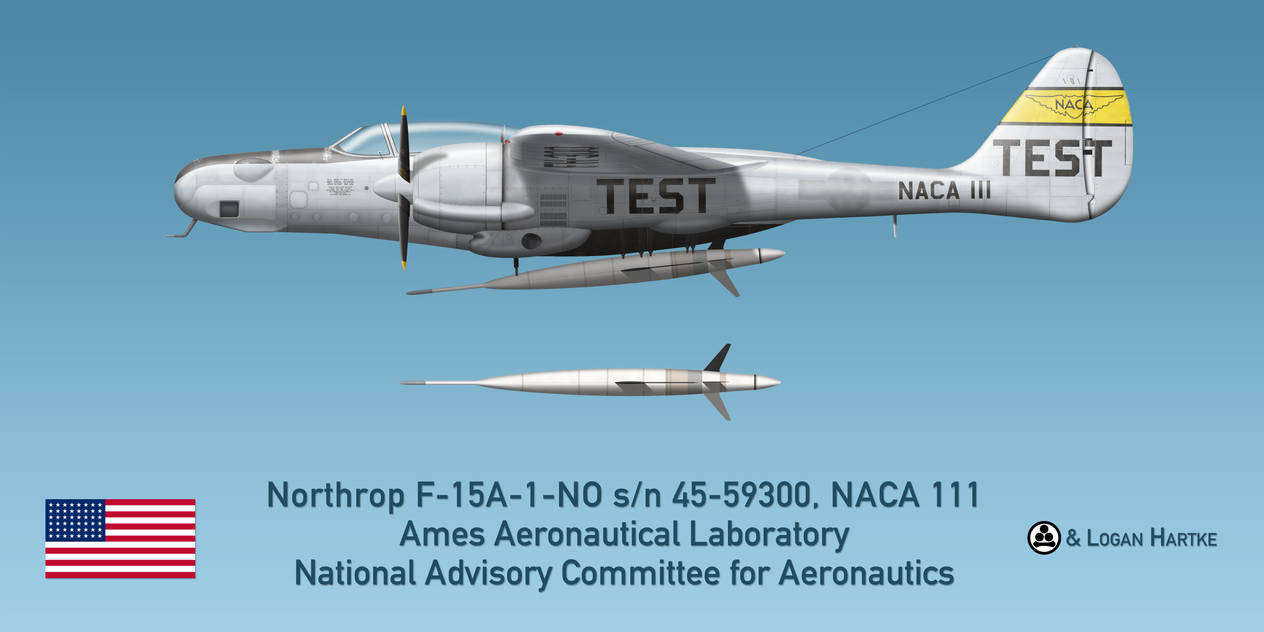 The last flying example of the entire P-61 line was a rare F-15A Reporter (RF-61C) (s/n 45-59300), the first production model Reporter to be built. The aircraft was completed on 15 May 1946, and served with the Army Air Corps and later the U.S. Air Force until 6 February 1948, when it was reassigned to the Ames Aeronautical Laboratory at Moffett Field in California for transonic aerodynamic research. Interest in the transonic flight regime increased markedly after the Second World War, reflecting further attempts to increase aircraft performance. However, wind tunnels of the time were inadequate for carrying out this kind of research. In one approach to acquiring transonic aerodynamic data, heavily weighted models of the configuration of interest were dropped from high altitudes. In those tests, which were conducted at Edwards Air Force Base, aerodynamic bodies that were to be evaluated in the transonic flight regime were released from an aircraft at altitudes up to 43,000 feet. The instrumented bodies would pass through the transonic speed range in free fall, during which they were oscillated through a range of angles of attack and were then decelerated and recovered by means of air brakes and parachutes. Testing at these altitudes was arduous and, although the pilots wore heavy flight suits, the model drops were made on the first run to reduce the pilots' exposure to the extreme cold.

The F-15A-1-NO aircraft, a reconnaissance model of the P-61 night fighter, was reconfigured to serve as a launch vehicle for these tests. The high-altitude capability of the F-15A made it the ideal "mother ship" for this work. An aircraft similar to this one, an ERF-61C, owned by the Smithsonian Institution, was lent to Ames to be used in this program as well. Pilots who participated in this work were George Cooper, Rudolph (Rudy) Van Dyke, Don Heinle, and Fred Drinkwater. As with the wing-flow tests, qualitative results were obtained; nevertheless, the advent of the new transonic tunnels supplanted flight testing as a means of documenting the aerodynamics of this flight regime. The air-brake and parachute systems developed for these tests were subsequently used by many agencies for rocket and satellite payload recovery. In April, 1955, the F-15A was declared surplus along with a "spare parts" F-61C (s/n 43-8357).

Now that is the scheme I have never seen. Fascinating. I am a model builder, and recently got a conversion set to change a P-61 into an F-15. Considering there were very few built, this would make a truly unique model. When I saw this profile I instantly tried to find some more information online, but was unsuccessful. I would love to reproduce this particular airframe in model form, but I need more information on the markings. I would need to know the marking information for the tops and bottoms of the wings and perhaps any other unique markings that may have been retained by this airplane on the top or bottom surfaces. I am hoping that perhaps you'd be kind enough to give me that information if you have it.
Thank you for providing a profile that really stirs my imagination. I would love to reproduce this and hope that you'll be able to help me. In any case, it's a beautiful example of your artistic abilities. So thank you for that.
McLents
Reply

Hi McLents! I have a good deal of information that may help you out a bit. I last touched this about four years ago and there were a couple of great images on Flickr that have since been removed (I think from NASA's Flickr, so maybe they're just hiding?), but I think there's still enough to get what you need.
This is the best source of images for the aircraft in question:
napoleon130.tripod.com/p61blac…
There's another beautiful image of
45-59300 here:
aviadejavu.ru/Site/Arts/Art886…

And a site that gave some info on the project is here:
history.nasa.gov/SP-3300/ch2.h…
And that comes from this book:
www.scribd.com/document/464739…

I got a couple of good images from this book:
www.amazon.com/Northrops-Night…
www.squadron.com/Northrop-s-Ni…

...which I would highly recommend anyway. If you message me with your email, then I can send you a zip file with all the reference images I used for the profile. I can tell you that this is as accurate as I could make it given the available references. What took me the longest time to figure out is what it said under the left wing. It actually says either "FH-300" or "FK-300", which is consistent with USAF buzz numbers at the time. I went with "FH-300" in the profile. The other problem is that markings changed at some point during testing. It started with full USAF markings which were largely removed and replaced with NACA 111, it seems. But there's no good images of both sides and the undersides of the wings in both guises. There are no images I know of that show the top of the wings, but I suspect they're identical to standard USAF F-15A (RF-61C) Reporter markings from the period. Let me know if you have any questions!
Reply

Well,thank you very much! I just got this message so I haven't even started to follow your leads yet. That's something I'll do this afternoon. I appreciate the response and your offer. My email address is mclents@yahoo.com. I will look forward to our conversation.
i will probably have more questions after I get a chance to peruse the info. Thanks again and I'll be in touch.
McLents
Reply

I was just reading about these tests in an old magazine.

Reply

It's one of the few real world profiles I've done, but I think it matches the actual aircraft pretty closely.
Reply

Gosh, you nearly fooled me, it's a very believable story and aircraft! Well done.
Reply

Reply