Artist, Musician, and Commenter

BL8ant, EinStud, Compusician, ES, RuffX, BL8antBand, Gary Ruff.


---
I help this charity...
Happy Hill Farm
---

Signatures:

ES, ESFX,
Compusician, BL8ant, and
EinStud

DGCA and Effects Artist
Computer Musican
Poet


---

I love art that asks questions. You have art? I have questions...

---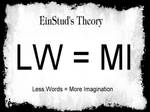 LW = MIEinStud's TheoryL
ess
W
ords =
M
ore
I
magination
---
Before the Chicken or the Egg, the IDEA had to come first.
It is like art. When you are finished with some art, no one asks, "Which came first, the paper or the paint?".
(I suppose you could ask, but there is never a place in time when we really know if paint atoms were around before paper atoms... but what we do know is that the painting was born, when the artist formed an idea)

Who was the "painter"?

---
All art created here is blessed for good health, good fortune, and good luck. It will do the same for you.
Peace Out, Gary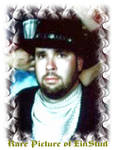 Current Residence: Dallas, Texas USA
Favourite genre of music: Psychodelic, Strange
Favourite style of art: Abstract
Personal Quote: Bringing life to reality, through the imagination.