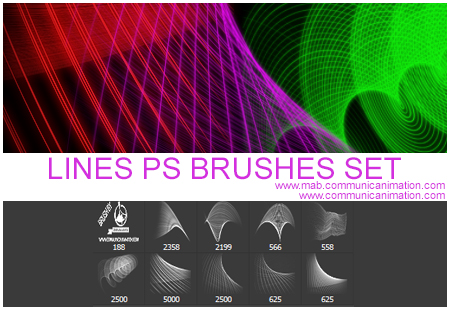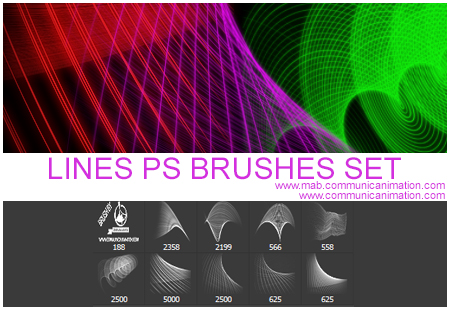 After the Christmas brake, we return with a new free resources for all of you. A new Photoshop Brushes Set
This time we decide to create a new Lines Brushes Photoshop Set.
For those who don't know how to install theme, they have to follow 5 simple step:
Unrar the file in a directory at your choice and copy the file CommunicAnimation Lines Brushes LQ.abr
Reach the Photoshop directory to Program Files/Adobe/Adobe Photoshop (your version)
Open the brushes directory at Presets/Brushes and paste inside the brushes file (CommunicAnimation Lines Brushes LQ.abr)
Start (o restart) Photoshop and find your new set aviable with the other brushes you install.
Have fun with our set to create your work, and share them with us!
If you want to download the HD version of the brushes go to our Multi Art BlogFor all the deviants
We ask to credit us if you use our resources. That's not mandatory, but we really appreciated it!
Remember to follow us on
Twitter
,
Facebook
and
Google+
______
**ITALIAN VERSION**
Dopo una lunga pausa natalizia, tornano le risorse gratuite da parte del nostro gruppo per chiunque volesse usufruirne.
Questa volta abbiamo deciso di creare un nuovo set di pennelli di linee per Adobe Photoshop.
Per chi ancora non sapesse come fare per utilizzare queste risorse seguite questi semplici passaggi:
Scompattate l'archivio in una cartella a vostro piacimento e copiate il file CommunicAnimation Lines Brushes LQ.abr
Raggiungete la cartella di Photoshop in Programmi/Adobe/Adobe Photoshop (vostra versione)
Aprite la cartella Presets/Brushes e incollate all'interno il file precedentemente copiato
Avviate (o riavviate) Photoshop per trovare il nuovo set di pennelli nell'elenco di quelli a vostra disposizione
Divertitevi creando i vostri lavori e condivideteli con noi una volta realizzati
Per scaricare la versione HD dei nostri pennelli, venite a visitarci sul nostro Multi Art BlogPer tutti gli utenti di DeviantArt
- vi chiediamo di inserire i nostri crediti nei vostri lavori quaora usaste le nostre risorse. Non è obbligatorio, ma sarebbe largamente apprezzato!
Ricordati di seguirci su
Twitter
,
Facebook
e
Google+