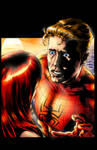 Deep in beneath the surface of deviantART lies the heart of comics creation. At the Comic Underground, we strive to bring quality comics to the attention of deviants everywhere. We accept whatever path you choose to follow, whether you create Death Note manga, make detailed drawings of Marvel superheroes, or simply doodle incriminating four panel slides of your boss as an angry badger in your spare time. We are not elitist, and we gladly welcome new comic artists. If you like contests, challenges, features, and surprises, join the Underground today! I guarantee you will not have to take a British subway.


The types of art that we accept are:


Anything related to comics, including . . .


Comic Strips


Comic Book Style


Single Page Comics


Superheroes


Comic Book Fan Art and Fanfiction


Comic Book related Drawings and Sketches


Manga and Anime


Game Art, anything related any games, including . . .


RPG art (MMORPG, roleplaying, LARP, online RPG, RPG fanfiction, etc.)


Video game art


PC game art


Online game art


Board game art


Cartoons and Animation including:


Cartoon characters from TV, movies, etc.


Flash animations


Fan Art, Fanfiction, and Original Characters


Commissions and Adoptables


Memes


Anime and Manga




Adult Content is BANNED