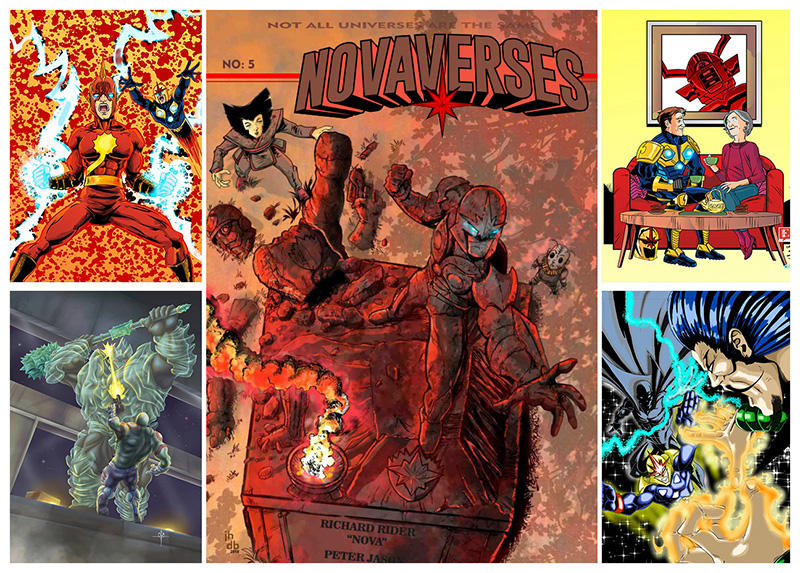 Novaverse #5
was released yesterday on the
Nova Prime Page
so I invite you to read issue 5 and the previous ones.
Novaverses
is an anthology of stories from alternative universes with
Nova
as main subject.



Here you can read issue 5
www.novaprimepage.com/fanworks…
and here the previous issues
www.novaprimepage.com/novavers…




This issue's cover illustration by
Jason Heichel
and
Daz

Rise of the Corps – Arc 1 – Whatever Happened to Richard Rider? Part 1
Written by
Gordon Fernandez
Illustration by
Jason Heichel
and
Daz
Start of a brand new epic with an alternate approach to the events after The Thanos Imperative! With his big brother lost to the Cancerverse and presumed dead, Robert Rider has decided to mourn no more. Driven to find the final fate of Nova Prime, Robert's search means taking on a new identity!

Red Dragon: Part 3
Written by
Bryan Dyke
Illustration by
Jotazombie (Fernando Argüello)
As the battle between the Nova Corps and the Badoon rages on, Drax and Cammi and a cohort of Centurions face off against a Badoon God; He Who Cleanses The Weak!

Starscream: Part 5
Written by
Daz Blackburn
Illustration –
Emiliano Correa
,
Joe Singleton
and
Daz
Richard J. Rider makes an incredible voyage into the heart of the star destroying weapon of mass destruction – and has the most wildest cosmic encounter yet – with his mom?! Enter the mind of a Celestial…if you dare…

Dream of Living Justice: Part 2
Written by
Byron Brewer
Illustration by
Jason Heichel
If the Wonder Worlock is going to defeat Jakar, then he needs a powerful ally to help him; so who's the lucky guy?