We post a lot of "How To" articles here, and we'll likely never stop, because there rarely is a step-by-step guide to "do this, and you'll do awesome!" There is a ton of advice out there, and the best advice we can give is... take it.
Even when you have a set up that works, improve! And share your advice, because we all do better helping one another.
So to that, I present you my latest finding.
Stickman's Tips for Having a Table at a Comic Book Convention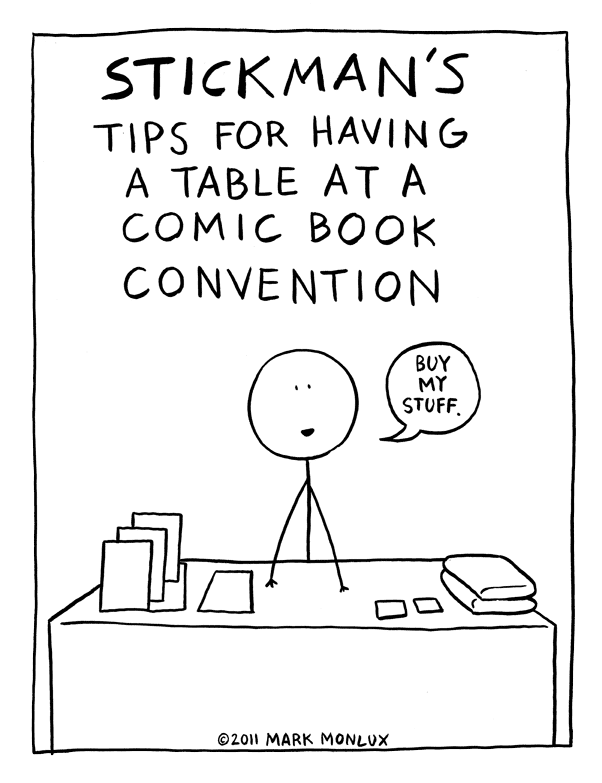 This guide is fully, short, and brings fantastic points across that everyone should know. It was done as a 24 hour challenge, but even so it is a brilliant resource. There are 16 tips, from what to do to get a table, all the way to packing provisions, and then there are tips for flying as well as reading the crowd.
The tips follow 6+ panels and give very basic arguments, but good ones to catch up on. For starters is tip 1...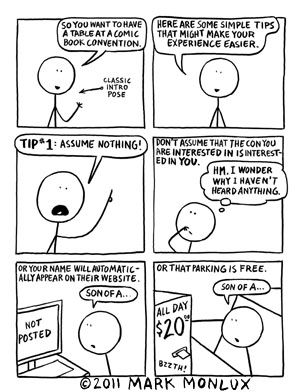 , which focuses on assuming nothing! Too many times tables get lost by people who assume a convention will contact them (they might, but usually not the first few! Sometimes it never happens, no matter how popular you get) Other times, people just assume the convention will post when tables are available... and they will, but more often than not the post is made when they only have a few slots left. As soon as you find out about a convention, contact them!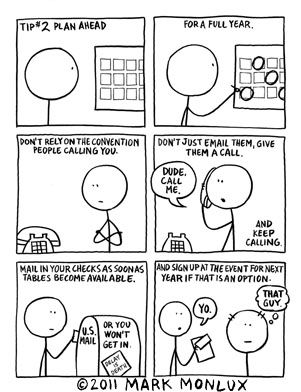 The tips go on to mention planning ahead, and this comic does a good job at showing that when they say to plan ahead... they really mean it! Don't think the 3-4 months before the convention is plenty of time to get everything done... for big ones, such as Phoenix ComiCon, DragonCon, and the like, you start planning before you even know if you have a table.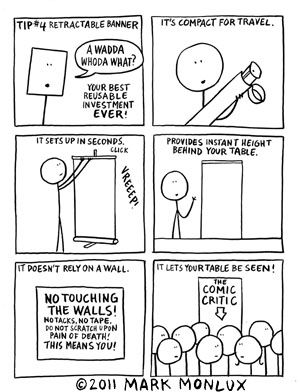 They also bring up some good design aspects I see far too many people forgetting, such as that banners are your friend, and banners that pretty much hang themselves? They're your best friend who always offers to drive or at least pay for gas.
They also go into table display! Height is your friend, but keep it responsible!
This comic is a great read and a great resource to have.
Mark Monlux
has done a great job at creating a handy, easy to read reference for those who are attending conventions either for their first time, or who are simply seeking to improve their convention experience and want to learn from someone who has done it many, many times.