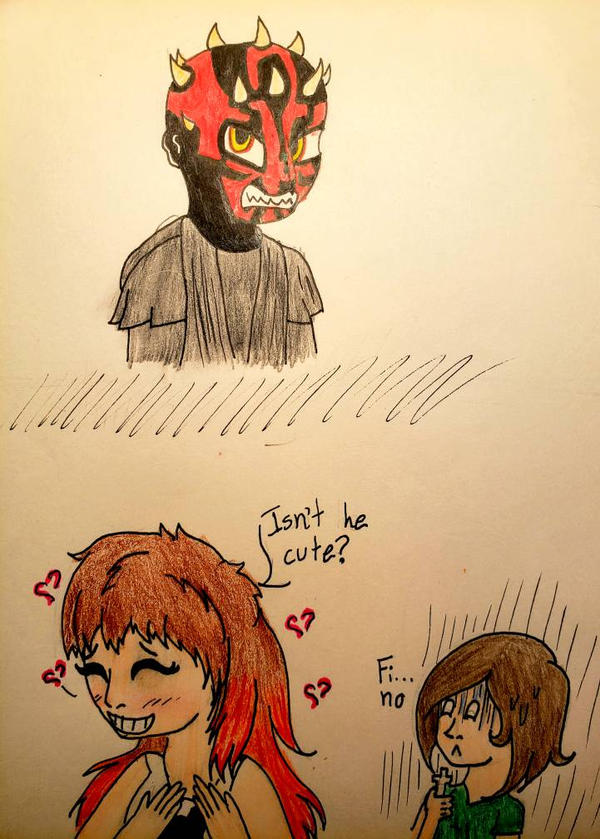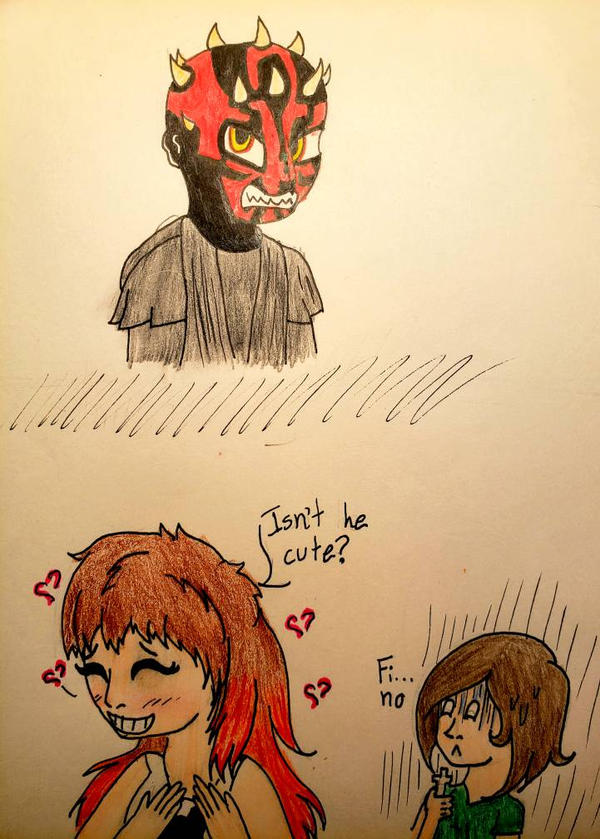 Based off of an actual story between a close friend and me. We somehow got on the topic if Star Wars and this happened.
EDIT: WAIT I JUST REMEMBERED THE STORY.
Back when I was a smol sophomore in high school, I went with my choir class to Disneyland to celebrate the end of our successful second year. My friend and I stopped to watch the Jedi Training show bc it's adorable to see kids fighting off these huge sithlords. As it came to a close, Maul singled me and my friend (above) out for some reason (probably bc of the choir t-shirts) and glared directly in her face. I tried to be a flirty dork while she was being terrorized. This went on for around 5 seconds until he walked away. I had never laughed so hard, both at her saying "I almost died" and at my failed attempts at being a flirt. I was smiling like an idiot. Polar opposite reactions from two close friends.
-----
I used this as a reference
www.deviantart.com/jankedartis…

Reply

I would tell you to stop but...I'm a major Star Wars nerd myself so, Go nuts.
Reply

Reply

Hell i plan on putting together a good Trianii pirate character for a star wars based DnD session some day, if i ever join one that is. Need to get my hands on the general player guide for it. Good thing a nearby nerdy shop can order in the books. already got 4 different star wars books.
Reply

Comet: Hello what have we here?
Her Friend: I have a bad feeling about this.
Comet: I find your lack of faith disturbing.
Her Friend: What are you talking about?
Comet: Just saying, never tell me the odds.
Her Friend: You just watch yourself.
Comet: Hey, We have a choice.
Her Friend: That is isn't very reassuring.
Comet: Just listen. You can't stop change anymore than you can stop the sun from setting.
Her Friend: Okay but try to remember, always put purpose in ahead of your feelings.
Me Personally: We're so glad you're here to tell us these things.

Why did I put so much effort to this?
Reply