23 Favourites
18 Comments
919 Views
Hey everyone! How's going? Today I was making wallpapers and icons as I usually do and came across the idea of putting together all the bokeh deviations that I liked the most since I work most everytime with them. So here they are!
:thumb153361154: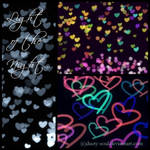 :thumb153584727:
:thumb149938820:
:thumb137015764: :thumb143646619:
:thumb187151240:
:thumb131232359:
:thumb107559957:
:thumb146829283: :thumb181862414: :thumb146330632:
:thumb166543866:
:thumb188904992:
I think these are most of them. If I find some more I'll add them to the collection C:
Hope you all like them!

~Twitter account:
talkinglens