AUCTION OVER, but you can see the og post and the characters here:

Hope for Children Charity Auction [ENDS IN 2 HRS]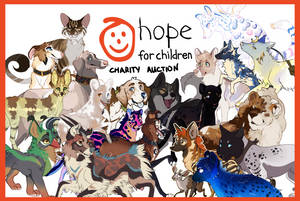 BID HERE
BID HERE
BID HERE
Hi! As a lot of you might have seen, I've been taking on this project over the past few months so I could curate this design auction for you guys!!
Just a bit of background information; this summer I was planning on climbing Kilimanjaro to raise money for this incredible charity Hope for Children! Here is my fundraising page for you guys to peruse and of course any donations are greatly appreciated and welcomed. The actual climb may be delayed from this summer obviously due to current unprecedented situations going on but rest assured my eagerness to raise money will not be stopped and if not this summer I will definitely climb it next summ
---------
This character was part of a charity auction. If you follow me here, you've probably encountered a majority of the other artists as well, check it out!!
All the proceeds go to Hope for Children!!



Image details
Image size
900x554px 726.85 KB