Hi there!
Just a chick from Detroit, MI, went to the College for Creative Studies for 2D animation. Currently living in Kennett Square, PA as a concept artist/childrens book illustrator.
I love character design, animating and storyboarding! I've got some projects in the work, like Gatordog, the thesis film that really needs to be finished, and some newer projects like Subcat (shortfilm) and Anchor (pitch bible) waiting around to be realized.
Tools:
-Photoshop CS6, standard round brushes.
You may have seen the comic i've worked on!
IrvingsDeeds
Aka 100 Deeds is a super cute story written by
Toucat
, and each chapter is illustrated by a different artist. Check it out from the start if you haven't yet!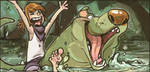 Gatordog!
Colonels-Corner
*
Gatordog
PLEASE DONT THANK ME FOR WATCHES OR FAVS. You're more than welcome.