P2U Halloween base
Perfect for doing YCH commissions or drawing something for yourself / your friends
More line arts/bases here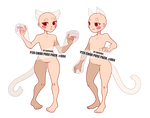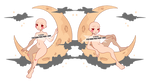 Contents:
Everything shown in the prieview (raven, cat, ghost, pumpkin, witch outfit can be removed or added as they are drawn on separate layers)

Includes:
PSD File (one that is up to 6000 pixels and one up to 3000 pixels just in case the higher resolution is too much for your computer / phone)

Usage:
Can be used for anything (YCH, designs, adoptables, commissions, personal) as long as you give me credit for the lineart!
Price:
1000

Purchase the base by clicking the 'Purchase' button at the right side of deviation
Only the person who purchased it can use and edit it
~ I would appreciate if you could comment "Purchased" if you did! ~
Thank you!
Instagram
|
Twitter
|
YouTube
|
Tumblr
Donate Ko-Fi
|
Digital art packs
|
Prints
|
Stickers
Image details
Image size
750x900px 325.85 KB