All 10 slots of this round's commissions are now filled!
I'll open for commission again when all of these are done.
Thank you for your patronage!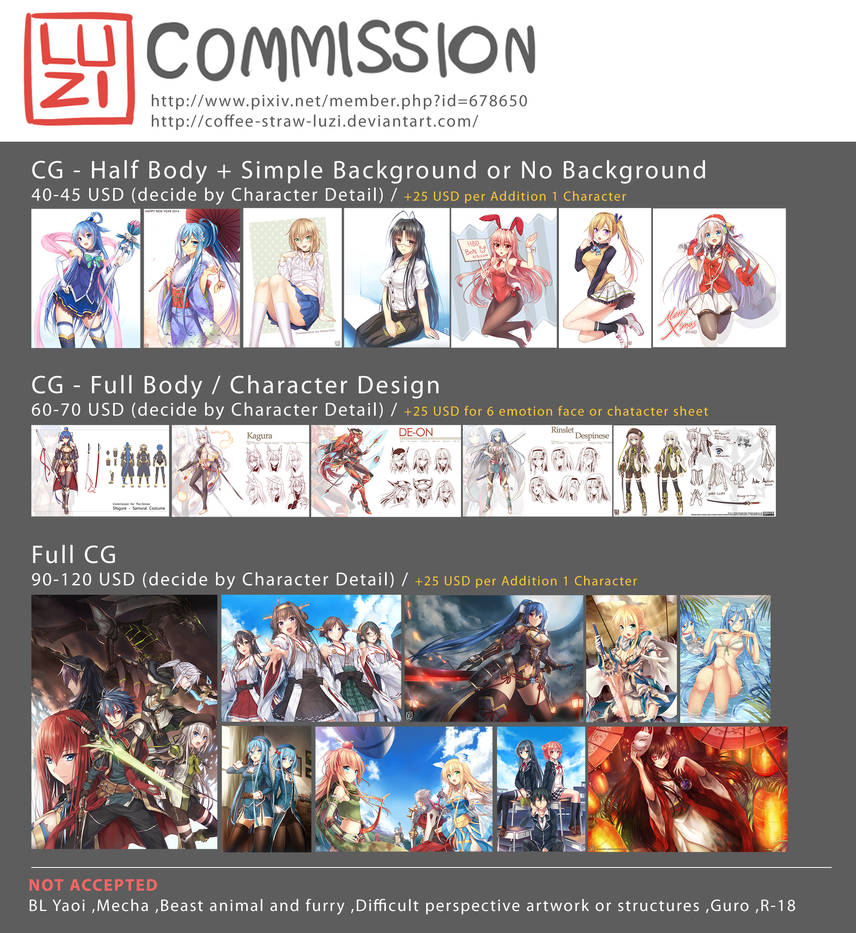 Commission Round 1 Slot [10/10] FULL


Type of works accepted:
- Original character
- Fan Art
Type of works not accepted:
- Yaoi
- R-18
- Mechanical
- Guro
- Furry
- commission with complicated structure in the background such as build.
Price may depend on difficulty of the work. Negotiable.
FanArt and OC are accepted, especially good with JRPG Fantasy style
You can contact me by Message in My Facebook Page (I reserve the rights to decline the commission if it's not suitable
with my art style.)
You can contact me by Note in DeviantArt (I also reserve the rights to decline the commission if it's not suitable
with my art style.)
During the sketch period, you are allowed to ask for an amendment to the work until it's finalized.
(Sketches are absolutely not allowed for distribution or any commercial uses until the work is finalized and dealt with.)
The process of sketching begins with composition then sketch painting. I'll begin the work on the actual work when
sketch painting is approved.
Upon approval of sketch painting, you must pay a deposit money for the half amount of the comission payment.
The other half will be paid upon work's completion.
If you do not respond within two (2) weeks after the sketch was submitted to you, the commission will be cancelled.
After the sketch is approved, you are granted three (3) times of amendment to the actual work. However, should there
be any major amendment that results in great difference from the sketch, I will need to ask for additional payment.
(I'd like to reserve the rights to consider this amount of additional payment.)
Due to my health problem and my inbility to work for an extended period of time, I will contact you through Page's Message
if there's any delay resulting from it. (Such as if I have to be urgently hospitaliized.)
The package of finished actual work contains PSD and JPG files. If you wish for BMP or transparent PNG. You can notify me in advance.
Files will be archived in WinRAR and sent through Dropbox link.
(When you downloaded and paid, please notify me so I can clear Dropbox space.)
If you have paid and received the file, there will be no refund in any case.
If you wish to use the picture for commercial purpose, there must be a contract or written copyright permission from me.
If you wish for the comissioned work to be private and not wanting me to display on ANY gallery for a period of time or forever,
I need to charge additional 5-10% fee.
Payment will be paid through Kasikorn Thai Bank transfer or if you're oversea resident, please transfer through Paypal.
(Account No. will be sent through your contact channel.)