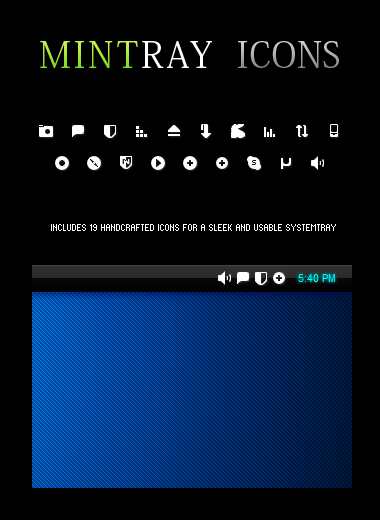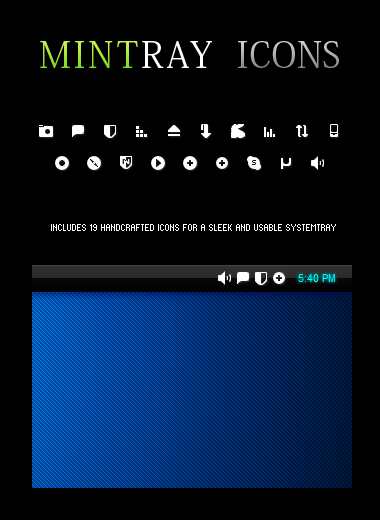 Watch
MINTRAY ICONS FOR WINDOWS
These slick and minimal TrayIcons should wander inside your system tray now!
I've been searching endlessly for proper, TrayIcons and since i never found them, i made them myself.
These little gems will allow you to replace some of the most common apps, like AntiVirus, Defrag or Chat Applications.
You know it for sure: You want to make the killer-screenshot, and guess whats a pure mess, the system-tray!
The times of dirty sys-trays are over and here is the little revolution that makes your screen even nicer!
WHATS IN THE PACK


19 handcrafted TrayIcons slightly inspired by Vista and OSX


All of these Icons have a dropshadow applied so they will work on Light & Dark Themes


They will even work perfectly on white themes, try it an you'll believe!


HOWTO USE THEM
Grab yourself the realy amazing Software PS TrayFactory, with this cool software you can simply change any SysTray Icon you want.
More info at their page > [link]

The site looks a bit crappy, but i can tell you this software is one of the best i ran into as a Windows user.
It lets you do amazing things with your System Tray and gives you full control over each icon and more.

Here is a direct download link to the latest version (2.63) which is hard to find and has Windows Vista support.

Download PS TrayFactory 2.63 Shareware or alternativly: [link]
ENJOY!
And Please fav. them if you like them, they took me quite some time !