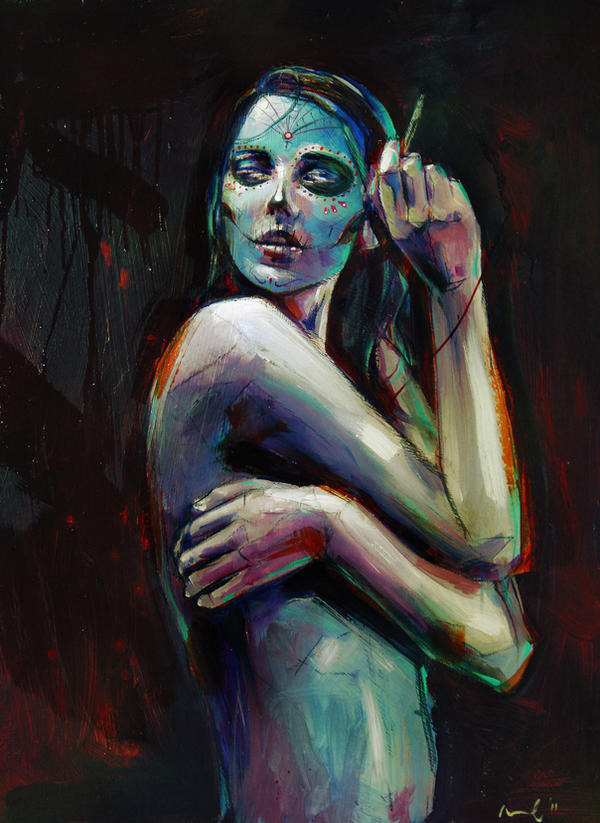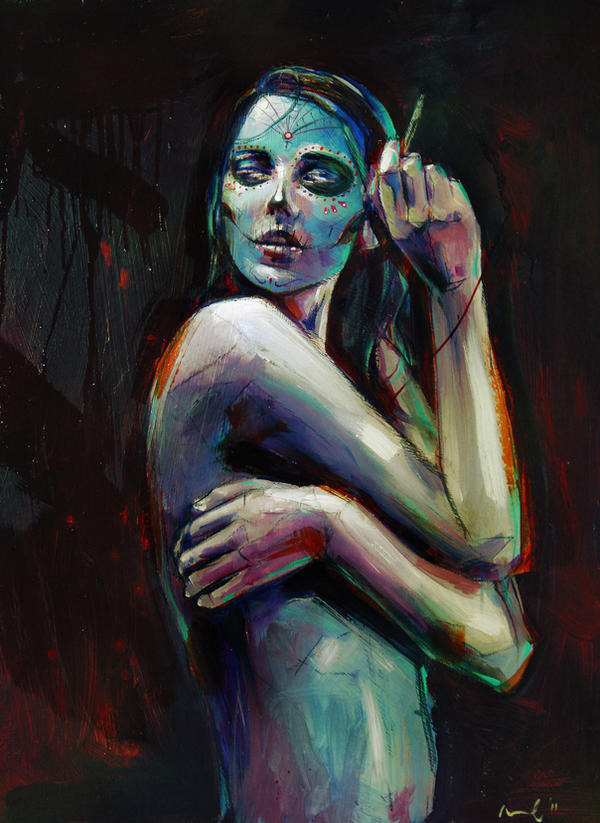 Watch
Daily Deviation
Given 2011-12-29
Lo primero que me impactó de este cuadro fueron los colores. Esa gama de colores fríos, que contrastan con los toques rojizos, crean una atmósfera macabra y misteriosa...Perfecta para la situación.
Lo segundo, fue la precisión a la hora de dibujar los detalles, sobre todo la pintura de la cara y la anatomía. Y es que la galería de

, en especial la dedicada al arte tradicional, es una maravilla. Más de uno desearíamos pintar así

No conozco demasiados detalles sobre el llamado "Día de los muertos", sólo lo básico, pero puedo ver su esencia en esta mujer: por un lado, la muerte nos da miedo y nos repele...Pero por otro, nos resulta admirable y, ¿por qué no? A veces bella.
Resumiendo: gran trabajo. Enhorabuena.

The Artist thought this was FAIR
24 out of 25 deviants thought this was fair.
El trabajo en la anatomía es realmente hermoso, al igual que el uso del color y la luz. Aunado esto, las texturas de pinceladas ayudan mucho a la atmósfera del dibujo. Si el autor quería representar la frialdad de la muerte, pues sin duda lo ha conseguido.

Los colores del fondo están dispuestos de forma caótica, pero lejos de ser una desventaja, enmarcan a la perfección la silueta de la señorita. La calidez del fondo, con sus tonos rojizos y anaranjados, contrasta con la frialdad del azul y el violeta.

Los detalles fueron hechos con un cuidado admirable, y con impetuosas y arriesgadas combinaciones de luz y sombra que hacen a la obra mucho más interesante.

Por ultimo, pero no menos importante: la cara de calavera. Hermosa, aunque muy simple en apariencia, es perfecta. Lo único que destaco un poco es que se pierden los ojos de la chica, pero aun así, la manera en que consigue la expresión esta muy bien lograda.

En lineas generales, una pintura hermosa y misteriosa.
The Artist thought this was FAIR
1 out of 1 deviants thought this was fair.