(brining this back out from 2015 because it's going around again)

REPOSTING THE FAKE WARNING DOES NOT HELP, IT'S CHILDISH AND MAKES OTHER USERS WORRY. IT'S NOT FUNNY
This has been going around for a long time, it's fake, and honestly I can't believe people are still passing this around.
No hackers won't ignore you just because you post a journal spreading the news.

About the 'Thomas Hacker'Shashamon 32 minutes ago Uh, I wouldn't be too afraid of this guy if I where you. Because I made this as a parody of the hacker paranoia that runs rampant on this site. I didn't even make it as a practical joke, I thought that people would see how silly it was and get a good laugh out of it. I in no way meant for this to be taken seriously, and I'm really sorry if I caused any fear. Though I do find it ironic that it ended up becoming the very thing that it was made to parody. I did not mean for it to take on a life of it's own. I am sending this to everyone that posted this in their journal before this thing grows out of hand.
So there you go, straight from the horse's mouth. It's a hoax. Now stop worrying and relax.
UPDATE: I DIDN'T CREATE THIS HOAX, SOMEONE NAMED Shashamon DID. STOP SAYING I DI
Please delete the journal you have to stop spreading the rumor and share this one instead
If there was something like this going on, deviantart would take care of it by posting a statement about this or by another administration action.
Also DA isn't deleting accounts

DeviantART Deleting AccountsThere appears to be a new rumour flying around in various journals and comments that deviantART will be deleting accounts. The information seems to be spreading using messaging similar to what is here:
On 21 of may, deviantart will be deleting all accounts. Not plz accounts. accounts , But just all name-wasted accounts, or accounts that we think are fake, or that are useless. We are doing this to prevent something that could possibly may happen in the future. If we find this message on your deviantID, journal, etc. We will know that your not fake.
Thank you for listening
-deviantart staff
First, allow me to reiterate that there is no truth to this. DeviantART would never convey information this way and official information is always posted through

hq


If you are being spammed with false information, feel free to hide and block the user and report them to the Help Desk.
So what will happen on May 21st? Happy you asked!
May 21st
Read here for some more information and tips to be safe online.

About hackers on DA and what you can do"Hacker alerts" are pretty common around DA and it has been for a long time. Journals warning you that there is a hacker loose at DA and will hack your account if you don't copy the journal and re-post it.
Some variations can be: "There is a hacker that will block all your friends, leave nasty comments on other's profiles, will deactivate your account, will get you in trouble with the staff, etc." another could be "Don't watch *insert deviant's name here* because they will give you a virus if you do" there are a lot more variations, but you get the idea. These journals always end with something like "If you read this warning, spread the word and share it with your friends so they won't be the hacker's next victim!"
I know, reading something like this can make you feel terrified and you might feel compelled to spread the word, you don't want you friends to be victims of this terrible hacker!
People re-post these journals with good intentions, trying to warn others about this alleged hac
<da:thumb id="572510614"/>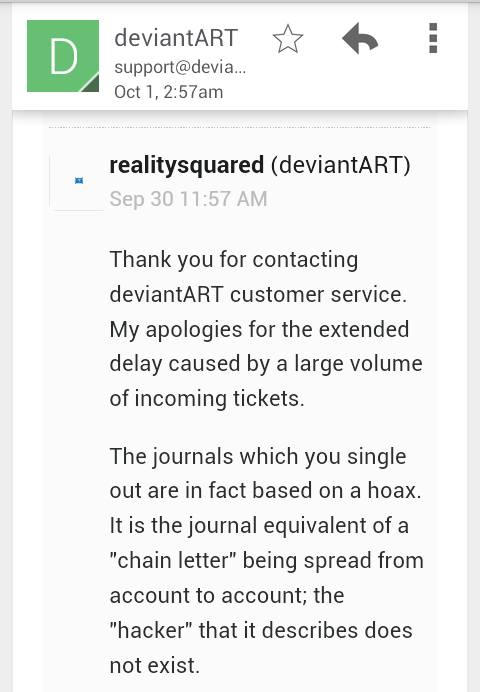 Thanks @
Wikerstervolski for sharing this screenshot.
Any questions or concerns contact
CocoaAndTea
or contact the Deviantart help desk
help.deviantart.com