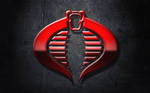 UPLOADING ART/LITERATURE

Submission suggestions from other artists are accepted and encouraged.



Any and all works must contain references to Cobra Commander.



Images with mature warnings are allowed.



No "slash" images or literature are allowed.

VIOLATION OF THESE RULES WILL RESULT IN THE REJECTION OF THE PIECE IN QUESTION.


CODE OF CONDUCT/ETHICS

All skill levels are accepted and tolerated.



Politeness is appreciated. DO NOT leave rude or offensive comments on art in the gallery or in the group chatroom.

Help upgrade CobraCommanderFans to "Super Group." Please donate to the donation pool on TheCobraCommander's main page to help make this upgrade possible. Thank you.




Welcome

Chatroom

Gallery Submission Rules

CobraFanClub

Cobra Commander "Art Jam" Project