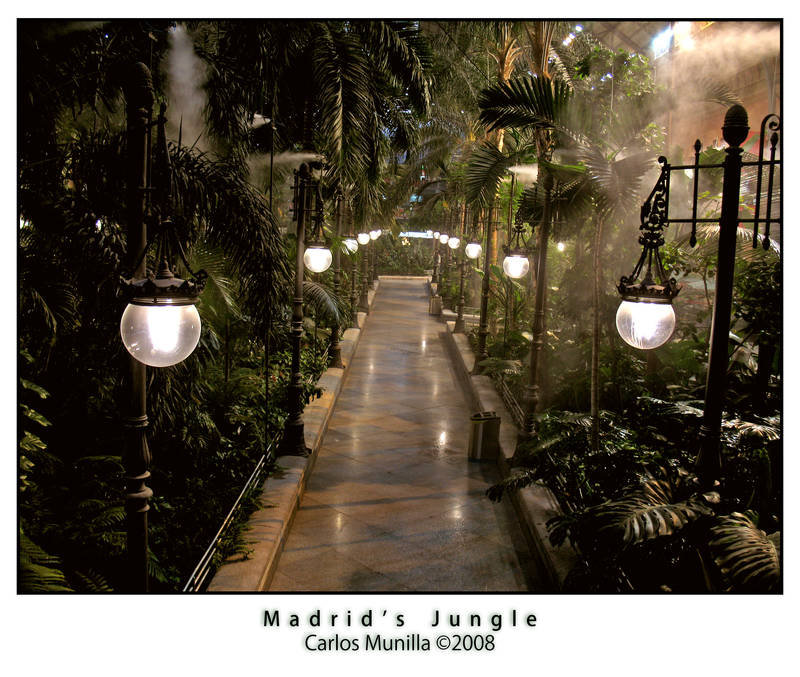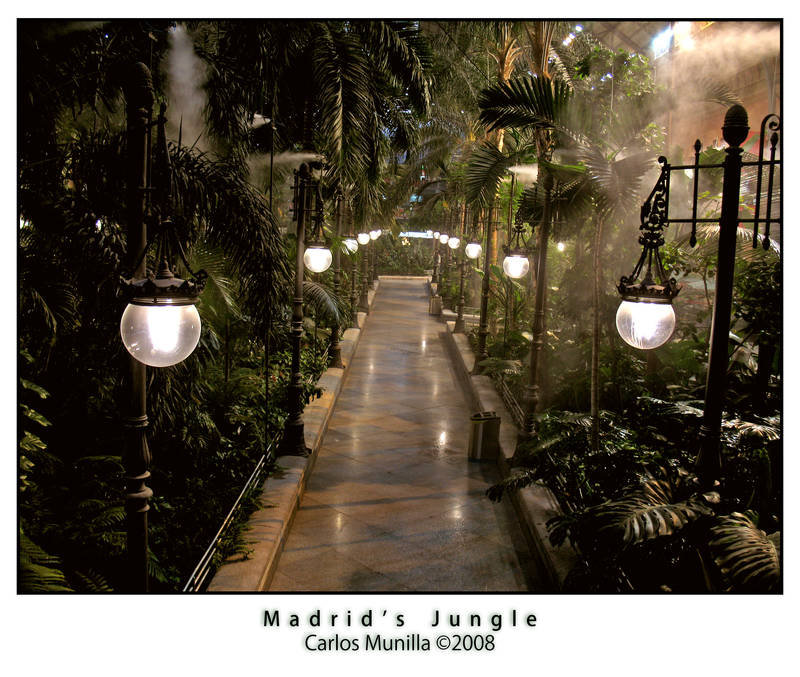 Estación de Atocha, Madrid, España.
Atocha Station, Madrid, Spain.


La Estación de Atocha es el mayor complejo ferroviario de la ciudad de Madrid y de España. En realidad no constituye una estación única, sino que a raíz de la reforma integral a la que fue sometida entre 1985 y 1992 se divide en tres estaciones: Madrid-Puerta de Atocha, Atocha Cercanías y la estación de metro de la línea 1 de Atocha Renfe. Estos dos últimos elementos a su vez están integrados en un intercambiador de transportes que conecta con otras líneas de autobuses urbanos e interurbanos. De este modo constitituye un nodo fundamental en la red de transporte de la ciudad de Madrid, del área metropolitana y de la red ferroviaria de España en definitiva al ser punto de intercambio entre red de Metro, autobuses urbanos e interurbanos, taxis, trenes de Cercanías, de Media Distancia, de Larga Distancia y de Alta Velocidad.

Inaugurada en el siglo XIX, la estación es uno de los lugares más castizos de Madrid, siempre llena de multitud como la que despedía a los soldados que partían a la Guerra de África, escenario de obras como las de Galdós y películas como Kika, pero sobre todo escenario del acontecimiento clave en la historia española que fueron los atentados islamistas del 11-M en 2004 y su intensa respuesta popular.

De la estación en general es característica la yuxtaposición de la modernidad de sus constantes ampliaciones y el estilo decimonónico de su fachada o su atrio, ahora convertido en un húmedo invernadero para hacer cómoda la espera del viajero. Este jardín tropical cubierto abarca 4.000 m² y está poblado por más de 500 especies, entre ellas plantas carnívoras, acuáticas, peces de colores y sus famosos galá

agos.

El edificio de la estación de Atocha, construido para la compañía ferroviaria MZA (Madrid a Zaragoza y Alicante), fue inaugurado el 9 de febrero de 1851 con el nombre de Estación de Mediodía (del Sur). Era la primera estación de ferrocarril de Madrid.

Un incendio destruyó gran parte de su estructura. En 1888 comienzan las obras de la nueva estación, bajo la dirección de Alberto de Palacio, un colaborador de Gustave Eiffel, las cuales duraron cuatro años. La nave tenía 152 m de largo, y 40 m de luz. La cubierta de hierro se construyó en Bélgica con el sistema de estructura rígida tipo De Dion. La estructura quedó cerrada por el extremo que da a la glorieta del Emperador Carlos V, en donde se halla la característica fachada. Está considerada una obra de arte de la arquitectura ferroviaria decimonónica.

La última ampliación y remodelación se realiza entre los años 1985 y 1992 (fecha en la que la antigua estación queda fuera de servicio) y es obra del arquitecto Rafael Moneo. El objetivo de la remodelación era cuadriplicar la capacidad de la estación creando un gran intercambiador que acogiera tanto trenes de cercanías y largo recorrido —entre ellos los trenes de alta velocidad a Sevilla—, como metro, autobuses y un aparcamiento. Los nuevos edificios fueron diseñados como una nueva terminal situada detrás de la antigua estación, con poca altura para que no compitiesen con aquella. El viejo edificio, ya sin andenes, fue convertido en un espacio comercial con tiendas, bares, la discoteca Ananda y un jardín tropical cubierto.

________________

Atocha Station (Estación de Atocha) is the largest railway station in Madrid. It is the primary station serving commuter trains (Cercanías), intercity and regional trains from the south, and the AVE high speed trains from Seville (Andalusia) and Barcelona (Catalonia). These train services are run by the Spanish national rail company, Renfe.

The station was Madrid's first railway station. It was inaugurated on 9 February 1851 under the name Estación de Mediodía (Atocha-Mediodía is now the name of an area of the Arganzuela district, and means in old Spanish south).

After the building was largely destroyed by fire, it was rebuilt and reopened in 1892. The architect for the replacement, in a wrought iron renewal style was Alberto de Palacio Elissagne, who collaborated with Gustave Eiffel.

This old building was taken out of service in 1992 and converted into a concourse with shops, cafés, a nightclub, and a 4,000 m² covered tropical garden. A modern terminal by Rafael Moneo, designed to serve the new AVE trains to Seville, was added to the complex.

The main lines end in the new terminal; commuter train platforms are located underground, at the ingress to a rail tunnel extending northward under the Paseo de la Castellana.

The station, located on the Plaza del Emperador Carlos V, is served by two Madrid Metro stations, Atocha and Atocha Renfe. The latter was added when the new terminal building was constructed and is directly linked to the railway station.

The station was in the International Media because of the 11 March 2004 Madrid train bombings.

On 10 June 2004 a virtual shrine was dedicated by the Spanish Minister of Transport. Visitors to the attacked stations can leave a hand silhouette and a message through special-purpose consoles.



Dedicada a... | | Dedicated to...



Ya sabes por qué...