FerryMan Fractal
is a freeware program that generates fractal images. With
FerryMan Fractal
you can generate color images of the most popular fractal, the Mandelbrot set, and also generate images of the associated Julia sets. You can also generate an unlimited variety of fractal types based on rational functions, including fractals based on Newton's method and Halley's method.
FerryMan Fractal
has many options for producing striking variations of fractal images, and includes a lot of advanced features for producing high-quality images.
I have added this fractal program to the
fractalmentorproject
webpage as a new category.
:thumb58682508: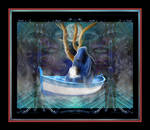 Thank you
dwsel
for information on these other fractal programs. I have added categories to the
fractalmentorproject
for these as well.
-ColarityDocking
by Stephen Ferguson - it's cross platform (java) app with possibilities of Apophysis 2.0 (only base vatiations)
-JanusFractal
- (my latest find) it's interesting fractal software for generating trees, spirals or realtime julias (hard to explain this way of redrawing)
-MutatorKammer beta
- iterated fractal software which uses mutation as a main tool, I don't understand very well how is it working and how to use its interface
-
Gnofract4D
- Linux opensource software which allows to transform fractals in four dimensional space by only using rotation knobs, not often mentioned but worth to try