A second My Little Pony Movie has been announced: What does this mean for Generation 4 and the G5 Reboot Leaks?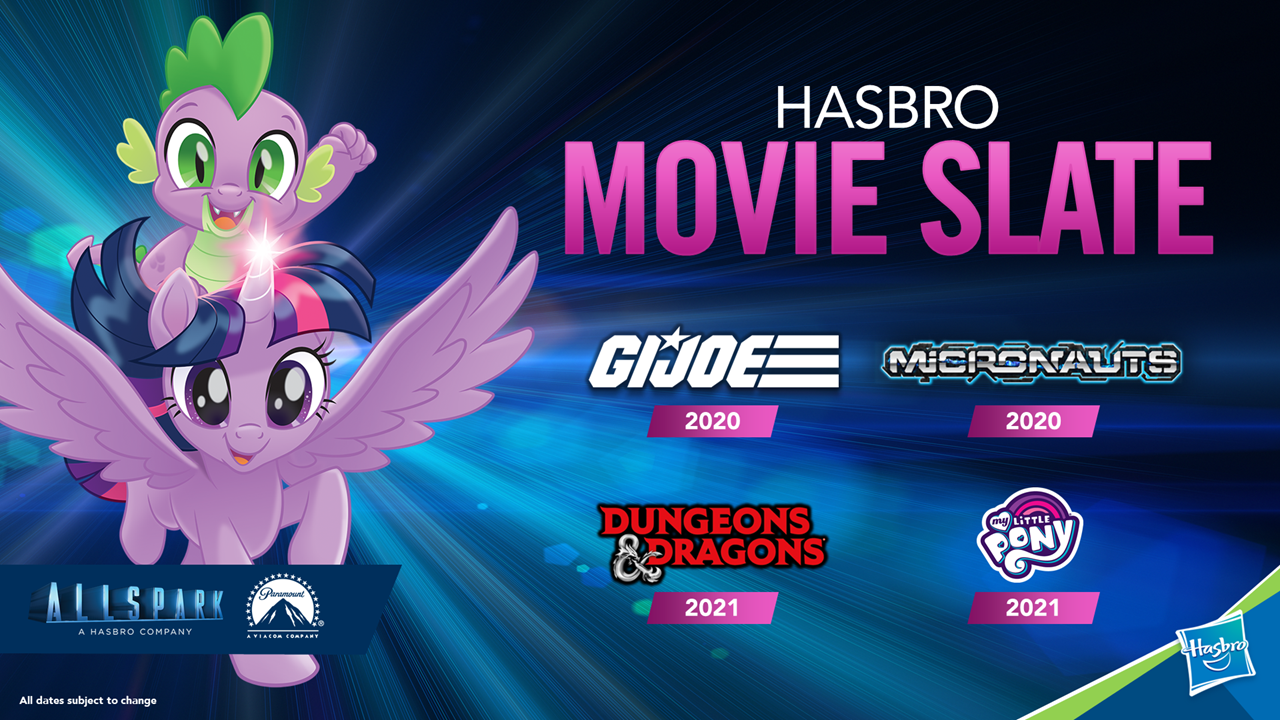 Today, an investor call by Hasbro happened and during it, a new My Little Pony movie with CGI animation was announced. The plans for such a movie are something we already heard about previously, when the leaks happened that suggested that Season 9 of My Little Pony: Friendship is Magic could be the last one and that Generation 5 is going to be a reboot.
However, when I saw the slide that was used to announce this second movie during the investor call, something caught my attention. The new My Little Pony Movie is listed with a release in 2021 on it. But according to the leaks from December 2017, the CGI movie that is supposedly a prequel movie to kick off a rebooted Generation 5 of My Little Pony, will already see its release in 2020 at the latest.
In total, there were four slides or graphics that show release dates for said movie included in the leak and each of them lists this movie with a planned release before 2021:
Spring/Summer 2020
Fall 2019
August/September 2020
Fall 2020
A release in 2021, however, is nowhere to be found in any of the leaked material. There is a very clear contradiction here between what the leaks tried to make us believe and the actual plans that Hasbro has now officially announced.
The question here is, what does this mean for the rest of the leaked information? Plans can change, of course, even within such a big company as Hasbro. But since this information about the new movie's release from the leaks has been proven wrong now, it adds more ground to the possibility that the leaked material is, as it has already been suspected,
fake
.
What adds more fuel to this suspicion is that the release date of this new movie is not the first information from the leaks that has turned out as incorrect by now.
Another one of the leaked slides
speaks about a "Rainbow Spring Special" for Easter that is supposed to get aired on Discovery Family on March 1st, 2019, but the 1st of March is approaching very fast now and we haven't heard any official announcements for such a spring special so far. Such an announcement should have happened by now if a special like this were to air on this date, so it is safe to say that this spring special for Easter does not exist.
More than a year has passed now since these leaks became public on 4chan and with time moving forward, we now have gotten confirmation that at least two infos from these leaks are downright false. It might still be a little too early to say that ALL of the leaks are fake, but with these (first) two contradictions between the leaks and Hasbro's actual plans, there is now a very good reason to believe that the leaked informations, including the ominous Generation 5 reboot plans, are false.
Whether that means that someone has put effort into very convincing fakes to troll and fool us all or that Hasbro has
changed its mind
over the past year remains to be seen. But this definitely gives a lot more hope for it that Season 9 will not be the last season and that we can spend more years with the Equestria we know and have come to love.
UPDATE!
Hasbro said some more things about the new movie at New York Toy Fair. It does not yet know whether the new My Little Pony movie will be a sequel to the first movie, and therefore a G4 movie, or if the movie will be a prequel movie for the (rebooted?) Generation 5. Right now, it is still in early talks about the movie and discusses what it should be: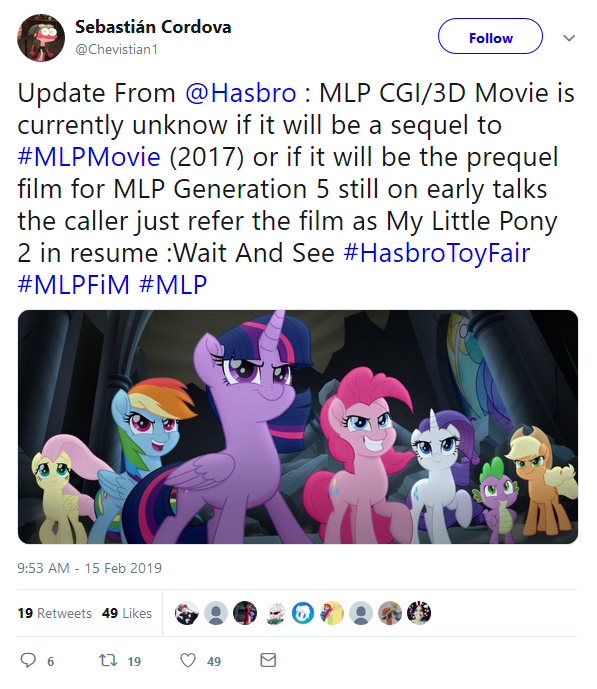 This adds some confirmation to what I already said a few times since starting this series of blog entries, that Hasbro has not yet made a final decision whether it wants to end My Little Pony: Friendship is Magic or not. Right now, it is struggling with making a decision.

This means that Hasbro still considers it a possibility to let My Little Pony: Friendship is Magic continue after Season 9! Go and BUY THEIR TOYS, everypony! There is a real chance to send Hasbro's mind into the right direction!