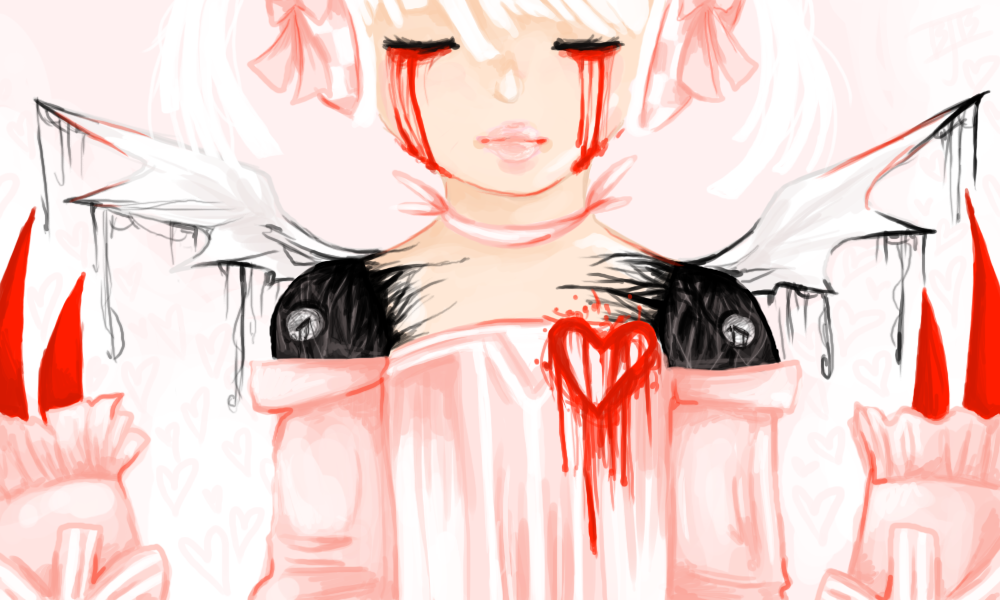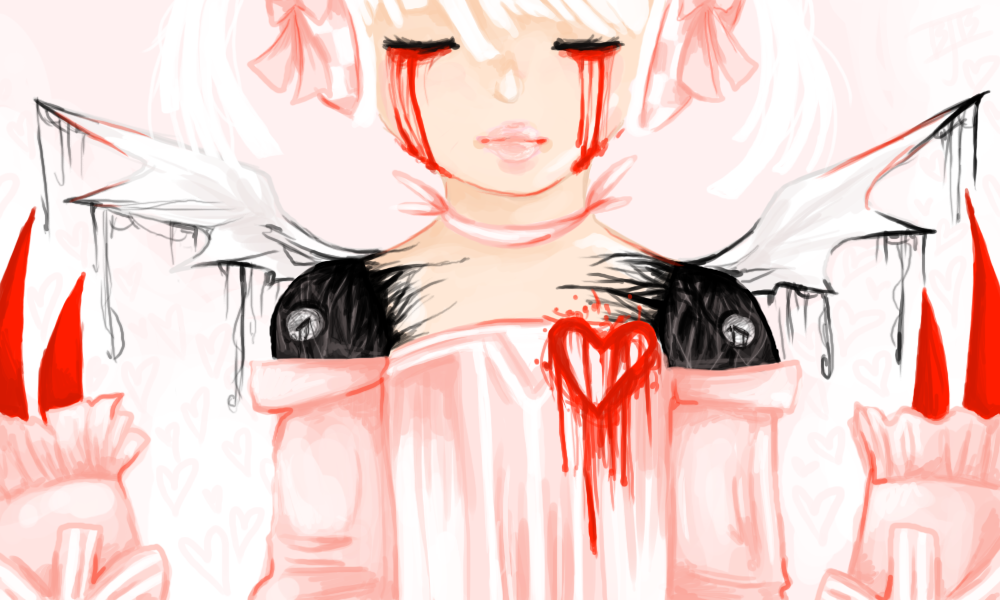 Watch
what did I become?

LOOK! ART FROM ME! YESSSSS!!!
This is a drawing of my latest Gaian avatar. I promised myself I would practice my art by drawing them, so here you are!

You know me with cute creepy things. The best things, obviously.

Please enjoy <3 I don't have much to say other than I'M DOING IT YAYYYYY! This is my first finished painting from CS5.

Art by meeeeeee


Ooh nice! I think a bit more contrast is needed between the character and the background, since they're really close and blend together really easily x_x I had to tilt my screen way back to see her pigtails, your signature, and the hearts in the background.
Reply

it's supposed to be bright and the hearts are supposed to be barely visible. if i didn't make the pink such a light color, the contrast with the black and red vs. the pink and white would be a lot less interesting since there would be so much color to look at and there would be too many points to focus on. i didn't intend for anyone to focus on the pink, but rather the claws and the blood which is exactly why i made everything really bright. it's merely a bonus to tilt the screen and see the extra stuff i did, i.e. details in the pigtails and the hearts in the background. the hearts were mainly to fill in the empty space i had since i didn't like it to just be plain.
also the avatar is extremely bright to begin with and i only made minor changes,
i560.photobucket.com/albums/ss…
with a decision to not shade the white because it would clash with the simple nature of the drawing
a final few points, i try to not make my signature apparent in pretty much everything i draw, if it's not very small then it's to blend in with the background.
thank you for your comment regardless and i'm sorry you didn't like this piece as much as you have others. i noticed you tend to not like my brighter drawings, but in situations like this, it's intended to be bright and the amount of contrast is supposed to be between the black/red and the pink/white, not just the pink and white.
Reply

Oh, okay! I wasn't sure if you did that intentionally or not or if it was a difference in screens or something. The way I have my screen I couldn't even see the pink of the background until I tilted it way back, so the amount of white was a little jarring. I guess super light and bright drawings aren't really my jam, but you still drew this very well

Reply

YES Moar Arrt!
Looks nice love that style!

Reply

yay I'm so glad you're getting some new stuff up!
Reply

hmm cute creepy...cupy? Crute? Either way nicely done

.
Reply