If I am taking special sale commissions, some of these may not apply. Refer to the sale.

May not be open for commissions atm - please ask.
Note/PM/DM on Twitter (@cluewoof), FA (clue)!! I am not active here!!
Current (base) price for a
Full Render
is
$150 USD
Other offers include:
B/W Sketch: $45
Flat Colour Sketch: $55
Full Colour Sketch: $70
"Advanced" Sketch for $100

[ more or less examples of render ]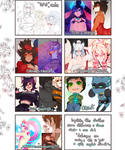 Extra characters adds 75% (each) of the base price (Max is 3 people in one piece.)
Loyalty Discount!If you've commissioned me at least twice: 10% off future purchases (excluding auctions and adopts)
Notice: please remind me before I invoice you if I did not mention it. Once I accept payment, I will not refund the forgotten discount.

All commissions are at LEAST thigh/knee-up by default; please mention if you explicitly want full body.
Copy/paste this order form when commissioning me.
Your username//site I can link to :

Your character's name :

Links to your reference(s) :

Level of render ( flat sketch, adv sketch, full render ) :

Content Rating ( choose from: SFW, erotic, nude, XXX/adult ) :

3-5 words describing your character's demeanour//emotion in the commission :

A few sentences telling me the pose/scenario. :

Misc such as outfit or anything else that is important, if needed. :

Paypal email for invoicing :


By commissioning me, you agree to the below.
If something happens to violate this, it is not my problem; it could become yours and get you blacklisted.

OCs preferred. Official characters will be discussed- I am picky. Anthro (only anthro) ponies and Pokemon very allowed!

All body types/presentations allowed!

No text-only references.
I WILL however, take a combination of SOME text plus PICTURE references to piece your character together with. Hairstyle, body type, etc. Palette. However, keep it to as few refs as possible. I do not want 8 refs. 3-4 is probably fine.

Humanoids are my forte, anthros and monster girls included, but ferals/creatures will be discussed beforehand.

I will do NSFW, same sex pairings and all of that.

I will not draw full suits of armour or mechs. However, feel free to ask!

Reference sheets and sketch pages and comics, prices will be negotiated!

No characters under 18 for NSFW pieces.

I do not do realistic people, nor will I draw a real person.

Some fetishes are fine. Others are not. Ask about one. (Scat, multiboob, and ultra hyper stuff I do not do.)

I will not send wips
and I will not go back and tweak things afterwards,
unless
it is something in the reference or order I simply forgot (a marking, a stipulation.)
So MAKE SURE you tell me everything, especially if it's missing or not obvious in the reference, or something people tend to forget or not notice.

I also will not be looking through your gallery etc, so don't send me a link to said gallery or expect me to go looking for the references myself. Pick out the refs you want the character to follow the most and link those.
A link to a gallery just with that character can be added on, but there needs to be at least one or two specific refs given. This includes people I've drawn before. Send your refs again. I don't have them saved and I'm not going to remember how the character looked.

I am present on other sites. I reserve the right to post your commission there. I can list you as anonymous if you don't want to be "seen," however, rather than linking to your profile. I if you do not want them posted, may be subject to a fee.

Hey, you gain rights to your finished commission too! Personal use only!
You may reupload
to sites such as deviantART, FurAffinity, HentaiFoundry, or archive sites like danbooru, or e621 with
proper credit and, if you can, permission from me.
Particularly in the case of galleries.
Do not reupload to Twitter or FB.
I have a Twitter. Find the piece there and retweet it, if you want.

Do not edit, remix, or otherwise alter the image. If you purchased it, you may crop a small section to use as, say, your avatar, or something, but nothing more.

Even if you are the commissioner, you are not permitted to profit from a general commission. If you have any questions about this, talk to me.

I also have personal preferences and discomfort levels regarding some things. I can and will reject you on this premise.

Give me some creative freedom!
Telling me what you want is fine, but don't give me a blueprint (unless it's like a pose ref or something.) If you like my stuff enough to commission me, trust me to make something you'll love.

When commissioning me, you declare that you are 18+ if the piece contains adult content.
Pricing and Order Stuff

Be aware that I use Paypal invoicing. All this means is upon ordering, I will ask for your Paypal email address and it will only be used for the invoice. Once the invoice is sent, you will need to go to that email and pay it. If it asks for an address, put none if you can.
If you do not have that option, it's fine, but I won't be using it for anything, and everything I see is obviously confidential. Paypal will send it to me but I will not be personally storing or using it. Paypal will retain the email address in attempts to make future transactions easier, but I will always ask again and never save it or any information myself.

Do not order unless you are ready to pay near-immediately. If you do not pay the invoice within 24 hours, you may lose your slot and I may cancel the invoice.

Deadlines can be worked with, but may cost a fee. The faster you want it the more it will cost. Discuss! Will be added after any discounts.

As such, I do not do hold/reserves unless you speak to me about it. We may be able to work something out regarding when I expect your (full) payment.

I may accept US Amazon Gift Card codes unless otherwise stated at the time.

Complicated designs or situation will cost you more.

You may mention a setting/background, but they will be unrefined and will bump the price up if you request one be added.

Other things like chibis or concept arts vary in price. Just ask if you want one and I will give you a price if I am up to take them.

There is often a queue. Your commission will not be given to you in a few days, nor even started. Please do not rush me! If you have a 'deadline,' we may discuss.

See a specific piece you like in my gallery? Show me if you want it 'like this.' May affect pricing.

If you wish to commission your OC with mine, yours will undergo a more critical inspection. It will be a matter of personal taste for me at that point. Don't be afraid to try though! Most of the time it will be fine. If this is a problem, that's quite alright! Do not commission me for that. I won't mind. (Do not commission another artist for my character with yours though if I said no.)

When bidding on my auctions, if I catch you hiding/retracting your bids, I will block you. If there is some kind of emergency or accident, you will inform me upfront. I won't ask you why myself.

Order first, then pay. I will not accept or request payment until I have voiced that I accept the commission.

I will not start work or mark everything clear until the payment is received.

No refunds (unless something happens to me and I am able to refund you,) full payment must be sent in one transfer. Commission at your own risk.

Please save your commission to your own computer or online storage upon completion or receiving the .png if you request it during order. If you do not and we both cannot find it online for some reason, I'm sorry.

There is no physical item being shipped. You will not be receiving a physical print or drawing at any point from myself.

Similarly, you will not be getting the file itself unless you ask.

If there is something wrong with your commission, you have 48 hours to contact me about it and we will discuss what is to be done. After this 48 hours, or if you have voiced that you are happy, I will consider our 'contract' complete, and I will not be making any changes.
Send a note with your order preferably to Twitter (@cluewoof), or FA (Clue). Feel free to just give me a basic idea so I can see if it sounds good before you have to go and gather references.