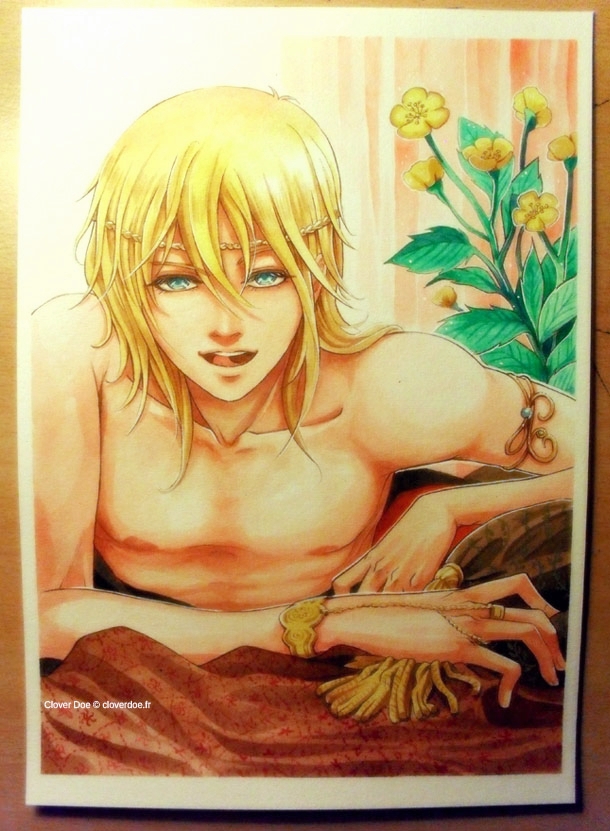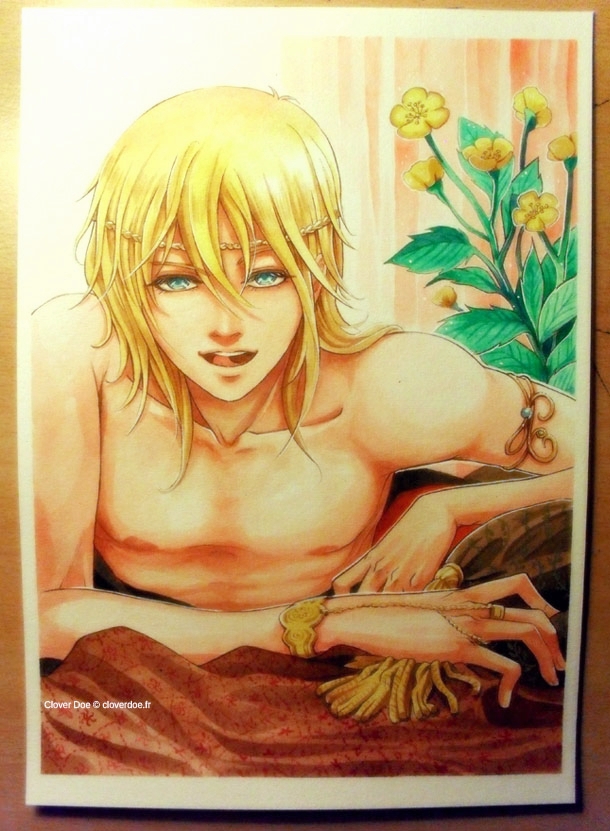 Watch
Commission pour
shalimar83
, figurant Mali, le personnage principal de son roman
Un bouton d'or sur le sable
:3 Un petit saligaud qui m'a donné bien du mal et recommencé alors que j'avais pratiquement terminé ! Imaginez comme c'est cool de dessiner un perso qui ne doit absolument pas ressembler à un de vos persos et qui en plus a l'air de se fiche de vous >u>" Est-ce bien normal de se sentir oppressé et nargué par le sujet de son dessin ?...

Résumé : Dans la ville de Lamira existe un endroit aux saveurs orientales : l'Exotique. C'est là que travaille Mali, un jeune prostitué orgueilleux et capricieux.
Il ne voyait pas plus loin que le pas de la porte de l'établissement mais c'était avant l'arrivée de Meneras, un elfe marchand.
Et pour plus d'infos, vous pouvez toujours regarder
par ici
!
Commission for
shalimar83
, Mali, character from her book :3 As it is available in french only, I don't think necessary to tell more about it ='D
This commish was hard. I had to redo it entirely while I tought I was near the end u_u Can you imagine how cool it is to redraw a character when this one seems to taunt you?... >u>
±A4, watercoulours & coloured inks.

*insère encore plein de chbi-coeur* Merci merci !!

Ah ah ma pauvre, j'imagine bien la scène avec le dessin qui te nargue u_u saloupio de Mali !
Mais il rend tellement tellement bien *_* Faut que je demande à ma mère si elle a pas reçu un truc for me :'D (en plus, elle vient jeudi me voir hohoho~)
Reply

Il est vraiment à tomber...C'est vrai que son regard rend bien l'orgueil qui semble l'habiter (à se demander comment ça se fait qu'il ne l'ai pas étouffé

) De plus, les couleurs sont vraiment magnifiques, et l'idée des boutos d'or pour rappeler la chevelure blonde est bien trouvée!
Reply

Merci :3 Pour les fleurs, pas de génie, j'ai repris celle qui se trouvaient déjà sur la ref et qui me plaisaient bien ='D
Reply

Reply

Reply

J'aime beaucoup son expression, elle est vraiment réussie. On a presque envie de lui filer une baffe pour qu'il arrête un peu de se payer not' tête. Un coup de cœur aussi pour les couleurs chaudes et... la texture du drap. C'est bête mais je la trouve vraiment chouette.
Reply

Vas-y, colle-lui en une !

On trouvera nécessairement une manière de se justifier xD
Merci beaucoup ^^
Reply

*buguée sur son torse*
La colo fait tellement réelle, on sent la douceur de sa peau d'ici ! T__T
Reply