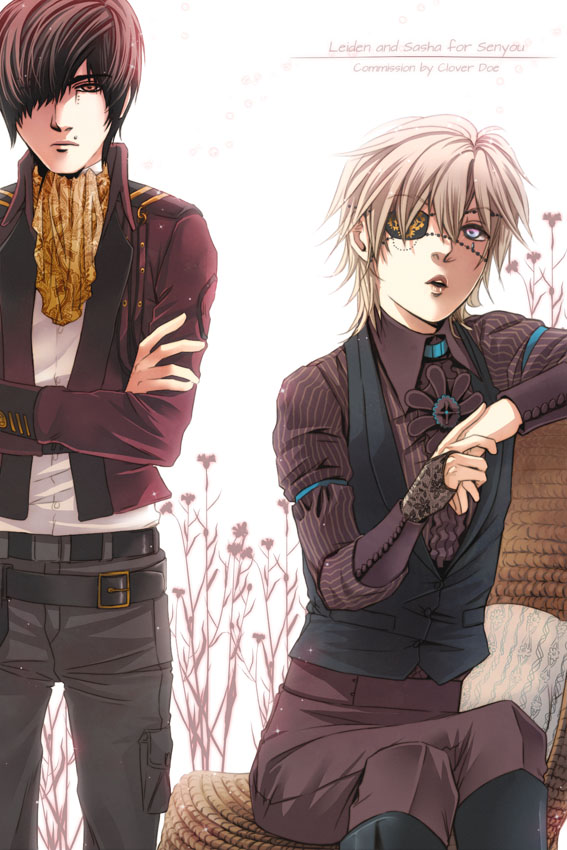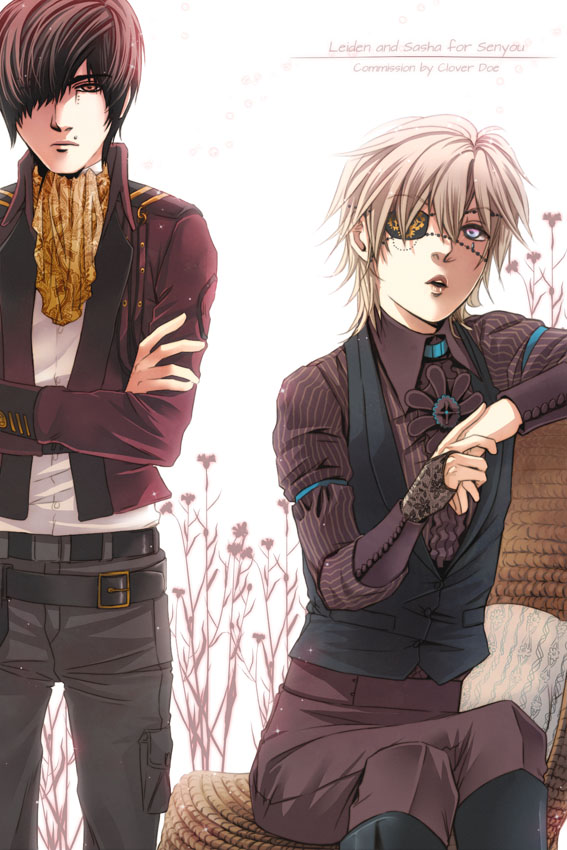 Watch
Commission pour
Senyou
, Leiden and Sasha.
Senyou est hispanophone (je pense que ça doit être un mot dans ce genre), elle me commissionne en anglais, langue que je maîtrise aussi bien que l'art des claquettes… et pourtant, quand elle décrit ses personnages et leurs relations, c'est magique. Avec le peu que j'en ai, parce que du coup, je n'ai pas accès à ses textes, c'est frustrant parce que je ne veux pas extrapoler à tort, alors je suis bridée et je me rends bien compte que je ne rends pas pleinement justice à ses personnages même si ça me fait plaisir de bosser dessus… C'est un peu compliqué…
_______________________________________________________
Commission for
Senyou
, her characters Leiden and Sasha.
Senyou is hispanic. She orders me commissions in english. And I'm as gifted at English as... tap dancing *
∇
*;;... However, when whe write about her characters and their relationship, it's magic. Even if I have an extract only because I can't read her whole text. It's a bit frustrating. I don't want to extrapolate too much and don't wan't to be out of characters, so I have to bridle myself and... it's complicated. Catchy and motivating but frustrating @_@
Leiden, Sasha © Senyou
Art by Clover-Doe

Reply

J'aime

Reply

J'adore celui de droite, vetements comme attitude.
Reply

J'aime beaucoup la classe du personnage de gauche, et ta maitrise des vêtements est juste incroyable. L'expression de celui de gauche est top. Du super boulot…. et je demande a te voir faire des claquettes pour vérifier tes dires

Reply

Reply

Yeah! j'en prend note. hate de voir ça! Tu me diras j'y connais rien alors si ça se trouve je trouverais ça classe!
Bon admettons que t'es des refs, réussir à rendre un tissus crédible tant dans la matière que dans sa tenu sur le personnage est pas évidant (et je suppose que la pose des personnage et pas en bonus track dans ta ref hehe) et je trouve que tu t'améliore à mort sur ce point : Je les trouvent mieux qu'avant. C'est cool même si je sais pas d'où ça vient (et ça c'est moins cool pour moi XD).. La couleur et les ombres y participent en tout cas.
Reply

Trop trop bien !! T'as super bien géré !! \o/
Reply