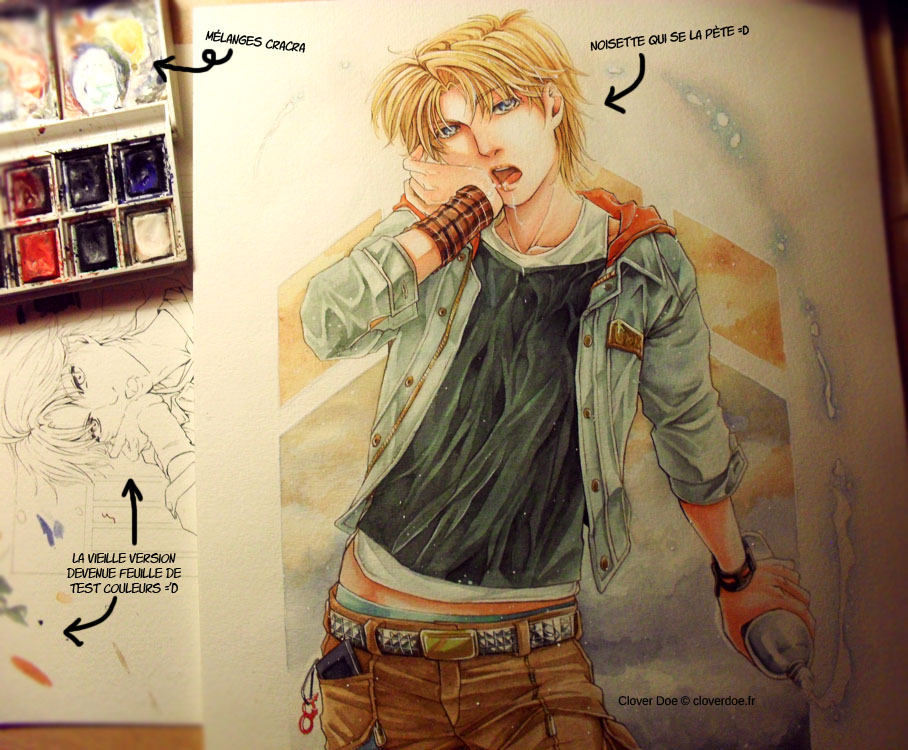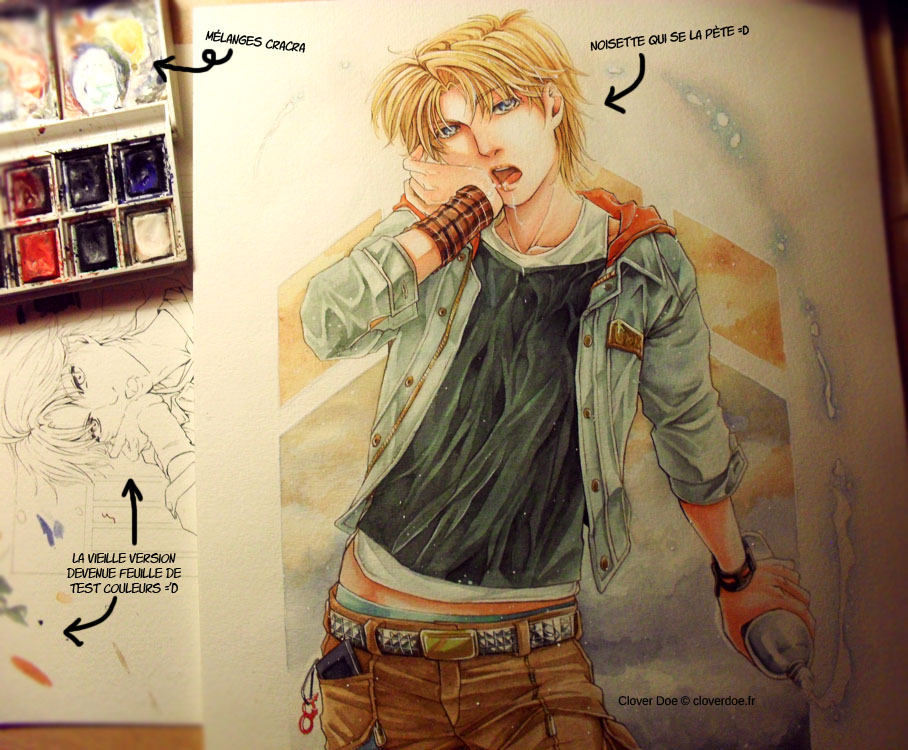 Watch
Commission aux encres et aquerelles pour
Kantashiro
qui voulait une petite Noisette !
Pour la laborieuse petite histoire, c'est
par ici

____________________________________________
Done with inks and watercolours, commission for Kantashiro who asked for my character, Noisette :3 Thanks Kanta o/
Commission belongs to Kantashiro
Art and character © Clover-Doe

lovely, really lovely. tres bien
Reply

such gorgeous artwork. loving his clothes <3
Reply

Gaspillage! Noisette n'est donc pas un eco citoyen \O// XD Ceci étant on lui pardonne volontiers le sacrifice de quelques goutes au profit de la classe intégral! Et malgré tes déboires, tu à super bien gérer la couleur! Je suis fan de sa veste et de son pantalon, la ceinture et le "bracelet" sont aussi dans le top de la réalisation et du rendu de texture. J'aime moins les plis du tee-shirt sombre (au passage j'aime la superposition marcel/tee-shirt) que je trouve un peu plat, suggérer le volume du corps de noisette avec une variation des plis au niveau de la transition pectoraux/abdos aurait peut être étais sympa. Après ça donne une matière intéressante au vêtement donc. LE choix des couleurs est juste nickel les ton automne et ces bleu vert clair sont vraiment efficaces. En plus le fond en taches dilués des différentes couleurs donne un coté minéral en me rappelant certaines roches et j'aime beaucoup.
Quand il aura perdu son portable il pourra pas se plaindre

. Le strap, le détail amusant et utile (car rouge) qu'on peut trouver en vrai c'est cool je l'imagine bien dans certain magasin du coup.
Le detail du gros chieur pas valable : la braguette indiquerais plutôt l'inverse à la fermeture du pantalon au dessus de la ceinture.
La pose est comme même ultra dynamique, il se la pète bien et l'ambiance est grave top! Bref superbe et une belle récompense aux efforts fourni! (la veille version avait l'air cool aussi l'encrage est beau)
Reply

Merci Devil

Je dirai à Noisette d'aller faire un peu de muscu et de faire plus attention à ses affaires et surtout ne pas gâcher l'eau xD Pas con pour la fermeture du pantalon, j'ai du me rater en faisant l'encrage à un moment et ça a changé un peu le rendu du sens. je devais être pressée d'en finir vu que c'était le deuxième essai et que j'avais déjà galéré avec le sketch, j'ai plus vraiment fait très attention è.é
En tout cas, merci beaucoup de ce commentaire

Reply

Mon dieu le povre subir un tel sermon ahlala XD Il faut qu'il reste comme il est. Puis la muscu ça lui irait pas (imagine après il peut se défendre et intimider è-é

). Pas besoin de justifier ahah on a cru comprendre que ça a pas été facile et franchement encore chapeau du résultat.
Reply

Kyyyyyyaaaaaaaaaaaaaaaaaaaaaaaaaaaa ca lui correspond tout a fait. J'adore!
Merciiiiiiii Clover. Je suis aux anges.
Reply

on est en automne ça tombe bien c'est la période^^ Alors il peut se la péter XD Toujours aussi bien^^
Reply