08/29/2018 - Clover Coin Designs TOS update for adoptables is officially here! Please make sure to read it before making any MYO slot purchases! If you are purchasing a slot for another person, make sure the other person has also read the updated TOS. Thank you!

CLOVER COIN DESIGNS TOS 2018 UPDATES - READ!Hey everyone, this was the original post for my old TOS guide. It's super duper old and I'm so thrilled to FINALLY update it for good.
Here is the good docs where you locate and read the new Terms of Service and Use.
[ CLOVER COIN DESIGNS TERMS OF SERVICE GOOGLE DOCS LINK ]
Here is the old one for you to review, way back from the first draft of like... 2014. Painfully outdated.
[ Older Clover Coin Designs Terms of Service Link on the Clo Wiki ]
This page will eventually be removed in a week or two. I want to make sure everyone has a moment or two to take a look and make sure they are alright with the terms I have placed on my work and if it affects them in any manner of owning my work.
What's changed about the terms of service?
I have been trying to work on updating my Terms of Service since about May of 2018. I aske
CURRENTLY OPEN! Comment below to claim and purchase a slot using USD.

If you would like to use DA points, we now sell Common MYO pillowing slots over at the
Pillowing-Archive
for those interested!
---

Common - $25 usd (2,500

)

Uncommon - $30 usd (3,000

)

Rare - $40 usd (4,000

)

Very Rare - $50 usd (5,000

)
make sure you're up to date with the tos~


GUIDE: MYO Slots and How to use them.


MYO Slots and How to use them.
Hello! If you're reading this that means you probably got your hands on a Pillowing or Lintling MYO (Make Your Own) slot! This slot gives you special permission to make your very own Pillowing or Lintling within a certain set of rules, typically defined by rarity tiers and features.
Pillowing MYO Slots
Pillowings and their features don't work like most typical species. Normally you only get access to one or two rare features, but when it comes to a pillowing when you get a Very Rare MYO slot that works as a "tier". Which means you get access to ALL Very Rare features and lower features while designing your pillowing. So if you got an Uncommon MYO slot, that means you can only use Uncommon features and lower features.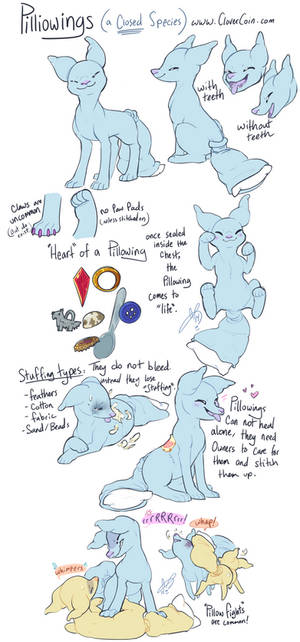 Lintling MYO Slots / Creation Slots
Lintlings are a little more average in comparison to other cs. Th
This is where you can check and confirm your myo slots!