aahaha a bit of a experimental adopt! based off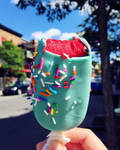 info abt them: the pale blue 'skin' is more of a lil shell and can be cracked off to reveal their icecream centre.
it isnt much, mainly its just a design change and nothing different
their hair can be shaped and have sprinkles. Their eyes change if its cracked(aka, the 'shell' being pulled off) and go white with pink tints
i wanna try experiement with adopts and different things so expect more than funny lil lizards now
offer over 100 pts please!
points > art > customs/characters
no ab!