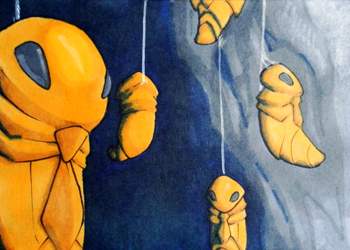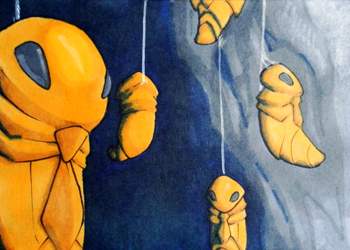 Watch
#014 - Kakuna
Although it is a cocoon, it can move a little. It can extend its poison barb if it is attacked.
I decided not to scan this one and take a photo instead, since adjusting exposure/levels/color correction is such a pain, and even then, rarely looks correct. Tell me what you think?
There's more at my art tumblr!
<< #013 - Weedle
| #015 - Beedrill >>

Looks fine to me.

Also, those are some dashing Kakuna. I could never pull of a yellow tie that well.
Reply

Awesome! Thanks for letting me know.

I think very few people could pull off a yellow tie at all.
Reply

Reply

Reply

if only they could brofist
Reply

aw this is so cool

Reply

Reply

man you got it right off the bat

-applause-
Reply