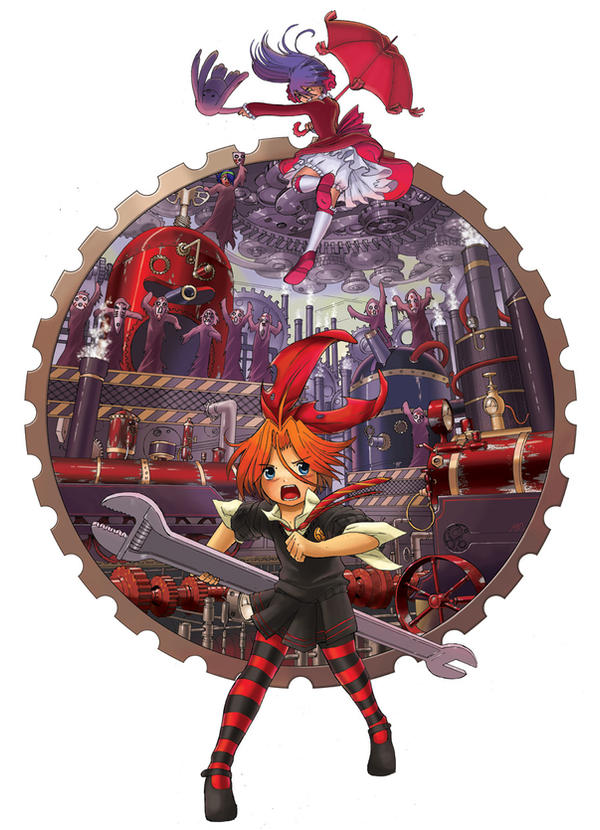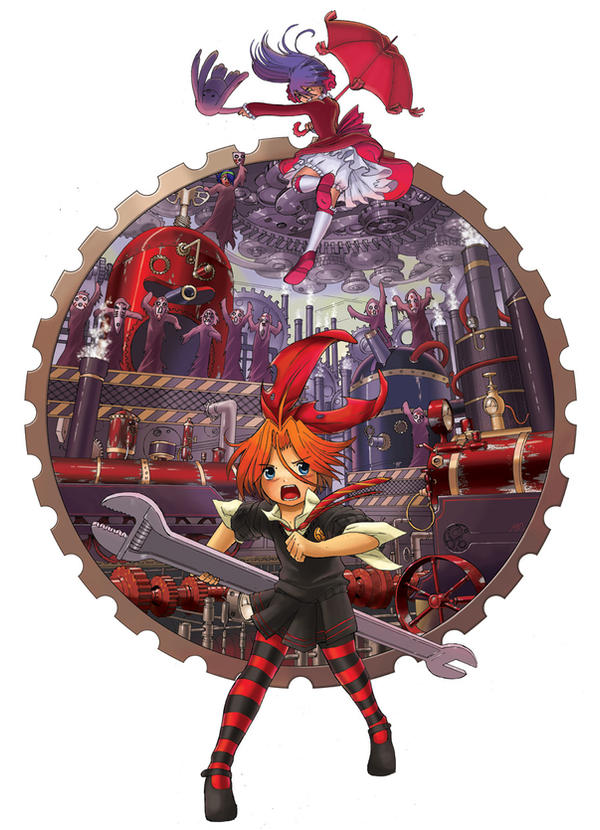 Watch
Deep within the confines of Hollow Fields lies the Remnant Room, the place where all the failed clockwork and steam projects created by countless students over the years are left to rust. Recently, however, some of the brighter children have made this abandoned place their secret hideout from the prying eyes of the Engineers. Entry to this exclusive club is restricted only to the brightest and best students; and when Lucy Snow finds herself on the wrong side of the club's purple-haired leader, Summer Polanski, she discovers that the Remnant Room may well end up being her tomb!
Here's the first image in a series of Steampunk-inspired works based on my manga. Hollow Fields volume 1 will be out in June 2007 from
Seven Seas Entertainment
. Go check it out - Hollow Fields is still running online there, updated three times a week!
Crits are encouraged, so feel free to recommend changes/suggestions if you see them! (In particular, suggestions for what to do with the white background. I've always been bad at picking bg colours.)
Daily Deviation
Given 2007-03-10
SlyDante said this: "Simply put,
The Remnant Room
by ~
Clockwork7
blew me away when I first saw it. The cool character designs, the wicked color scheme, the staggering amount of detail, the nice style, & the sweet story behind it all that helps it give out that unique Harry Potter-meets-steampunk feel even more...It just all combines to make one stylish, fun, & intriguing piece of work that definitely deserves way more attention from the community." I thought that summed up my thoughts as well =) (
Suggested by SlyDante and Featured by Marker-Guru
)
Keyoke...where do I start?
First off, the composition is perfect. Your protag and her giant wrench (oh, so many bonus points for that wrench) are positioned urgently but elegantly. The creepy...cultist-looking club members are so well done with the masks, robes and postures. I also love how Summer is positioned, and the beautiful expression on her face.
The machines are inspired. The color use is symbolic as well as aesthetically pleasing. The perspective is just slightly two-dimensional, but only when concerning the background. The detail was thought out very thoroughly, and the gear border finishes the whole piece off with a sort of 'so there'. All in all, it's beautiful and you ought to be proud of yourself.
Congrats on the DD!
The Artist thought this was FAIR
4 out of 4 deviants thought this was fair.