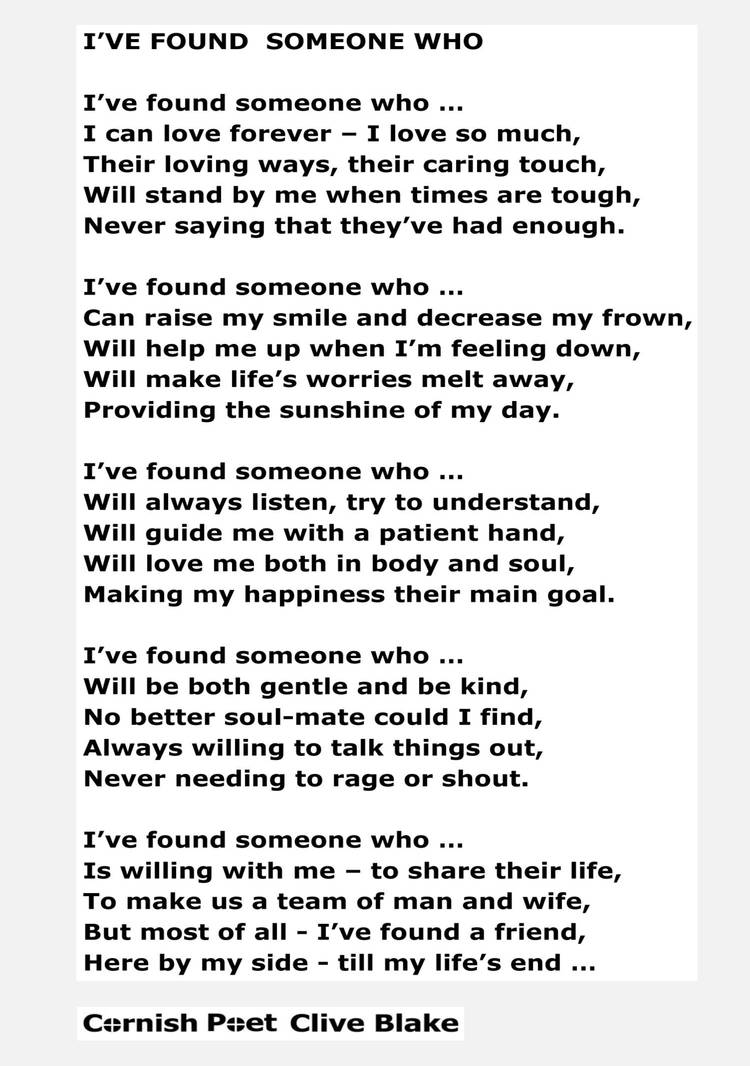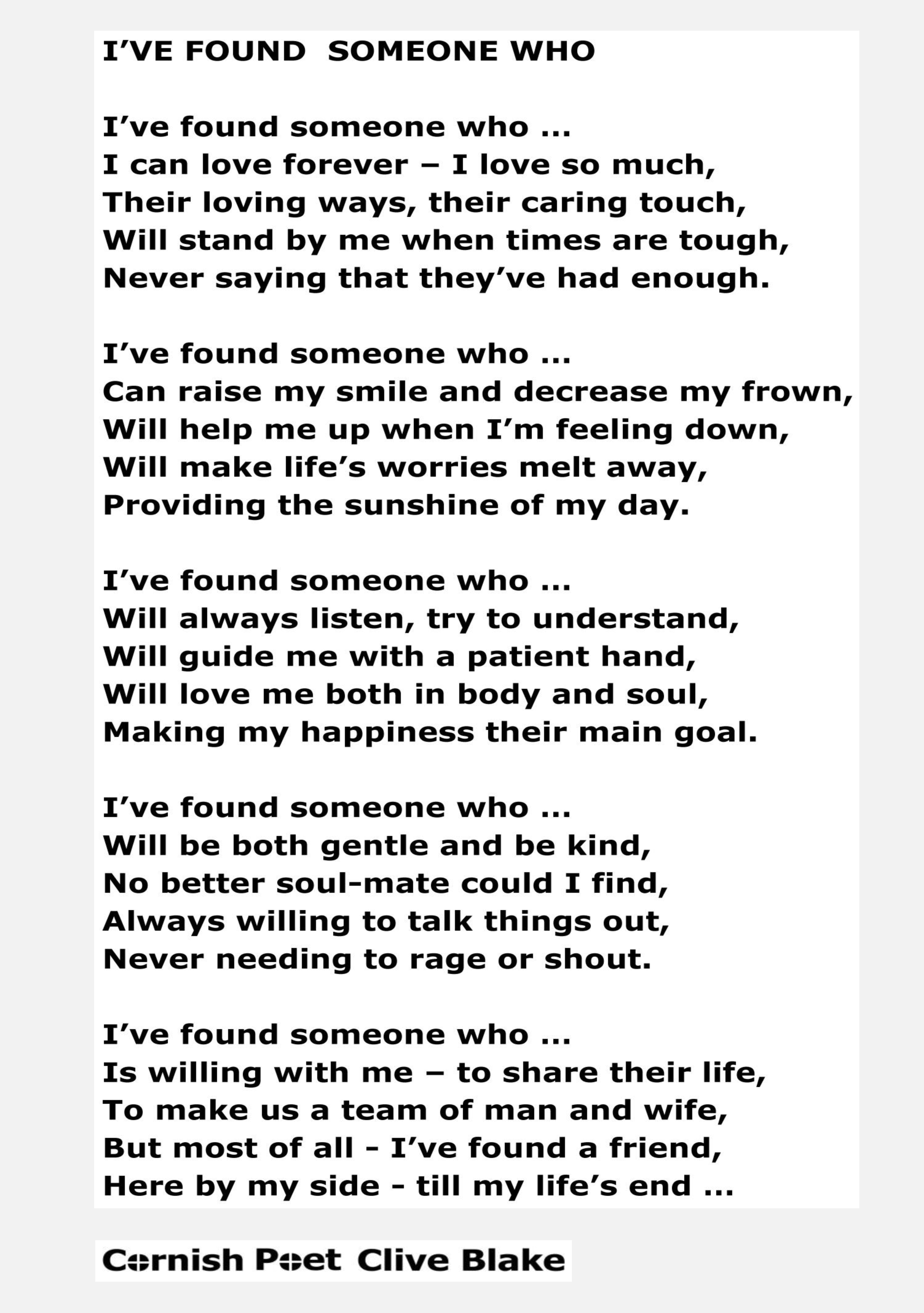 WEDDING POETRY COLLECTION
by Clive Blake


01 WEDDING VOWS

May we forever be lovers,
May we forever be friends,
And should we hurt each other,
May we quickly make amends.

May we enjoy our passion,
But never let compassion die,
Thinking in selfless terms as we,
Never emphasising I.

May we forever be soul-mates,
May our love eternally last,
May the food of love sustain us,
May we never have to fast.

May we use each other's strengths,
When we are feeling weak,
May we both learn to compromise,
And always as one voice speak.

May we never keep dark secrets,
May we never tell each other lies,
May we both work unceasingly,
To ensure our love never dies.


02 I'VE FOUND SOMEONE WHO …

I've found someone who …
I can love forever – I love so much,
Their loving ways, their caring touch,
Will stand by me when times are tough,
Never saying that they've had enough.

I've found someone who …
Can raise my smile and decrease my frown,
Will help me up when I'm feeling down,
Will make life's worries melt away,
Providing the sunshine of my day.

I've found someone who …
Will always listen, try to understand,
Will guide me with a patient hand,
Will love me both in body and soul,
Making my happiness their main goal.

I've found someone who …
Will be both gentle and be kind,
No better soul-mate could I find,
Always willing to talk things out,
Never needing to rage or shout.

I've found someone who …
Is willing with me – to share their life,
To make us a team of man and wife,
But most of all - I've found a friend,
Here by my side - till my life's end …


03 YOU'LL KNOW

No mathematical formula
Can define love on a page,
No statistician can measure it,
There exists no such gauge.

Love cannot be ordered,
Nor can it be planned,
Not pulled out of a hat
By deft sleight of hand,
Impossible to touch,
But it can be felt,
It is best when it's shared
But it can't be dealt,
Invisible to all;
Gives no peacock show,
Has no shape, size or form,
But yes - it can grow,

In spite of this -
When you're in love, be assured ...
You'll know ... you'll know."


04 COLOUR FADING NEVER

Picked from the garden of life,
As unique as any flower,
As beautiful as a rainbow,
Trapped in an April shower.

Like a blossom pressed and dried,
Its colour fading never,
I have pressed you
Between the pages of my life,
Where I hope you will stay forever.


05 NUFF SAID

Besotted,
Beloved,
Be brave,
Betrothed,
Be wed.

Be kind,
Be loving,
Be faithful,
Be happy,
Nuff said.


06 SET IN STONE

My love for you will never end,
Will never break, will never bend,
Will not tarnish or grow weak,
No love but yours I wish to seek,

It will not fade or disappear,
It will not stray, or even veer,
My love for you won't change or alter,
My heart is true, won't stumble, falter.

My love for you
Is set in stone,
For this ring is for you
And for you alone ...


07 OUR JOURNEY

We embark on a new journey,
Let our travels never end,
Keep us heading in the same direction,
Though the track may sometimes bend,
Let happiness be our destination,
Let our trademark be a smile,
Let us enjoy every footstep,
Not begrudge a single mile,
Let us revel in new discoveries,
Greet each fresh dawn with pleasure,
Let us find our inner-wealth and know ...
The true meaning of treasure.


08 ENTWINED AS ONE

Our married life
Has now begun,
Our lives from now –
Entwined as one,
Our love to last
Till end of time,
For I am yours
And you are mine.


09 FIRMLY ANCHORED

You are my heartbeat's echo,
My spare rib, who's guilt free,
You are an essential part,
The half that completes me.

I'm sure there is no universe
Where more love I would find,
But should an offer come my way
It will gladly be declined.

I seek no other harbour,
I'm as happy as can be,
And I'd only ever sail away
If you were there with me.


10: WEDDING RING

As I place this wedding-ring
Onto your finger,
You become,
My companion,
My lover,
My soul-mate,
My friend.

My love for you
Is like this wedding-ring,
Has a start,
Has a middle,
But definitely
Has no end.


11: MY HEART

My heart was very battered,
It was also broken,
It had endured so, so, much,
Of which I haven't spoken.

With your love and tenderness,
My heart pounds once again,
Our hearts now beat together,
And there they shall remain.

Now …
My heart has found its true love,
My heart has found its home,
My heart is yours forever,
My heart is yours alone.


12: IF YOU COULD SHRINK INFINITY

If you could shrink infinity,
And then place it inside -
Just one grain of sand,
My love for you would fill the universe,
And would still be –
Desperate to expand.


13: WEDDING PRESENTS

Presents are optional;
You may not, or may,
It's your presence we seek
To help make our day.

But we've been asked for a list,
So go on then … why not?
For those who want to give,
But can not decide what …


14: CELEBRATING YOUR LOVE

We are here today to celebrate the love
You so obviously share,
A love you wish to formalise
And publicly declare.

A couple truly meant for each other,
A couple truly meant to be,
A couple whose friends and family,
We are very proud to be.

We hope your happiness continues,
That you have much more in store,
We hope the memories made today
Will stay with you - forever more.


15: MARRIAGE BLESSING

We know your wish to unite
Is so truly meant,
Let your love be the stone,
This blessing - the cement.

May you build on firm foundations,
And never build on sand,
May you both embrace the future,
And approach it hand-in-hand.

May your love for one another
Increase with each new day,
Bringing you true happiness,
Never causing you dismay.

May this blessing merely be
The very start of your new life,
May your dreams become reality,
Now that you are man and wife.


16: WHEN WE'RE TOGETHER

When we're together
It's plain to see,
That I love you
And you love me.

Our love is mirrored
The love we share
Our love is special,
As we are aware.

Our love is requited
Our love is strong
We both have found
Where we belong.

And if one soul
Should sad depart
There would be left
A broken heart ...


17: I LOVE YOU MILLIONS

I love you millions,
And I always will,
And if the Universe
Should ever end …
I would love you still.


18: YOUR JOURNEY

You embark on a new journey,
May your travels never end,
Keep heading in the same direction,
Though the track may sometimes bend,
Let happiness be your destination,
Let your trademark be a smile,
May you enjoy every footstep,
Not begrudge a single mile,
May you revel in new discoveries,
Greet each fresh dawn with pleasure,
May you find your inner-wealth and know ...
The true meaning of treasure.


19: YOUR WEDDING VOWS

May you forever be lovers,
May you forever be friends,
And should you hurt each other,
May you quickly make amends.

May you enjoy our passion,
But never let compassion die,
Thinking in selfless terms as us,
Never emphasising I.

May you forever be soul-mates,
May your love eternally last,
May the food of love sustain you,
May you never have to fast.

May you use each other's strengths,
When you are feeling weak,
May you both learn to compromise,
And always as one voice speak.

May you never keep dark secrets,
May you never tell each other lies,
May you both work unceasingly,
To ensure your love never dies.


20: YOU'VE FOUND SOMEONE WHO

You've found someone who …
You can love forever - You love so much,
Their loving ways, their caring touch,
Will stand by you when times are tough,
Never saying that they've had enough.

You've found someone who …
Can raise your smile and decrease your frown,
Will help you up when you're feeling down,
Will make life's worries melt away,
Providing the sunshine of your day.

You've found someone who …
Will always listen, try to understand,
Will guide you with a patient hand,
Will love you both in body and soul,
Making your happiness their main goal.

You've found someone who …
Will be both gentle and be kind,
No better soul-mate could you find,
Always willing to talk things out,
Never needing to rage or shout.

You've found someone who …
Is willing with you - to share their life,
To make you a team of man and wife,
But most of all - You've found a friend,
There by your side - till your life's end …



21: I AM THE NIGHT SKY

You are the viola,
And I am your bow,
You are the mountains,
And I am your snow.

I am the song-sheet,
And you are my tune,
I am the night sky,
And you are my moon.

You are my true love,
The love of my life,
My best friend, my lover,
My soul mate, my wife.


22: MY WEDDING WISH

I didn't really care if -
Our wedding was big,
Or our wedding was small,
Was held in a small tent,
Or held in a grand hall.

I just wanted for You,
And I just wanted for Me,
To be legally –
And spiritually -
Changed into We ...



Cornish Poet Clive Blake
You can contact me via my website:
www.cliveblake.co.uk


PERMISSIONS:
Anyone van use these poems, as long as I am credited as the author and they are not used in any commercial way.


Wedding Poetry Collection.
Poems by Clive Blake:
01 Wedding Vows
02 I've Found Someone Who
03 You'll Know
04 Colour Fading Never
05 Nuff Said
06 Set In Stone
07 Our Journey
08 Entwined As One
09 Firmly Anchored
10 Wedding Ring
11 My Heart
12 If You Could Shrink Infinity
13 Wedding Presents
14 Celebrating Your Love
15 Marriage Blessing
16 When We're Together
17 I Love You Millions
18 Your Journey
19 Your Wedding Vows
20 You've Found Someone Who
21 I Am The Night Sky
22 My Wedding Wish