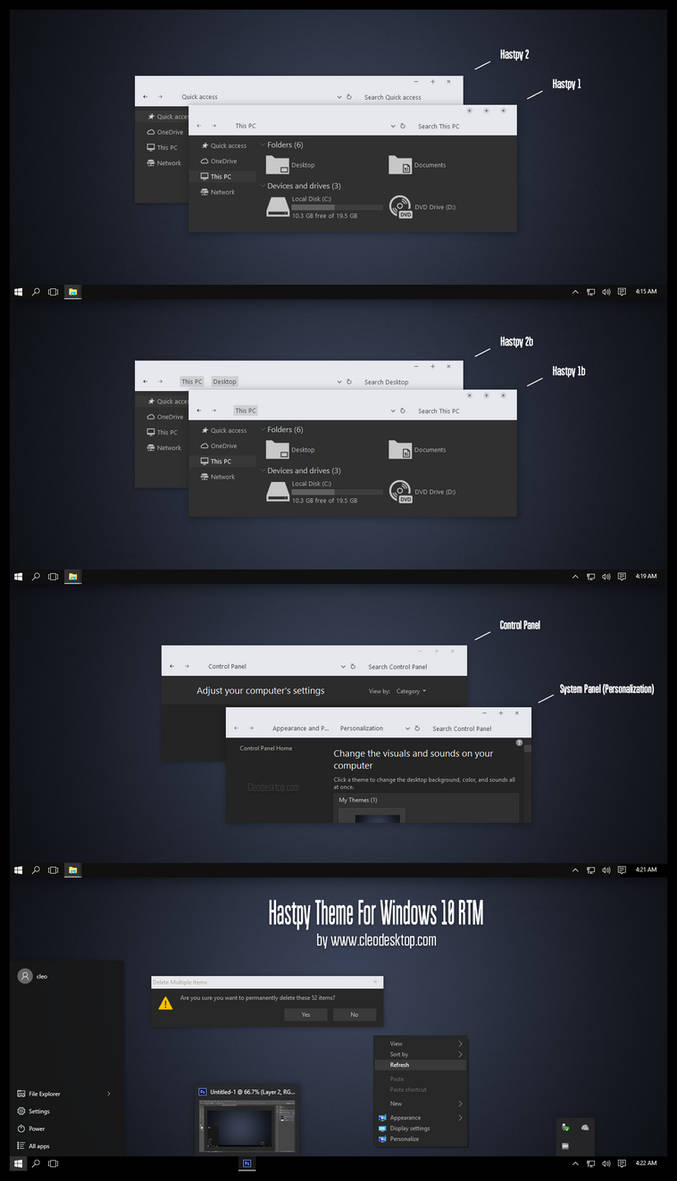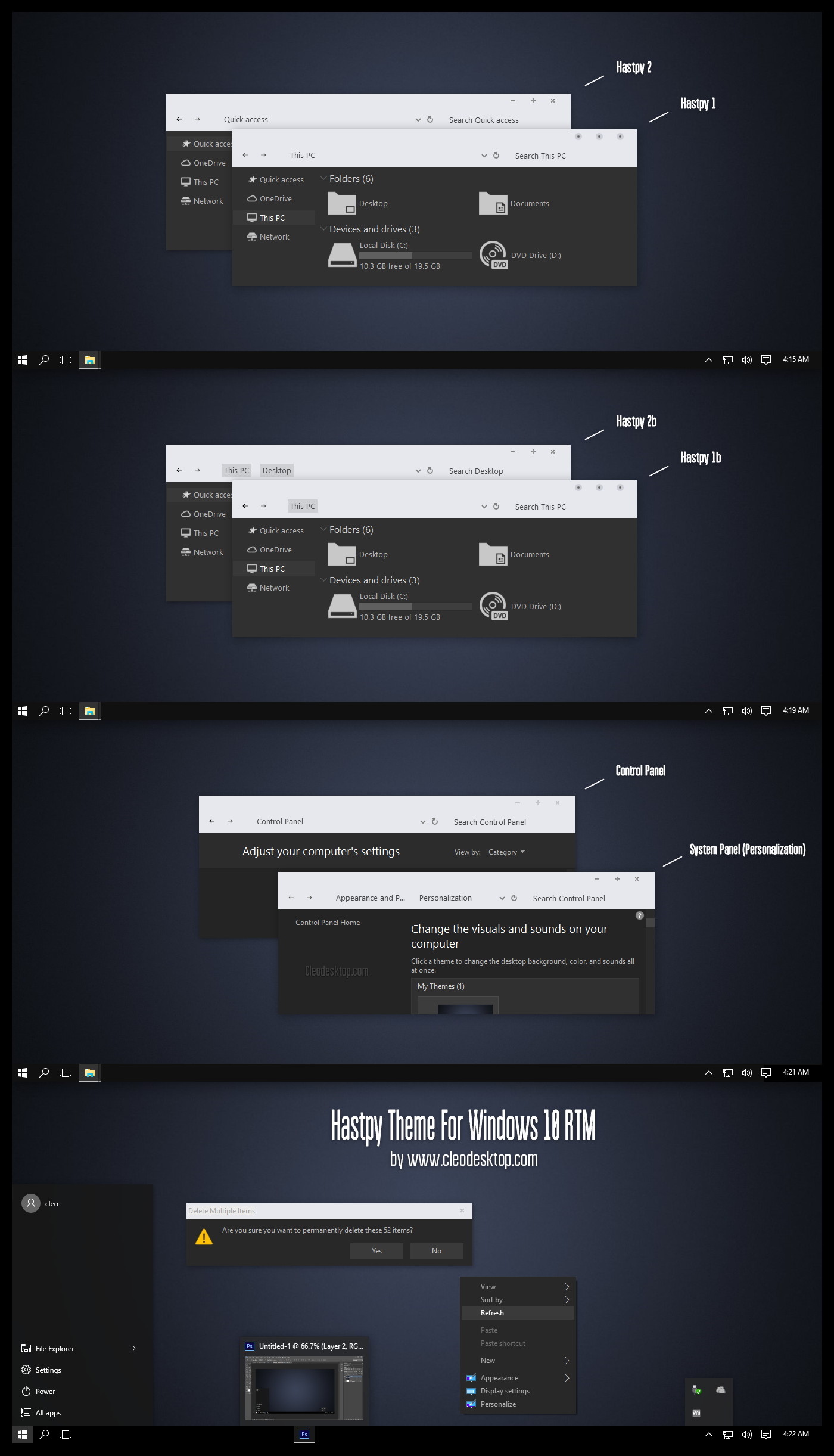 Watch
Hastpy Theme For Windows 10 RTM

Have 6 Versions + iPack Icon:
[ 6 Version Hide CommanBar + 6 Version Show CommanBar ]

Hastpy1 (Adressbar Whte+Min, Max, Close Round)

Hastpy1b (Text with background on Adressbar Whte+Min, Max, Close Round)

Hastpy1 (Adressbar Whte)

Hastpy1b (Text with background on Adressbar Whte)

Tiano Dark3 (Adressbar Gray+Min, Max, Close Round)

Tiano Dark3b (Adressbar Gray)

+ 6 Versions Show CommanBar

-----------------------------

Gray iPack Icon
------------------------------

DOWLOAD FULL NO ADS, NO POP-UP: [Link]

DOWNLOAD FREE: [Link]

(no link via ads, no pop-up)

------------------------------

Visual Style for Windows 10
Compatible for both x64 & x86 system

- For using this theme first you need to Patch Uxtheme.

- Please read file "How To Install Theme - Read Me.txt"


- Copy all file in "Theme" folder to "%windir%/Resources/Themes".


- Open personalize panel and apply theme.

If you have installed Patcher UXTheme still not change the theme then corrective like this : [Link]

I hope you like !
Enjoy



Warning!!!

I do not allow to modify my theme. If you want please asking my permission.


Numix Theme For Theme Windows 10 RTM
Catdo2 Theme For Theme Windows 10 RTM
Flattastic Theme For Windows 10 RTM
Photoshop CC Dark Theme For Theme Windows 10 RTM

This theme broke my desktop. It made my desktop completely black and I couldn't click on anything. I couldn't even use my system restore point because my antivirus doesn't allow it unless I uninstall it. So I tried to uninstall my antivirus in safemode but guess what? Safemode is all black too! So I thought the only option I had left was to reinstall windows or reset it. In the end I found a way to fix it by using the cmd option in windows 10 troubleshoot which thankfully was able to display. This allowed me to directly delete the affected theme from C:\Windows\Resource\themes directory. After doing that, I restarted my pc in safemode which works now and pick a different theme.
Reply

Yhea thats my bad. Im using window 10 version 1803. I did read the warnings you put on the download site but I read it wrong. I thought it was only the icon pack that didnt work with 1803. Sorry about that. If you want Ill remove the post that I put up earlier.
Reply

Impressive work

Reply

I did every thing you have told me to do
and at the stage of reboot my pc I reboot
when it statsup the screen cant open again
please , please tell me what should i do with this problem

Reply

can I get the icon pack link?
Reply

Buy theme for full version + iPack Icon. Thanks!
Reply

just tell me I will remove banner 18+
or you can block banner ads by adblock
Thanks!
Reply

all those Windows 10 themes doesn't work anymore on the new Windows 10 RTM build 10586. So sad.
Reply

Reply

I allready try this and almost broken my PC, I have to make a Restoration because my screen goes black after the boot screen.
Reply