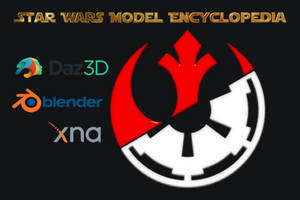 Star Wars models for DAZ
Images of available Star Wars models for your 3D rendering. Note that these are not downloads but, where possible, download links will be on the pages. Some are hi-res characters and clothing for G8 and G3 models, some are simple objects such as vehicles. I'm hoping this will be a fairly exhaustive look at both free and premium models available for Star Wars fans.
---

Description
Aaah... Just an idea I had today whilst being sick. I had wondered what I'd be like in Star Wars often, and as I've already made myself as a Jedi, perhaps I'd make at least the lightsaber I'd have if I were Sith.

An orange-crystal lightsaber, with a light cortosis weave. Just in case those pesky jedi try disabling the weapon. A bonus! The lightsaber comes with a gun-attachment: a coilgun, tossing shaved bits of metal at high velocities electrically (Thank you Mass Effect!) with a spare power pack on the pommel, all the harder for Jedi to deflect with their own lightsaber. Covers important angles of combat.
Image size
1100x440px 89.77 KB