Lil' Clayem needs a little money!
Need a drawing but don't have the money to spare on a full commission from a well known artist? Simple.
Ask me!
Anything I do will be quick and well done, and all for 5$, may it be colored or lineart. However, to be fair with all the other artists out there that strive to make a good art for much more, I will only be taking
10 requests
. Then, it will be closed for ever and never again will I do anything that cheep.
Quality wise, this is a recent uncolored piece: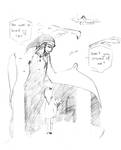 And this would be a
colored version: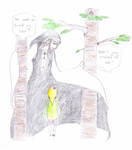 Take this as a minimum that can be improved.

I only do illustrations with eventually a few speech bubble like above (orthography will be thoughtfully checked) and anything from furry to chibi. The first character is included in the price, then it will be +1$ for each new character. I do chest nudity but not private areas, so don't worry about asking me anything sexy but a
human male or female
naked chest will also be +1$, while 'really revealing clothing' +0.50$.
No vore or sex scenes allowed, sorry.
I give myself the right to refuse any request that makes me uncomfortable.
Payment by PayPal. I also can make commissions for points that will not appear on the limited list, but they will be more expensive and will take longer. The price for theses are still to be decided and can be negotiable.
Send me a note!