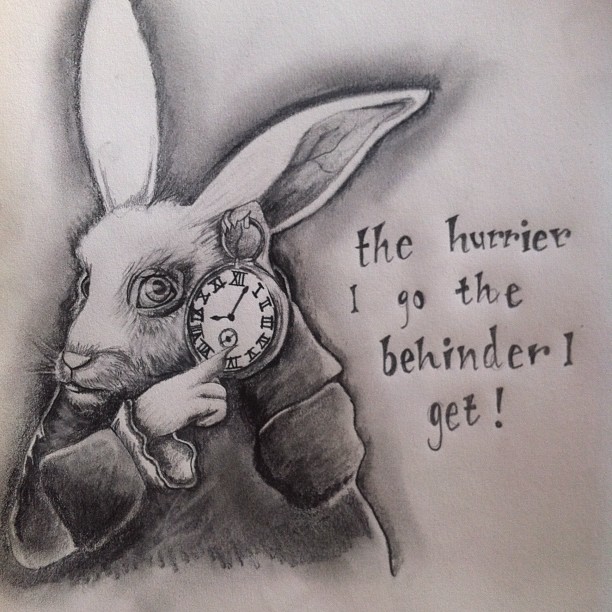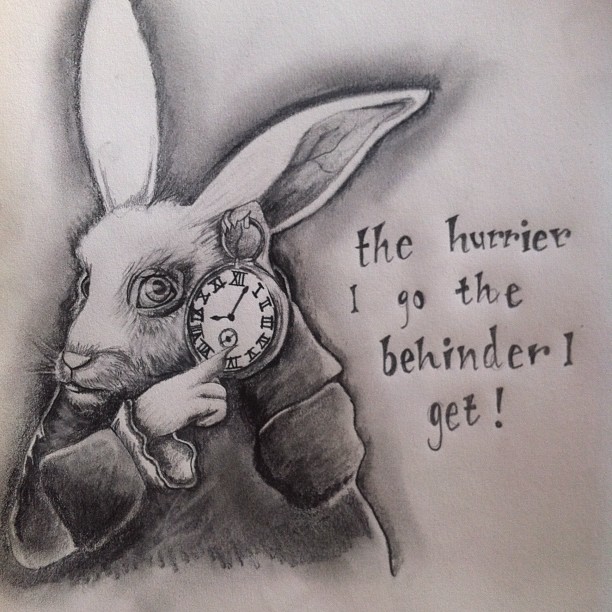 A sketch of the white rabbit from Alice in Wonderland.
Love the shading, especially the eyes, they give the rabbit much of its emotion. The fur on its head, especially around said eyes, is also very nicely rendered.


However, it looks like the paw holding the clock is a bit smaller than the one pointing at it!
The rest of it, outside the head, looks unfinished. The head looks semi-realistic while its coat falls flat, like randomly shaded shapes.
Also the fur on the left ear, or the way you shaded it, at the connection between ear and head, make it look a tid bit flat.
You could've blended better were the coat ends.

Love the interior of the ear tho, the veins are so delicate and nice. And I still can't stop staring at those eyes!
The Artist thought this was FAIR
6 out of 7 deviants thought this was fair.

So despicable that people would claim other people's art as their own. You are a very talented woman, and your art is great.
Reply

Reply

This is beautiful

I will be using this for my blog with a link to this page if its all right with you - would love to give my readers a chance to get to know your work

Chen
naturopath.co.il
(If you object I will remove it of course)
chen@naturopath.co.il
Reply

I guess you could take this as a complement; somebody shared this on Facebook, claimed it as their own, then got called out on because, obviously the link has your name in it.
Reply

dude, i love this! it really brings me back to the first time i ever read that book. a book that i still reread all the time. i love the detail on the rabbit's face, how you can see each distinct hair in his fur. big fan of the eyes too. that's always my favorite part of drawing living things. : ) great work!
Reply

Thank you so much! I only draw as a hobby and only just heard of deviantart so that means a lot

Reply

your welcome! your very talented, and i'm looking forward to seeing more of your work. i'm new to deviantart too, i joined about a couple months ago and it's a great opportunity to show off my art.

Reply