Well ahem.... i'm back o/
Aaaaaand i have things to do! like my resume, my website, my portfolio... work stuff
but also a drawing to a kind and patient girl i haven't forget... artblock killed me.
I have been absent from here for a long time, i didn't have time, ideas or motivation to draw after my day work... but i want to fight this and i need some help.
I open 5 slots for free drawings
, but this time i won't draw OCs, and the idea has to be short like "a woman drinking a cocktail at night" or "batman eating a banana", animals, monsters, whatever you want...
If you want to participate, you are welcome and i thank you for helping me

1.


"Une personne un peu grosse essayant de se toucher les mains dans le dos"
2.


"Un chat trempé sur tout le corps sauf la tête, super vexé qu'on lui ait fait prendre un bain sans son sérénissime accord "
3.


"des ratons laveurs en conseils de guerre pour contrer l'armée des castors"
4.


"Des gens qui dansent sous la pluie dans des costumes complètement ridicules"
5.



























Besides that, let's play!
RULES (please read)
1. For the first 10 people who comment on this journal, I will feature one of their characters and comment my choice. (I will go to your gallery and pick one character, you don't need to tell me which one)
2. If you comment, please do the same in your journal, and put me in the first feature slot. The idea of this is not to get a free feature, it is to spread art around for everyone !
I commented on

's page, so she's the first i feature:
1 -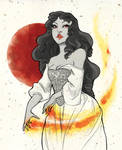 The first time i saw a drawing of Lena, i though this character was very powerful and charismatic, and i just love the couple of Lena and her ginger sexy lover Lukas

!
2 -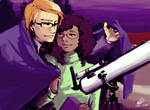 Luuuuuuccccciiiiiien! Why? oh because he's the cutest nerdy and clumsy guy of the webcomic. "Oh la la lucien!

"
3 -

Even if i know nothing about him, the masked man caught my eyes in your gallery. I like what seems mysterious and a bit dark, and he seems kind of mystical and secret. Plus, the atmosphere of this illustration is really nicely done.
4 -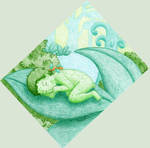 Sometimes you see characters in galleries and you think "That's cool, i would like to know more about it". The Green Lady is one of them. I really like the idea

5-

Logan. A wild ginger woman, it's enough for me

. The character looks mysterious, i would like to know more about her story.
6-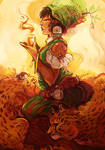 Minth, master of tea magic. I like the fact she avoids others Cuisimages, and she looks very interesting! I absolutely love her design and this illustration is gorgeous.
7-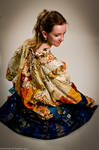 Well, i didn't choose an OC in your gallery, OC are great, i love them but they are not real. You have a real talent to create stunning costumes, and i want people to go to check your gallery because you make art with fabric. Your costumes are just wonderful, i love them (especially this jacket).