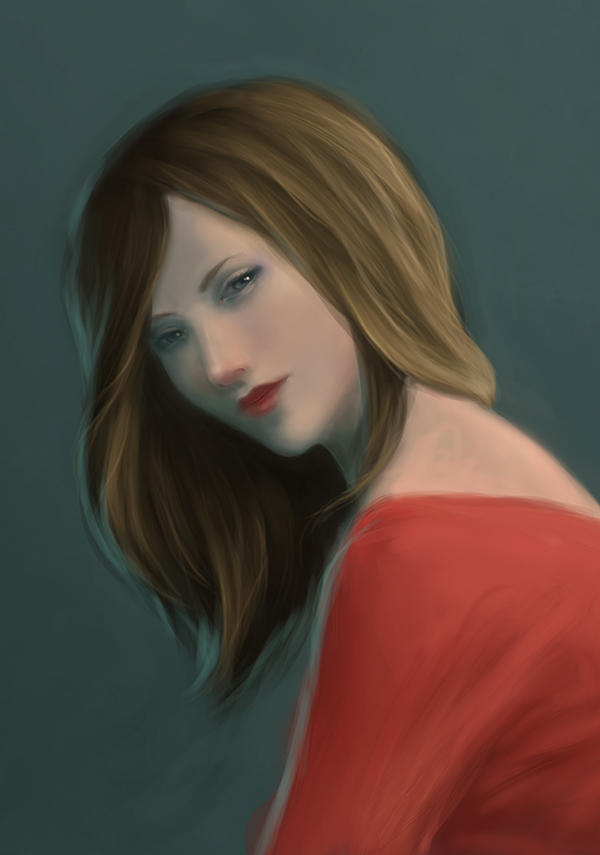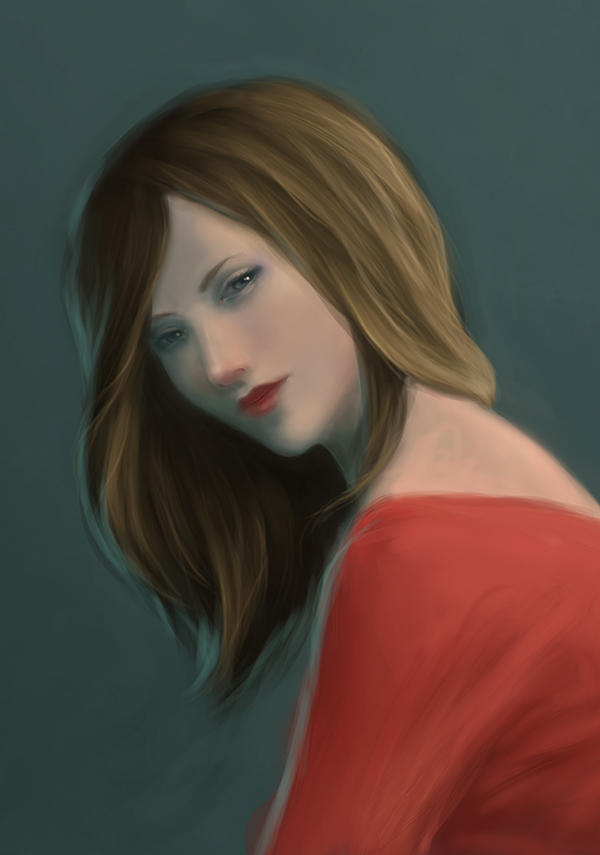 Watch
Sooo after reworking old pieces (due to a lack of ideas and inspiration) I finally did a piece from scratch again. It started merely as a practice piece for some skin brushes I downloaded, but, well, I ended up going back to the way I usually paint nowadays.

However.

While I am fairly happy with the face, there is something wrong with... well, the rest. Something about the head and the shoulder is not quite right, but I cannot really figure out what's wrong and how to fix it. If some of you guys can see it and enlighten me, it would be fantastic. I truly cannot see what exactly is wrong at this point.
I think perhaps there is something about the angle of the face and the upper part of the head not quite being the same, but I'm not sure. And the shoulder, well, it's the one part of anatomy that I can never get right. I have changed it... and changed it... and changed it... and I think at this point that I feel it looks wrong no matter what I do. I've tried using reference, but... well.

I'm glad to see you back here, felt like it'd been a while...though I guess just a couple months.
Been staring at it for a while, trying to figure out what might need changing, and I think the neck line from her chin to collar is maybe at slightly the wrong angle, perhaps make it a bit more slanted, and a little added definition around the line of the chin and shoulder area might help as well. Her face is quite nice! Especially like her nose, and the bit of light in her eyes.
Reply

Thanks a lot for the advice and feedback!

Well, if you only count the times I've been active (as opposed to just posting a picture or journal entry and disappearing again) I think it's actually been years. Certainly long enough to be surprised at how much your art has improved

I think you are right that there's something about the angle and the definition. It's one of those things that you don't really see before someone points it out, and then it's glaringly obvious

Reply

looks good, the problem I see is a lack of depth from the shoulder to the neck. Some shading to emphasis the collar bone and the muscle definition could help.
Reply

Thank you! I definitely agree now that I look back at it. I find shoulders quite difficult to draw, so I guess it's time to find myself some reference and practice!
Reply

No worries, I'm the same you stare at something for so long that you can't figure out what is wrong. anatomy books are good to help workout how areas like that work and should look.
Reply