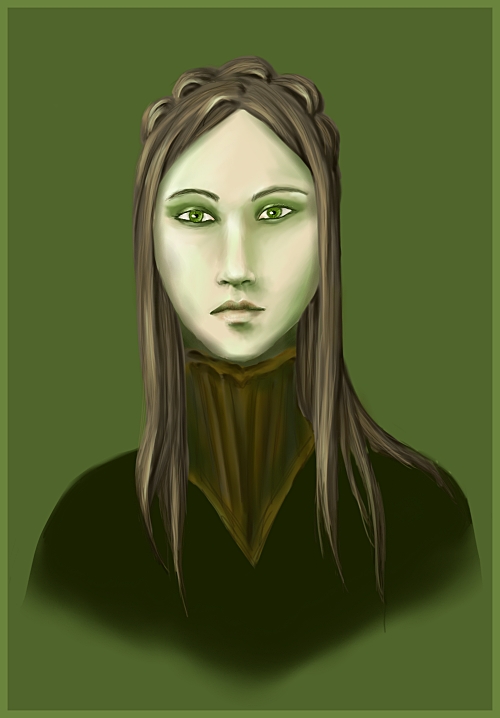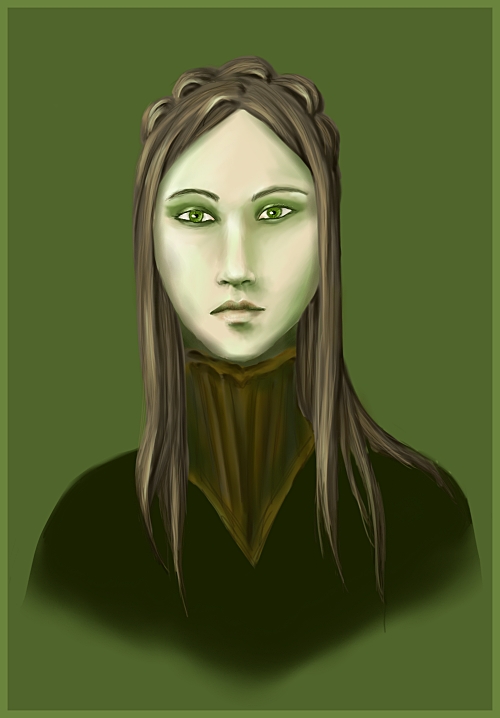 Watch
No wonder I never finish writing when new characters pop up every now and then. This time it's an old character that suddenly crept back up to the surface of my mind. This is the Queen of the Marshes, which she hasn't been before. Her name was Rhev˘in. She was, and is, a witch, though slightly more powerful than the "ordinary witches". The Power that makes up the White Magic is what most witches and White Wizards use, it cannot be used without some magical artefacts or wands or whatever. But this witch has more power than that.
She's actually been one of my first characters ever, and she crept up suddenly back then as well as the story turned in a different direction. Back then she was living in E Foen Eiunei, the Unicorn Forest, as the only human. Foen Eiunei is a highly magical forest, and lots of creatures live there. She had some servants and an apprentice who was more scared of magic than interested in it, and she had a castle. And she could bewitch the paths of the forest so it lead travellers there. She was the Guardian of the Forest. Now, however, the Foen Eiunei pretty much guards itself. The new Witch Queen, as she is also called, has another place. She is not a guardian over a place, but she is a key element. She is the replacer of the Wise Man on the Plains, and together with someone not yet having a name, only being called The Druid, she is their helper. Who is she helping? That would spoil the story for you, and to be honest, this isn't fully planned out yet either. She and the Druid has a slightly different helper function than for example the Birdcaller, though.
The Witch Queen are not evil, not good, but she is bound to one side by her mission that has lasted through years, and years. She - as is the Druid - is not only a helper, but also a guardian over something very specific.
And now I think I've said quite enough already

Seems like I take away all the excitement with reading the book - when I get it finished.
It is still sketchy, but I'll leave it this way. It isn't meant for a full portrait anyway. Also, I know there are flaws. I was just painting for fun. Her hairstyle is weird, but I wanted something that gave a small resemblance to a crown, without actually being a crown, as she is after all called the Queen of the Marshes. And yes. She is supposed to wear make-up as well, and this much of it. She plays her role fully out, and she is somewhat... vain, isn't that what it's called?

I like this one alot I look at it every time I come to your page lately and finally I comment on it :3
Reply

Thanks, and thanks for the fav

I'm really glad you like it. I can relate to the "like, but not comment"-thing, there are lots of pictures I want to comment on, but I never get around to it...
Reply

AHHH I think I know why it looks different! I think it's because she has a longer face more pointed...
Reply

Yes, I think you're right - longer, and less round, in a way.
Reply

see now i have to disagree - i think this is similar to some must be the first - firstly for the picture, the neck is long, but then that might be a racial trait i'm not sure - aside from that i think you need to keep in mind the shadow of the hairline - that's two i've picked you up on now - no more critique - the rest is fantastic, great colours, skin tones, eyes and nose - i want to kiss those lips they're so nice!

as for the description she is right to be vain - she is beautiful, only one point tho, is there any ugly people in ayamar? cause you seem to be painting only the good looking ones

the hair is great - it does look like a crown you're right - slightly

you know i'm gonna love it don't you x
Reply

Yes - the hairline. I tried to keep it in mind, but I must have forgotten some areas anyway. Glad you like the rest!

It wasn't really supposed to look more than slightly like it anyway, so it seems like I've succeeded in that

Thanks a lot!

Reply

This work is great. Ilove these dark marsh like colours! They look really good! Your backgrounds always do suit the skin tone of the character's. And forget about the work looking different which I don't see how either. If you are happy with it...know what I mean . After all when someone draws it's not supposed to resemble that of your previous drawings!!!. Pfft....
Reply

Thank you! I'm glad you think so about the backgrounds, I've tried to make it so a long time now. Especially on these portraits I start out with the background colour, so it sort of comes naturally, but it's always nice to hear. And you are so right about a drawing not being supposed to resemble that of previous drawings. Thanks again!


Reply

WOOT, I really, really like this picture. I love the hair-do. And I agree with *
ladyshalafae
I does look somewhat different to your normal style yet keeping it also. (I a good way

)
Reply

It really makes me curious what's different - I can't see it myself. After some months, I think I can see what's sort of my style, but I'm a bit in the dark on this one. Glad you like the hair as well! And thanks a lot for the comment

Reply

I'll have a think about it, but just go into your gallery and have a look at all your other stuff to this one. It's certainly different. Maybe your style has taken a leap? (A good one

)
Reply

It's so funny - I just can't see it. Ever since that first comment from *
ladyshalafae
(probably got the name wrong now) on this I've been looking and looking and looking - I guess there's really something to what they say about being "blind" to your own works. But as long as it's a good thing, I won't complain

Reply

I must say, she's very intriguing. I can see your style in it, but she looks much different than your normal portraits. I love her collar, and the hair....the hair is so cool looking.
Reply

Different in what way? I hardly know what's really my style, so I got a little curious there. The collar was supposed to be more detailed, but I guess it somehow fits with her being the Queen of the Marshes - the irony of her character itself. Worked a lot on the hair, glad you like that. I did a lot of hair design before, when I doodled at school, and it was really fun being back to that again. I'm trying to stop being afraid of just drawing, like I do when I doodle, when I paint digitally. Quite ironically as it's the medium which should be the best for experimenting...

Reply

well, overall she's thinner, and her cheeks aren't so round, and there's such a length to her. your characters normally have very round cheeks and thick necks. it's actually very hard to explain, because it's so subtle. but just look at her next to moonchild, and i think you'll see some of it

all my paintings usually start with a doodle in photoshop, just a rouch sketching of lines of where i want things to go. but i was never that good with traditional media, so i think it comes easier to me.
Reply

Yes, I think I can see what you mean now. Setting it up against moonchild was quite a good idea. (Actually it's quite obvious now that I've looked at those two for a little while...) And I can see what you mean about round cheeks and thick necks - quite the opposite of what I really want to do, ironically enough. Hmm... Maybe I'm just starting to dare to do something slightly different - even though it's not much at all, I'm always getting stuck in doing the same thing over and over again.

I love just starting to doodle in photoshop, just fill in some colours and see what comes into my head... It's really fun. And now that I've painted, or at least sketched, most of my important characters, I don't really have anything that needs to be "just that way". But when I do it this way, I almost always end up with a character anyway, so I don't know why I bother to do it any other way, really.
Reply

i actually have the almost opposite problem. unless i'm using a model, i can't get my characters to look the same. i struggle to retain similar features, and it's just really rough for me.

so i'm happy to have models to work from, help me keep some consistancy.

we'll see if you continue to unconsciously do different techniques. i've always just had things sneak up on me, come out of no where. rarely do i get any control in which way i develop

and it's not that the thick necks and round cheeks you do look unattractive. you do them well, and they look quite nice on your characters. it just makes it stand out more when you do something different
Reply

I just haven't found out what I like best to do either. I don't really picture them with round cheeks and all that in my head.
At one point I just stopped caring whether the characters looked the same from time to time, as long as the main features are in place, so I just try and try and get a little closer every time. I don't really have an all that clear picture of them in my head, but at one point I just see that it's them, in a way. Don't know what it is - like this one, she doesn't really look the way I pictured her before, but when I'd finished, it was her anyway. Now I'm just hoping I'll manage to be consistent enough in my descriptions when I start writing about them...

Reply

having a written character, imo, stay the same is easier than a painting. depending on your writnig style, you'll either have so many details about a character that you can keep control of them, or you'll have just a few strong descriptive points and let the reader do the rest. as long as you don't change a detail in the middle (which is what character sheets are for) the reader will keep a consitant image.

whereas painting, you've got to do the same thing everytime, and as you continue to improve, or if you're just having a slightly off day, or if it's an unusual pose, you'll get things off.

so i think that's why my characters are more defined by rough details, so i can say "yeah, his nose isn't the same in these two paintings, but it's still tiny and he has blue hair, so it's this dude."
Reply

Yes, I agree with you there. In a sense it's that way with me as well - I have this vague mental image, and I have some descriptions of him/her, but I'll never describe his/her face down to the tiniest detail, and it's always "well, she looks remotely like her, it looks like her attitude, it's good enough. It's her". It's never really important to describe a character down to the smallest detail either - I never notice it when reading - unless it's a prominent feature about the character. If he's got a large nose, then write it/draw it, but if not, if it's completely normal, why bother? I see my artwork more as a help for me to describe and "see" the character anyway, so...
Reply
(1 Reply)