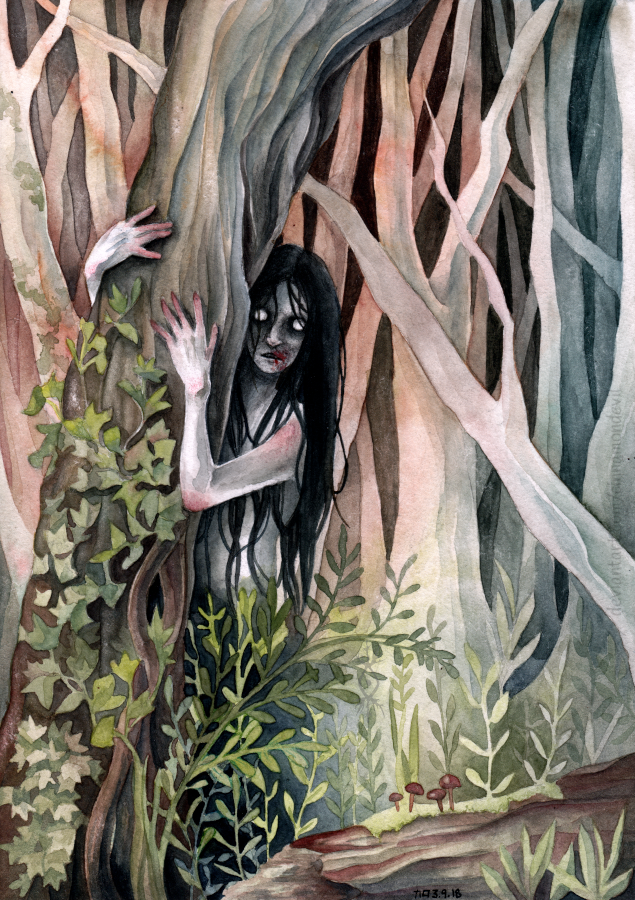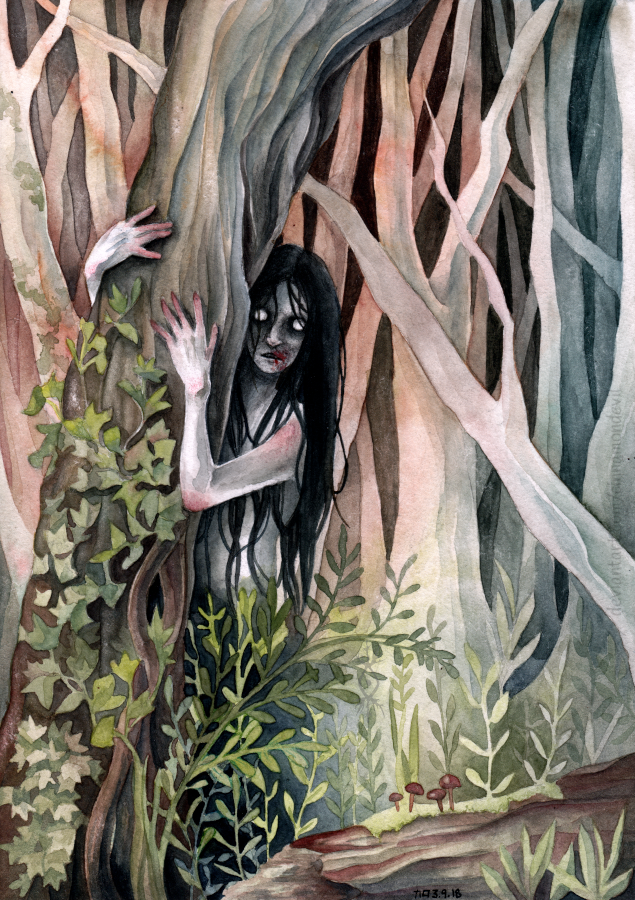 Watch
Materials: watercolor on cold pressed watercolor paper.
Edit
: Please check out
PinkRangerPower
's poem, that was inspired by this artwork


The HermitThe hermit is decay.
Ghosts in the light;
Tremors in the dark.
Life does not live here.
Breath escapes her
and she dies again.
Nothing is real,
but the rabble clings.
No one has faith,
yet everything is sin.
Poison evolves her.
Infecting the Earth;
a virus to her tribe.
The hermit is decay,
but she is life.
Fleeting, rotten, trivial
- life.
Normally I would rather critique in an art form that I am very familiar with. I work with the traditional medium, but would never claim to be more knowledgeable than the next hobbyist. I think you have a masterful control of the craft - so I would like to provide a critique from the perspective of an appreciative viewer.
Your
"vision"
is obvious and well executed. You've created a sinister environment for your main focus (the hermit) to dwell in. It creates an all-around eerily beautiful feel. The overgrowth and decay hints to something akin to the undead. It sets a tone for an altogether unsettling scene.
I would say in your concept that it is something that I not only connect to but also enjoy. As being a fan for the macabre and sometimes disturbing, I take great pleasure in viewing your gallery. When it comes to the
"originality"
in this piece, if I am critiquing, I would say with all art there's always a way to push our imaginations further. Originality-wise, when setting a scene for a hermit there is definitely room for originality. I mean, when you think hermit, usually one thinks of the woods, growth, bacteria and decay. Or if your initial goal was to paint a scene, perhaps the subject matter could have been somewhat out of the ordinary. I'll finish that suggestion by saying that that is merely my critique, but all-in-all I love the ultimate product you created.
Your
"technique"
is, in my opinion, very skillful. You obviously have had much practice in your chosen medium. Your color choices (pinks fading into white) and the coloring of the skin of the hermit itself is hypnotic. It was, in fact, one of the first things that drew me to the piece.
On a personal level, I found this piece very
"impactful"
. It catches my eye before any other piece in your gallery (forgetting the fact that it's your newest).

I would hope for an eventual offering of a purchasable print, or maybe even being able to own the original?
Definitely a fan of this piece. It was a pleasure to provide a critique of it.
Kimberly

The Artist thought this was FAIR
5 out of 5 deviants thought this was fair.