Get ready for the rundown of everything that is happening and coming up here on DA and over at my new page!
UPDATES
I've had a lot of folks asking when things are going to be reposted or posted for the first time at the new homepage. After the whole mess at the start of the year, I've been slow to get a lot of the material back on, but I am going to do my best to correct this soon. This weekend, all
Miss Joker
stories featuring
jokerismyname
's characters will be re-released on
BDSMlr
, along with links to all the full size image folders. With that said, here's a look at what's coming up:
THIS WEEK:
Several individual manips and
Miss Joker: The Big Score
and
Miss Joker: Lost In the Game
(Images below are previews only).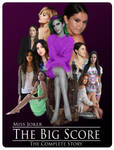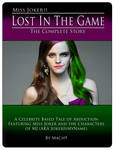 NEXT WEEK:
A little exclusive for BDSMlr that will utilize some of the responses I got from you guys concerning some more LOVELY wrestling ladies

END OF THE MONTH:
Lots of folks have loved the final chapter of Cross Promotion Peril. So just like I have with other stories, I'm compiling it all together:
Not only will this one have the usual outtake images, but also behind the scenes on the development of the story and look ahead, new exclusive commission works by some of DA's top artists, a special photomanipulation pictorial entitled, "
Shoeplay Diaries: Renee Young
," and MUCH MUCH more!
MARCH:

After a little delay, I will be posting the first part of the Riverdale story:
....and that is JUST the beginning!

COMMUNITY SHOUT OUTS
Even though I am not as active myself on DA, behind the scenes, I am still visiting folks and sharing the great work the bondage community is doing here:

My good friend Jedi120 shared a follow up to the picture that inspired me to write "The Tentacular Terror." Poor Carey couldn't run fast enough to escape the tentacles, who has quickly dispatched of her shoes and socks....that's my kind of vine!

<da:thumb id="7107259609100875"/>

A BIG congrats to our friend JayDeeGee on hitting 1,000 watchers for his fantastic storytelling and 3D art featuring Riley and all her friends....although at the moment, Riley isn't quiet herself....and I'm loving her!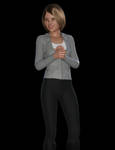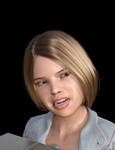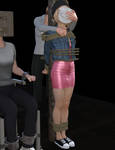 I had the privilege to move our poor damsel, Kitty, into the woods, and she wasn't happy about it in the least!

Thanks again, Jester and Kitty for letting me share in the fun! You guys rock!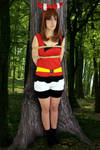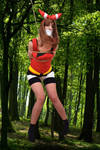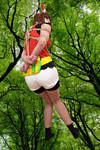 I absolutely love faking damsels....and lately several of us have tried GIF manips! They aren't easy for sure! But FakeFakeFaker1 hits it out of the park here:
...and that is just a small clip of the real deal! And it is as close to perfect as I've seen on GIF manips!

It's no secret that I LOVE Peyton R List. She's absolutely adorable and I see a great future for her as a snooping reporter or as a scream queen. Well, Millstone shows us his take on her as a snoop in a heap of peril!
That is solid inspiration to the writer in me for sure! Solid work as always!

and

Shamrock shared Chapter 1 of a story he collabed with Skyripe on that features the lovely D. VA from Overwatch, and she ends up in a rather compromising situation!
Solid throughout, and has great images and action throughout. HIGHLY recommend!

This is a story I have to share, not because it's art related, rather it's ARTIST related! Lycanthropash is battling cancer of the spine and brain, leaving her in pain every day. She needed a chair that was going to cost right at 3000 pounds British. By herself, she said she wouldn't have the funds....but then
HomunculusLover
and many others in the BDSM and Fetish community came in and did the amazing! THEY RAISED EVERY....SINGLE....PENNY she needed!

This is why I love our community and am so supportive of it! We are more than just fans, artists, and such! We are a family! And when one of our own is hurting, we ALL HURT. Lycanthropash posted this a few days ago, and she is still pretty overwhelmed...I think we all are. But it is so good to share positive news like this:

Again, blown away! Thank you!!What can I say, the words are getting old but hell! Thank you!! Thank all so much for your kindness!!
Sorry for my lateness but I'm swamped in well wishers since the flood gates opened. Totally not a bad thing though! XD I've also caught some sort of cold and needs to avoid it developing into a chest infection, I'n coughing up a lung every 5 minutes but sod it, I'll survive, I'm beside myself! Thank you!!
*Ahem* >_> ...Once the money comes in from GoFundMe, I'll order the chair and pop a photo of it up when it's built and sent in. The main thing is I couldn't have done this without Kate spreading the word, all you guys sharing and each donation that came in. I'm hoping that once things settle down I can start drawing filth again and start repaying the community in some way. I have be starting some work late at night when its quiet and have my curtains drawn over, I can draw the fetish stuff without people finding out the dirty little secret I have

Kate also gave me a list of
BDSMlr AS THE NEW HOME OF MANY OF YOUR FAVORITE ARTISTS!
It's not just me anymore! There are literally
HUNDREDS and THOUSANDS
of bondage enthusiasts on BDSMlr, live chatting (not just notes back and forth), image AND video support (DA don't have that)....and you are free to join! Whether you come to see tame sites like mine, or are into some serious leather and lace, this is the place for you! Here are just some of the people you'll see over there:











If you are over at BDSMlr and want to be added to this list, send me a note and I'll be glad to add you to it! If you still haven't got a FREE account there, don't delay! Get in there and have a look!