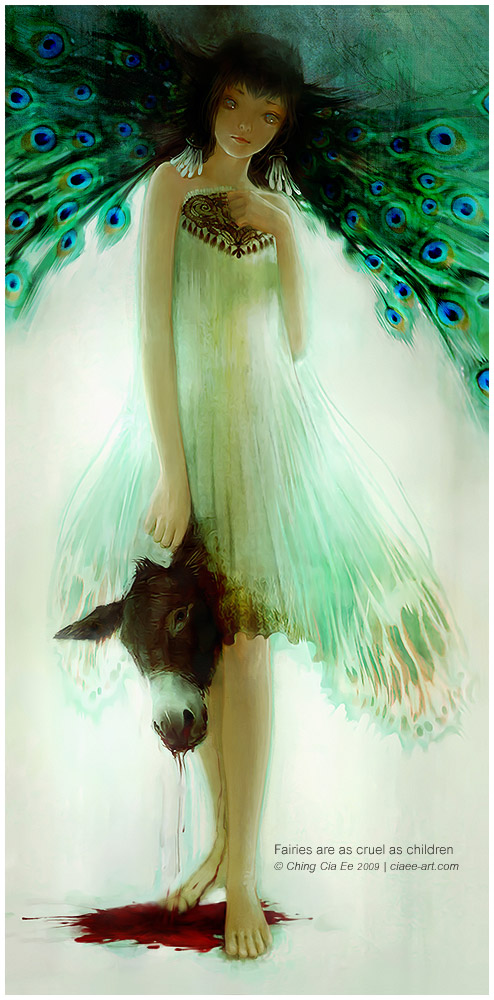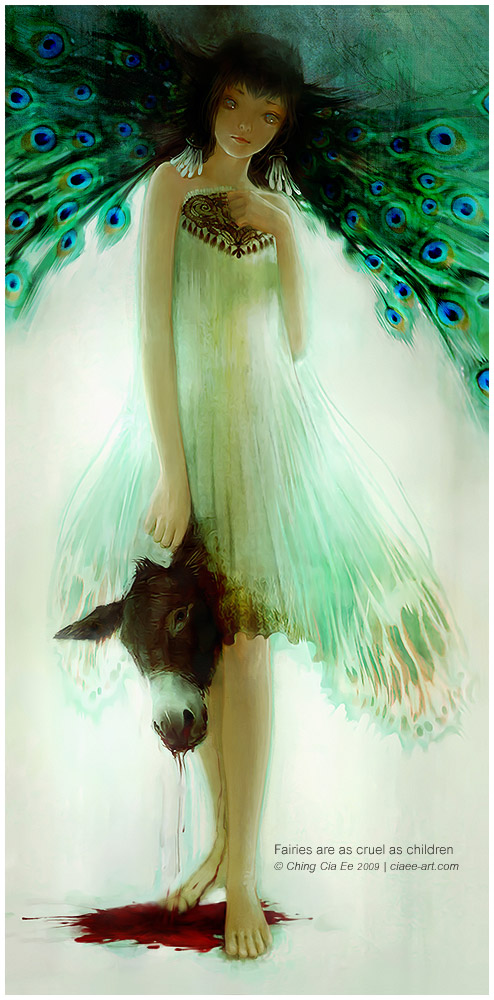 Watch
... as cruel as children.
Did this for ConceptArt.Org's Character of the Week (CHOW #146) challenge. Man, the competition that round was INTENSE. There were some really mind-blowing entries in there, so be sure to cast your votes for your favourite entry when the poll is up:
[link]
[UPDATE: ZOMG I WON. WAAAT.

]
On my entry:
I wanted to portray as closely as possible what I felt fairies were like. Here's Queen Titania and Nick Bottom('s head).
In my imagination, fairies are innocent and whimsical as well as selfish, remorseless and vengeful. They're very much like children. In this painting, I took some liberties with the original story and character from Shakespeare's play, and wanted to create a "fairytale gone wrong" image. I tried to keep her quite childlike and innocent-looking, and I hope I succeeded in making the painting feel little disturbing. (I've always found innocent children in horror movies/ghost stories extremely creepy and scary, and I want to put a bit of that in here.)
I recently acquired the book "FABLES: Covers by James Jean" (present from sister - best art book ever), and his work was on my mind the whole time when I was trying to create this image.
Disclaimer:
Um, I do not promote animal-cruelty? ><
Tools:
Photoshop CS3, Wacom Graphire4
WIP & Close-up:
[link]
January 16, 2010:
Minor edit. Touched up some areas that were bugging me. Updated print. [
If you bought this print on dA before the edit, please send me a note and I will send you the updated print at my cost. I will need a proof of purchase of some sort though. e-receipt/photo
]
What i like the most in the image is the soft highlights and the great details on the fairy's head and wings,the donkey head looks really good aswell.the contrast between soft expression of the girl's face and the cruelty that she did is really good.the blue in her wings contrast very good with the green,both vivid and beautiful colours.
when i saw that you've asked critique ,ofcaurse i take closer look to other things, not only the obvious beauty of the whole.
first i point her toes,they look a little bit longer that they should,the same for her arms,a little longer too.but aside of this the image look great as a whole.so it's just small things that you need to look closer to discover.
congrats for the dd,and hope you don't mind my critique

The Artist thought this was FAIR
63 out of 65 deviants thought this was fair.
When I first looked at this, I didn't notice the donkey head. The fairy is very innocent and pretty, and then you look down and see the darker side to her. The dark hair and background at the top are almost like foreshadowing for what's below.
Though the donkey's head is a very dark image, it still fits with the light, airy colors for the dress. It definitely defies the typical fairy image, but it works very well.
The texture is very nice, and the colors mesh perfectly
I especially like the dress. It is light and pretty and very fairy-esque.
I agree though, that the toes are a bit too long. However, this is something that you have to look for to notice. I didn't notice until I started looking at details.
The Artist thought this was FAIR
38 out of 38 deviants thought this was fair.