My sole entry for the devious desktops "Warm Vibes" contest. Cutting it damn close to the deadline but I just made it, though it's unfortunate I didn't have more time still since in addition to wanting to add some more details to this I also had enough idea for a completely separate second entry that would have fitted the theme well, in fact I'm sure I would have had plenty of ideas for this contest since the theme is right up my alley and it's been over a decade since the last time I cared enough about an official dA contest to even bother entering it. Two other colour variations of this same artwork were made but I consider this one to be the original (I knew I wanted an orange background from the start) and so that's why only this one was added to the contest category, but the others might be worth checking out too!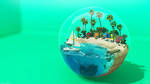 The irony for me of course is that it's anything but summer in my hemisphere at this time of the year. I finished this early on a cold winter's morning with fingers barely able to function. Definitely looking forward to my summer again

Created for the contest using Cinema 4D, Vue and Photoshop.
Artwork created by and owned by me. Please do not redistribute, use or modify my works without permission. Links back to my deviantART or Instagram page when sharing much appreciated

Image details
Image size
3840x2160px 4.08 MB