Journal Entry:
Thu Jul 26, 2012, 5:53 AM
Seriously.
Give her love. Not only is she an amazing artist, but she's a phenomenal rper. (one of my most beloved rp partners to date; we have incredible rp chemistry and we often accuse each other of curling up in the other's head XD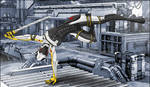 She did this amazing piece. She needs more love for it.
Listening to: Blackout- Hybrid
Watching: Christine
Playing: Mass Effect 3

Watch