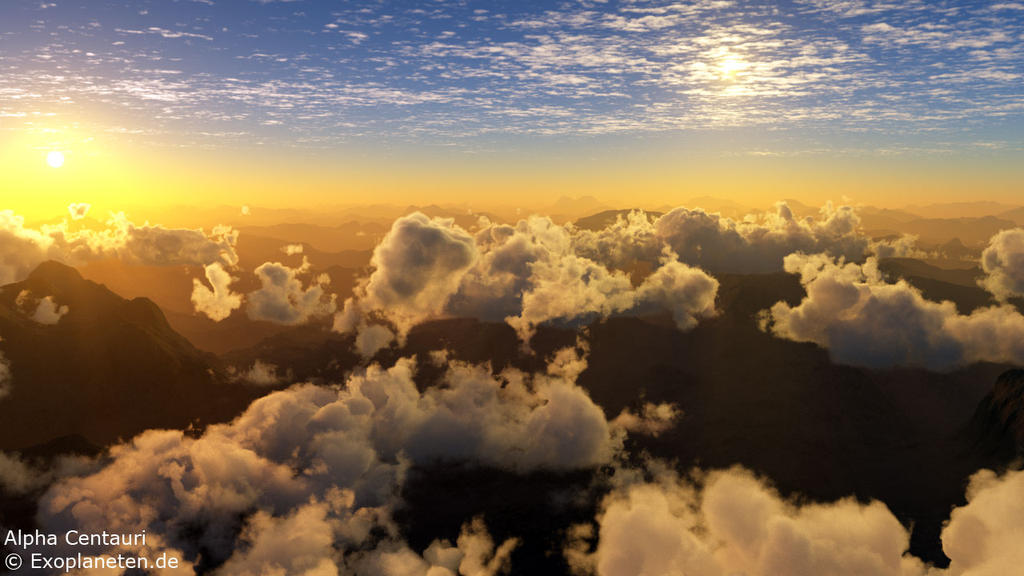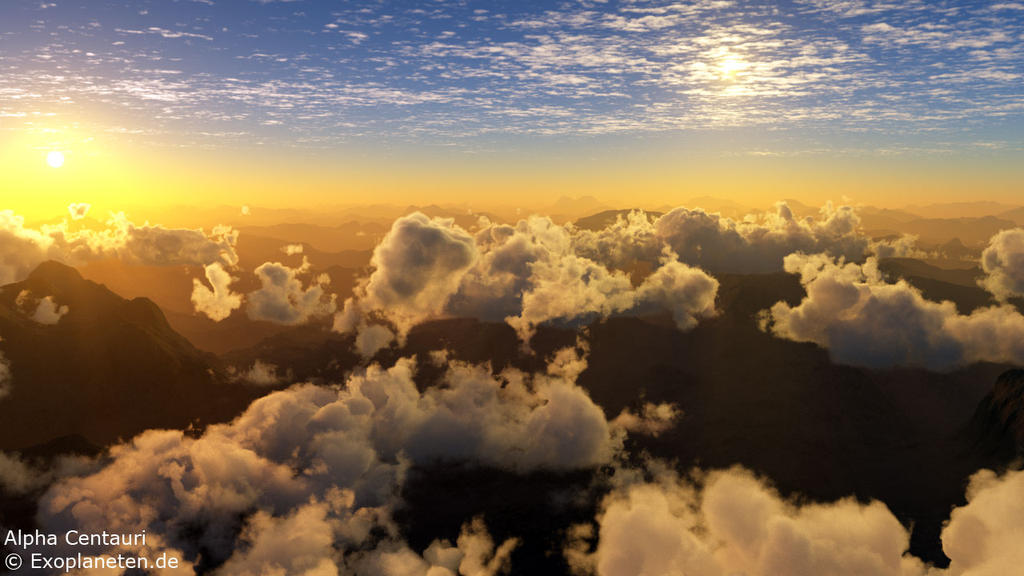 Watch
Dieses Bild zeigt einen möglichen Planeten in der Umgebung von Alpha Centauri A. Erdähnliche Planeten bei unserem nächstgelegenen Doppelstern sind noch nicht ausgeschlossen, wurden aber auch noch nicht nachgewiesen. Jeder der beiden Sterne hat in seiner Umgebung Zonen, in denen auch langfristig stabile Planetenbahnen möglich sind. Für den sonnenähnlichen Stern Alpha Centauri A erstreckt sich diese Zone bis ungefähr des 1,1-fachen des Abstandes der Erde zur Sonne.

Alpha Centauri A ist allerdings älter und heller als die Sonne. Das bedeutet, dass ein erdähnlicher Planet selbst nahe der Grenze dieser stabilen Zone so viel Energie erhielte, dass er sehr wahrscheinlich eine Endzeitwelt wäre - ein Wüstenplanet, gefangen in einem eskalierenden Treibhausklima, dessen Wasservorrat in den Weltraum entweicht. Hitzetolerante Organismen könnten allerdings noch für eine Weile überdauern.

This is a little render illustrating a possible planet orbiting Alpha Centauri A. The presence of earth-sized planets or super-earth worlds in the Alpha Centauri system is not yet excluded, but such planets still remain to be discovered. Each of the two stars has zones around it where long-term stable orbits are possible. For the sun-like Alpha Centauri A, this zone extends to about 1.1 times the Earth-Sun distance.

Alpha Centauri A is older and more luminous than the Sun. This means, an earth-sized planet even near the egde of the stable orbit zone would receive so much energy that is is likely to be an end time world - a desert world, locked in an escalating greenhouse climate and losing it's water into space. Heat-resistant organisms might still hold on for some time.